Original URL: http://www.theregister.co.uk/2009/09/21/sagem_sensio_3d_settop_box/
3D tech-agnostic set-top box designed
Displays 3D on any type of 3D TV, claim manufacturers
Posted in Personal Tech, 21st September 2009 09:18 GMT
A standard way of displaying 3D content on a TV screen has yet to emerge, with manufacturers currently developing 3D-capable sets using a handful of different technologies.

The Sagem/Sensio STB works with any type of 3D TV, the makers claim
For broadcasters, such as Sky, this creates a problem. Transmitting one programme in a handful of different 3D formats just to ensure that it displays correctly according to all available 3D TV technologies will be very expensive.
Broadcasters will - once 3D TV services get going - probably therefore opt to transmit according to the most popular 3D display technology, leaving it up to consumers to decide which type of 3D TV technology is the safest option. Not an easy decision to make considering 3D TVs currently start at around £5000 ($8175/€5566).
Thankfully, two firms – Sagem and "avant-garde stereoscopic technology" developer Sensio, have joined forces to create a set-top box (STB) that they claim can handle all the major methods of 3D TV display.
A Sagem spokesperson told Register Hardware that four major methods currently exist: anaglyph, active shutter, micro-polarization and auto-stereoscopic.
Anaglyph has been around since about the 1850s and requires you to wear those red and blue glasses, which produce a depth effect.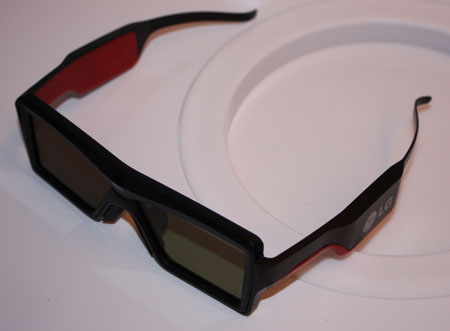 LG's active shutter specs
Active shutter glasses create the illusion of a 3D image by alternately darkening over each eye in synchronisation with the display's refresh rate. LG has already produced active shutter-based 3D TVs.
Micro-polarization can be used to create a 3D image by independently polarising pixels for your left and right-hand eyes – the Sagem spokesman added.
All three require viewers to wear glasses in order to see a 3D image, but the fourth technique – auto-stereoscopic, effectively sees 3D specs built into the display.
The method currently requires you to sit in just the right place to see a 3D image, though. But that hasn't stopped Philips from building displays based on the technology.
"Our STB can work with all types of 3D display, allowing the broadcaster to broadcast just one signal", claimed the Sagem spokesman.
So how does the STB work?
The broadcaster starts by encoding their 3D signal, compressing it for transmission and then broadcasting it in MPEG-2 or MPEG-4 format, Sagem told us.
A Sensio-manufactured chip then decodes the signal using a "predictive algorithm" and prepares it for output – over HDMI –to the viewer's 3D-capable TV. It's this final preparation stage that Sagem claimed enables the STB to work with any 3D TV.
Sagem stressed that its STB is still at the proof-of-concept stage, but claimed that it recently demonstrated a working model at the International Broadcasting Convention (IBC) in Amsterdam.
However, during IBC the STB took its 3D content from a server because of a lack of broadcasters currently transmitting 3D programmes.
And here lies the major stumbling block, because very few broadcasters currently have 3D channels up and running. Sky, for example, has promised to launch one next year.
Sagem admitted that a "good amount" of 3D content will probably become widely available until 2011.
So although the STB won't help put 50 3D channels onto your living room TV by next week, the unit does - Sagem claimed - add confidence to the 3D market for both broadcasters and consumers. ®