Original URL: https://www.theregister.co.uk/2009/09/21/review_netbook_packard_bell_dot_ma/
Packard Bell dot m/a netbook
A realistic rival for Intel's Atom
Posted in Personal Tech, 21st September 2009 12:02 GMT
Review Packard Bell may not a name you immediately associate with the latest word in netbooks, but now that it's part of Acer, all that may be about to change. Acer has big plans for the Packard Bell brand: it intends to develop PB into the very acme of trendy tech desirability. Apparently.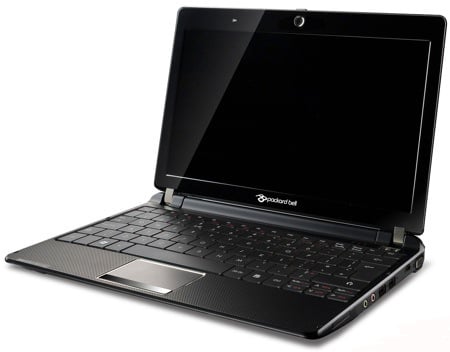 Packard Bell's dot m/a: rarely, a netbook based on AMD chippery
PB's netbook range will eventually include three machines: the 10.1in dot s, which uses the Atom N280 chip and Windows XP; the Atom Z520-powered, Vista-running 11.6in dot m; and the dot m/a, which is a little out of the ordinary because it's a netbook powered by an AMD processor.
To be exact, it uses a 1.2GHz Athlon L110 with an 800MHz HyperTransport bus and 512KB of L2 cache. Graphics come courtesy of the AMD ATI Radeon Xpress X1270 graphics core built into AMD's 690G chipset. You also get 2GB of DDR 2 memory as standard and Vista Home Premium.
Despite housing an 11.6in screen, the dot m/a is still a reasonably compact and sleek affair, measuring 288 x 199 x 25.4mm and weighing 1.25kg with the standard three-cell battery pack or 1.38kg with a six-cell unit. Those dimensions are the same as Acer's Aspire One 751 for a good reason: the two machines share the same chassis and case.
The m/a is a rather more stylish looking box of tricks than the 751. The shiny chrome logo on the lid isn't just for show – the lid and body of the m/a fit together very snugly and just about the only way to separate them is to wedge a finger under the lip of the badge, which juts out by a few millimetres. The dimpled keyboard surround, while not fulfilling any useful function that we can think of, is pleasing to the eye and to the touch.

The red model should show off fingerprints less well than the black one
A word to the house proud: our piano black version proved to be a real fingerprint magnet, so the red version may be the one to go for. To help keep things spick and span, Packard Bell supplies a rather fine padded carrying pouch complete with a velcro fastener - something all netbook makers should do.
Take a quick shufti around the m/a's exterior and you will find much the netbook norm: three USB ports, VGA, 10/100Mb/s Ethernet, 3.5mm audio-in and -out sockets, and a Kensington lock slot. The five-in-one card reader allows you to slide SD cards in until nearly flush - a nice touch, as is the external Wi-Fi switch. The m/a also a below average 0.3Mp webcam and a built-in microphone.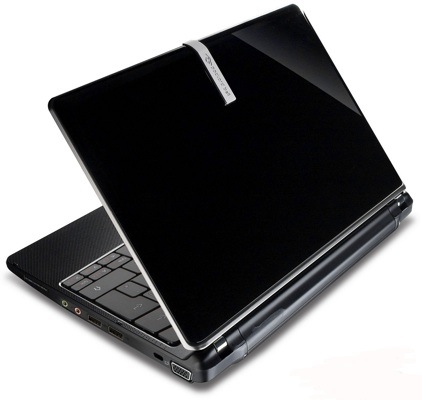 The logo panel on the lid is handy for getting the machine open
The underside of the machine is home to three easily removable panels that cover the wireless card, a 3G module (if one was installed), the hard drive and the memory slot. It looks as though there's only one memory module, so 2GB is quite likely your lot.
Unlike the majority of netbooks, the dot m/a is available with a selection of HDD options. Our entry-level test machine came with a 160GB 5400rpm Sata drive, but Packard Bell will also sell you one with either a 250 or a 320GB drive. There is no SSD option.
The most basic m/a doesn't come with Bluetooth - standard on the 320GB machine. Wi-Fi connectivity is the usual 802.11b/g across the range. The display is a high gloss LED-backlit panel with a 16:9 resolution of 1366 x 768. It's bright, crisp, colourful and generally pleasant to look at.
Below the rather fine screen sits a rather fine keyboard - in fact, one of the best that we have encountered on a netbook. The flat-topped keys are not only a little larger than is usual on machines of this size but also have a generous amount of space between them which helps minimise typos. The key action is very positive if a little short and there is very little base flex.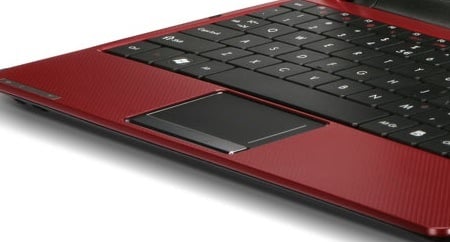 A nice, large, responsive touchpad and button bar
The 65 x 37mm touchpad is both large enough and sufficiently responsive to provide a complaint-free user experience while also supporting pinch-to-zoom multi-touch. The one-piece chrome click bar below the pad has a firm action and can be used continuously for long periods of time without setting your teeth on edge. You can't really ask for more from a netbook.
In everyday use, the m/a feels faster than the majority of Atom netbooks we have tested, be they running Linux or Windows XP. In fact, it feels very much the same as the 2.1GHz Core 2 Duo machine this review is being written on, which makes it one of the few netbooks we reckon you could live with as your only computer.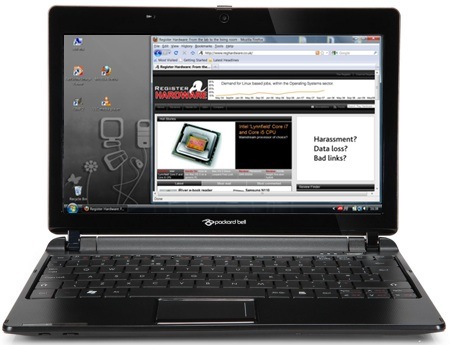 The m/a's display may be glossy by its 1366 x 768 resolution beats most netbook screens
By way of illustration, while BBC's iPlayer works on Atom netbooks it doesn't do so quite as fluidly as it does on full-size machines with more memory and faster processors. On the dot m/a, though, everything was silky smooth with no stalls.
That said, HD video playback proved somewhat worse than we expected. Using VLC, the m/a proved incapable of playing 1080p AVI and H.264 test files, even in a window. After installing a trial copy of the CoreAVC codec we managed to play the same H.264 video at full screen using Windows Media Player 11, but it was touch and go and certainly not running as happily as the same file ran on an N280-powered, 1204 x 600 machine using the same codec.
The same was true when we used the dot m/a to view the Apple-hosted trailer for Avatar. At 720 x 480, the QuickTime file played at full screen with no problem at all. At 720p it just showed the first signs of struggle with the occasional stall. At 1080p it all went pear shaped.
Running the 3DMark06 benchmark produced a figure of 121 which is above par for a netbook but still means that you won't be doing any serious gaming on your m/a. Turning to the PCMark05 results, the dot m/a returned a rather poor memory score, an average HDD score and a better-than-average CPU rating.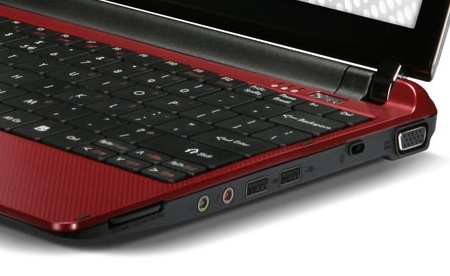 The m/a has the usual array of netbook ports
While HD video playback may have bee a bit dodgy no apologies have to be made for the sound. Not only are the stereo speakers rather better than the norm but the Dolby 5.1 emulator generates a pleasant pseudo-surround sound listening experience if you're using headphones. Usefully for anyone suffering from auditory hyperesthesia, the m/a is a very quiet runner, the fan spinning up to speed with barely a whisper.
PCMark05 Results
CPU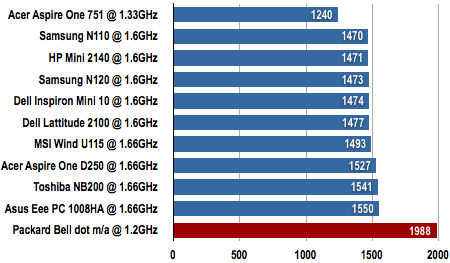 Longer bars are better
Memory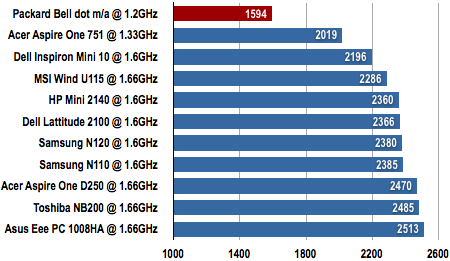 Longer bars are better
HDD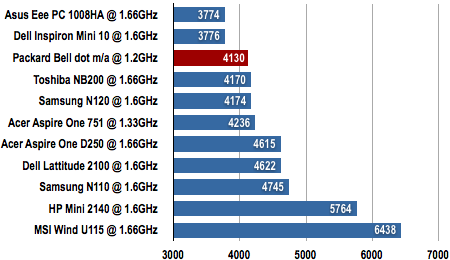 Longer bars are better
Video Playback Battery Life Results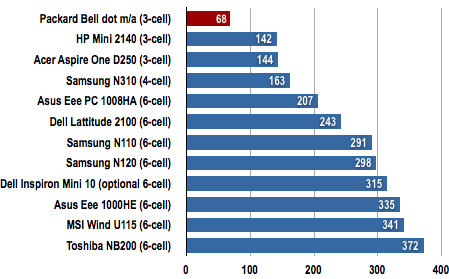 Battery life in Minutes
Longer bars are better
The entry-level dot m/a comes with a 2200mAh battery which, while small and light, stores no more energy than the standard battery in last year's original 8.9in Acer Aspire One so you can probably guess the next bit: the battery performance is abysmal.
Running a standard-definition H.264 video at full screen using VLC with the Wi-Fi radio on, and the screen brightness and volume turned up to the max, we recorded 68 minutes of runtime. That's not a typo. Sixty-eight minutes. One hour and eight minutes. 4080 seconds.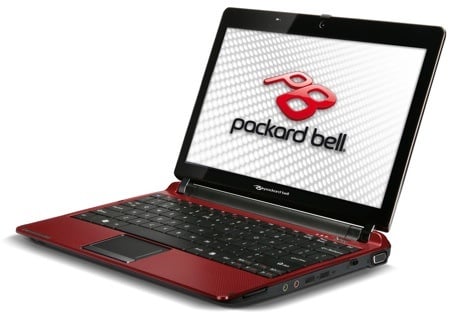 Looks great - but shame about the battery life...
Switch the power option to Save, cross your fingers and think low-power thoughts, and you should be able to eke out around 100 minutes of life. The problem is, in Power Save mode the system has trouble even scrolling smoothly, so it's not something we'd recommend you use unless you're only planning on some light word processing with a dimmed screen.
The basic dot m/a's limp battery renders it nearly useless for day-to-day use. An optional six-cell 5200mAh battery is available from Packard Bell, but it will set you back £120. Packard Bell isn't releasing recommended retail prices for its dot series, but at the time of writing one well known British supermarket has the machine we tested on sale for £300 and the 320GB version for £380 with a 4400mAh six-cell battery.
Assuming that 4400mAh battery provides twice the life of the unit in our test machine, you are still only looking at between three and three-and-a-half hours of serious use on a full charge which is still far from the six-cell netbook class average.
Verdict
In its basic form, the dot m/a is let down badly by its farcically poor battery life but if you can lay hands on one with the six-cell battery for a reasonable price then you will have a very nice machine and one that represents decent value for money. A 10.1in screen Samsung netbook like the NC10 or N110 will set you back between £300 and £350, and neither has the hi-res screen or 2GB of memory of the m/a. ®
More Netbook Reviews...

Dell
Latitude 2100

Samsung
N110

Toshiba
NB200

Acer
Aspire One D250