Original URL: http://www.theregister.co.uk/2009/09/18/review_phone_samsung_gt_b2100_solid_extreme/
Samsung GT-B2100 Solid Extreme rugged phone
More muscle than multimedia mobile
Posted in Personal Tech, 18th September 2009 12:02 GMT
Review Following on from the original Solid SGH-M110 and the recent B2700 Bound, the GT-B2100 Solid Extreme is the latest in a line of Samsung handsets that show themselves as well 'ard. While designed for harsh outdoor conditions, the Solid Extreme nevertheless touts features we typically expect to find on phones these days, namely a music player, FM radio and a camera.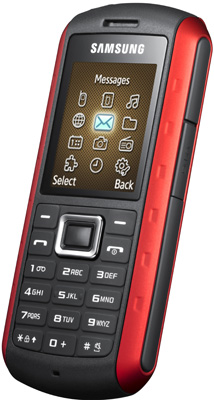 Tough call: Samsung's GT-B2100 Solid Extreme
However, this model lacks the higher-speed 3G multimedia capabilities of the Bound and misses out on its compass, altimeter and pedometer gimmickry. Its camera is also an entry-level 1.3Mp shooter, so you won't be getting scintillating shots of the great outdoors either.
Where the Solid Extreme does flex its biceps is in its sheer ruggedness – its raison d'être. Complying with the IEC IP57 standard, the Solid Extreme can take more than the bit of the water-splashing that's covered by its stablemates' IP54 accreditation. The IP57 'ingress protection' standard means the Solid Extreme is waterproof, rather than just 'water-resistant'.
The GT-B2100 can be submerged to a depth of 1 metre for 30 minutes without becoming a damp squib – a level of sealing that also delivers dust- and sand-resistance too. A further beefing up of this Solid's tough-guy image is reflected in its compliance with US military standard MIL-STD-810F. So if you want to make a call in environments of blowing rain, shock, salt fog, humidity, solar radiation, vibration and extreme temperature the phone will be fine even if you're not, assuming a decent signal, of course.
As with most ruggedised handsets, its not built for looks and slinkiness. Measuring up at 113x49x17.1mm and weighing 103g, it's reasonably compact for the protection it offers. The 1.8in 128x160 screen is small and rather basic. While OK for the essentials – and unlikely to be a huge issue when using it up a mountain or on a canoe – the low-resolution array isn't that great for day-to-day use.

A single covered socket handles sync and sound services
The Samsung Solid Extreme feels good to handle, its rubber-feel bodywork grippy enough to give firm purchase for water-soaked or freezing cold hands. The numberpad isn't absolutely glove-friendly – it's passable with light gloves, but not that useful with thick snowboarding ones. The central navigation navpad stands just about proud enough from the fascia to allow smooth thumb manoeuvring, although, while perfectly serviceable, the rubber-feel action of the sealed numberpad will be a touch stodgy for fast texters.
A suitably bright flashlight is a welcome extra built into the top of the phone, activated by a long press of a side button above the volume controls. These controls all curve nicely outwards too, suiting frosty fingers or damp digits.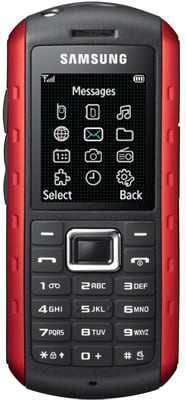 Finger friendly, but not ideal for light touch texters
So did we do some dunking? Yes we did. And the Samsung Solid Extreme stood up to the task, handling total immersion for the specified 30 minutes and beyond. We didn't feel inclined to test it to destruction, but it came thorough unscathed from an hour underwater.
Whether you'd want to take a phone swimming is a moot point, but the handset's waterproofing does mean it'll handle water-based sports and outdoors leisure activities far better than other mainstream mobiles currently on the market. A few bounces around the place seemed to inflict no lasting damage to its working capability either. However, it's not built for sustained heavy punishment so that sort of stuff will scuff and damage the casing, so we'd advise against it just to impress.
The Samsung Solid Extreme's watertight bodywork includes a sealable back panel, which is released by a screw lock. It's reassuringly tricky to lever the back off to get at the battery pack or memory card. Samsung has buried the phone's Micro SD memory card slot under the battery – something we'd normally gripe about, but it's forgivable here. Covered by a plastic bung, there's only one connector on the side, a regular Samsung multi-connector for charger, headset and USB.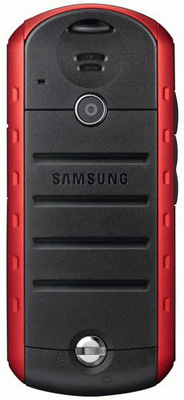 A screw lock prevents seal compromises in those challenging environments
Ruggedness aside, the Samsung Solid Extreme is a modestly spec'd handset. Getting around the features is conventionally straightforward, the four-way navpad offering user-definable shortcuts to features, plus a quick access select button for the Wap browser. The grid and list-based menu system presented on the low-res display is regular lower-range Samsung. It's zippy to navigate and effective enough.
The Samsung Solid Extreme's music player puts in an acceptable performance, but you'll need to load up a Micro SD card first, as the Solid Extreme has only a measly 10MB of internal storage. Unfortunately, there's no USB data cable supplied in-box for transferring music from a PC. With a cable, it's possible to copy tunes using optional Samsung PC Studio software or sync tracks with Windows Media Player 11 on a PC.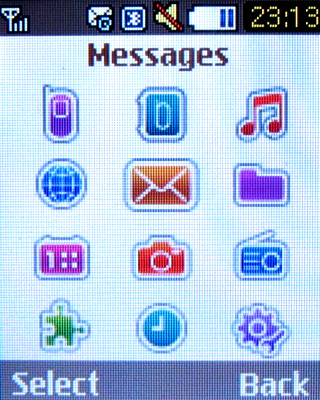 The user interface, while basic, is quite responsive
Out of the box, you can copy tunes over via Bluetooth or slip in a preloaded Micro SD card. It organises tracks in standard mobile fashion with support for MP3, AAC variants and WMA. The software works more efficiently with memory cards than some previous Samsung mobiles of this class we've looked at. We'd have still expected a data cable in-box though.
Music playback is hampered by the average earphones supplied, as there's no standard 3.5mm headphone socket on the phone or adapter. Nonetheless, it delivers a pretty good performance within these limitations – although a little harsh at higher volumes and lacking some finesse, it does have decent level of bass and acceptable depth to the sound.
An extra-loud speaker has been built in, if you want to share your tunes around the campfire, which does a fairly decent job, albeit rather gutless. In addition there's an easy to set up FM radio that can also be fed through the speaker.
Equipped with an entry-level 1.3-megapixel camera, the Solid Extreme's shooting performance is poor. It snaps and processes images quickly enough, but images are soft and lacking in detail. Even though the colours are bright, there is some hazy colour bleed apparent. Having no flash, shots in dark environments are murky and poor quality. It can shoot video at a basic 176x144 at 15 f/s – playback looks rough though.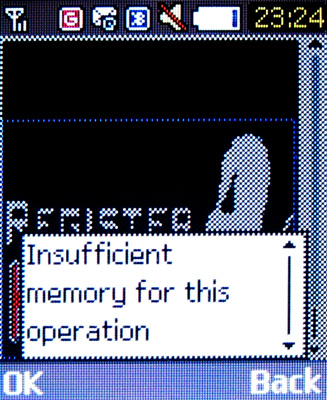 As well as the lack of 3G, browsing inevitably reveals its limitations
Running on GPRS or EDGE, the Openwave Wap 2.0 browser provides a lower-grade online experience too. It handles Wap sites OK, but doesn't manage full web pages. The small, low res display isn't ideal for browsing anyway.
Other standard mobile features include support for email and stock organiser apps including calendar, memo, tasks, world clock, calculator and convertor, timer, alarm and stopwatch functions plus a voice recording facility. An SOS message option enables users to send an emergency text by pressing the volume key four times. One full game and half a dozen demo games are pre-loaded too.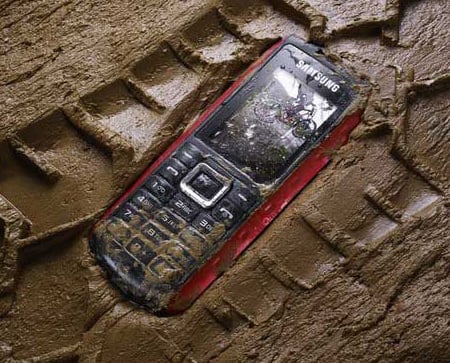 Talking dirty: luckily there's a built in speaker for those mucky moments
While it has a limited bunch of features, the Samsung Solid Extreme does the basics of voice calling extremely well, with a crisp, loud audio performance and reliable signal handling. Battery life – something that could very well be an issue in extreme conditions – is particularly robust. Samsung estimates approximately 9 hours of talktime or up to 600 hours standby, while we comfortably managed 3 days or more regular usage out of it.
Verdict
If you're after a mobile for high-end functionality, the Samsung Solid Extreme won't be for you. It has a limited feature set, and lacks the multimedia firepower and gadgetry of typical mid-tier 3G mobiles. It's not exactly going to swing it on the looks department either. But if you need a phone that'll withstand the elements, can take a bit of a dunking and has to perform in extreme conditions, this phone will come into its own. We can certainly see it as an attractive second phone for rough and tough outdoorsy types for whom IP57 and MIL-STD-810F compliance are more appealing than 3G and Wi-Fi. ®
More Rugged Phone Reviews...

Samsung
B2700 Bound

Sonim
XP3 Enduro

Sony Ericsson
C702

Samsung
SGH-M110