Original URL: http://www.theregister.co.uk/2009/09/17/review_media_player_apple_ipod_touch/
Apple iPod Touch 3G
Disses the DS, passes water on the PSP
Posted in Personal Tech, 17th September 2009 12:02 GMT
Review It's official – the iPod Touch is a games machine. When the second-generation model was launched this time last year, we noted – in one of our occasional moments of penetrating insight – that Apple seemed to have been taken unawares by the flood of games that had appeared on the iPhone and the first Touch.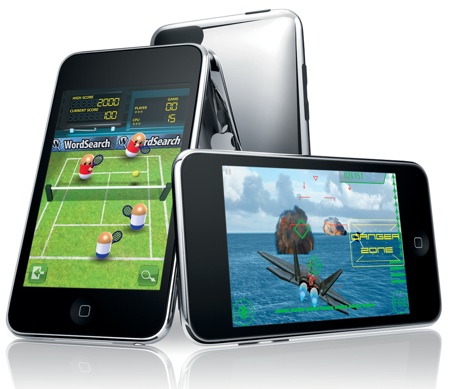 Apple's iPod Touch: PSP and DS beater?
Apple CEO Steve Jobs confirmed this recently, admitting that "originally, we didn't know how to market the Touch". But Apple seems to have made its mind up now, as the new Touch is very much intended to be Apple's contender in the handheld gaming market.
And that, according to Jobs, is why Apple disappointed so many people by not including a camera in the new model. Rather than adding new features, Jobs states that Apple's main priority was simply to reduce the price of the Touch in order to compete more effectively with established gaming gadgets such as the Sony PSP and Nintendo's DS.
Both consoles have been slimmed down of late, and are no longer as clunky as they were at launch, but neither is as svelte as the Touch nor as feature filled. They'll continue to enjoy a big fan-based, of course, and sell well - they have more, better-known games than the Touch does - but if we were in the market for a handheld games console, we'd almost certainly prefer the Touch with its more extensive range of capabilities.
There are now two different types of iPod Touch on sale, though Apple refers to both of them as the "iPod Touch (late 2009)", rather than 'iPod Touch 3G' as you might expect. That's probably because the 8GB model is actually unchanged – it's still the old iPod Touch 2G – and simply gets a price cut from £169 to £149, with Apple hoping that the sub-£150 price tag ($199 in the US) will trigger a major boost in sales, as it did with the popular iPod Mini a few years ago.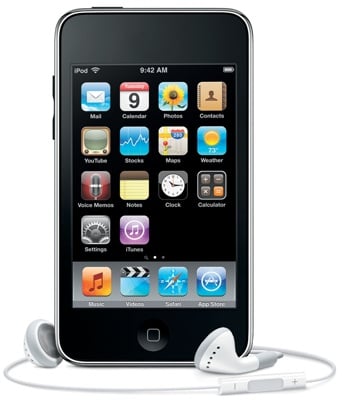 Still a darn fine music player, despite the average earphones
The 16GB model that used to cost £219 has been discontinued, while the 32GB model has been reduced from £289 to £229, and there's a new 64GB model at £299.
There's no change in look or size. All three models are the same svelte 110 x 62 x 8.5mm and 115g weight. They sport essentially the same 3.5in, 320 x 480, LED-backlit display as before, and nice it is too.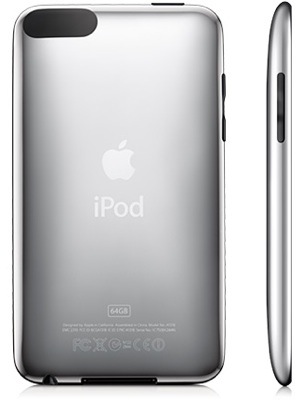 Still shiny, still skinny
It's the 32GB and 64GB models that ought to carry the '3G' monicker, as they're powered by a new processor that Apple claims is 50 per cent faster than the one in the 2G model. Apple refuses to divulge any information about this processor, although teardowns on the internet suggest that it's the same – or very similar to – the ARM processor used in the new iPhone 3GS.
The iPod Touch 3G models also support OpenGL ES 2.0, allowing games developers to get funky with the latest 3D graphics, and Apple has been going out of its way to highlight A-list games such as Assassin's Creed II, which are on the way to tempt gamers this Christmas.
We certainly noticed that the new models feel noticeably snappier when performing routine tasks such as loading apps and rendering web pages over the Touch's 802.11b/g Wi-Fi connection.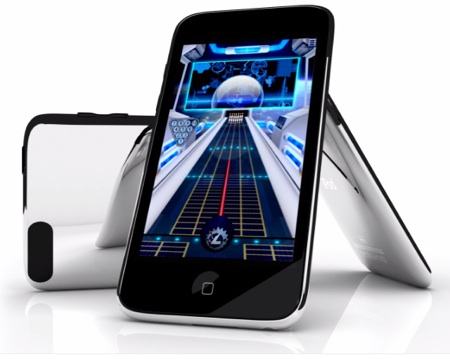 Decent battery life, even for gaming
Wi-Fi usage will drain the battery more quickly than if wireless is turned off, but even with it on, Apple claims 30 hours' music playback or six hours' video playback from a single charge, albeit with the screen brightness turned down. We're well past the age where we can game for six hours solid, but from what we did play, we expect you're going to get a little less than that if you do try such a marathon stint.
The more powerful processor also allows the 32GB/64GB models to use the Voice Command feature that was recently introduced on the iPhone 3GS. This means that the standard tinny-sounding iPod earphones still sound tinny but now include a built-in microphone too. All three have Bluetooth 2.1+EDR, though only wireless stereo headphone connections are supported.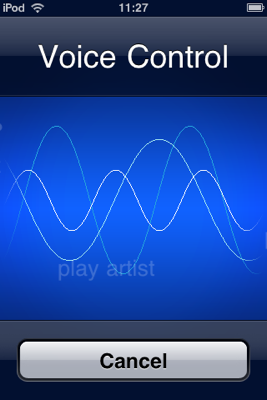 The 32GB and 64GB models support voice control... but so what?
Stereo Bluetooth is at least useful, saving you cable snags that pull your earphones out when you're walking around. But Voice Control? It works, but we can't see too many folk making use of it. It's certainly not something to steer clear of the cheap, 8GB model for.
Like the 3GS, the Touch comes with Google Maps, but there's no GPS pick-up here to increase the accuracy of the Wi-Fi hotspot triangulation system. Think of it more as a digital A-Z than a gadget to tell you exactly where you are.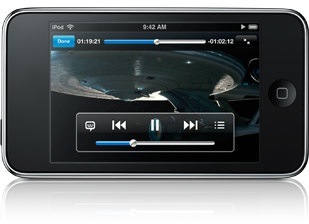 Long treks just fly by
Verdict
There's no doubt the 8GB iPod Touch is a great games machines, and at a new low price of £149, with a wealth of decent yet cheap games just a download away, it's a great choice for gamers who don't feel the need to brag of their allegiance to a gaming brand. It's especially good value when you consider you get a class-leading media player and excellent browser thrown in too, and a stack of other useful tools.
The 32GB and 64GB model are really for video fans rather than gaming buffs, since they're all about capacity for now. We'll have to see whether developers create games with the facilities of these two models in mind or opt for generic Touch releases, in which case you may as well have the 8GB version and spend the price differential on some games. ®
More Media Player Reviews...

Apple iPod
Nano 5G

Cowon D2+ DAB

Sony Walkman
X-Series

Samsung P3