Original URL: http://www.theregister.co.uk/2009/09/17/review_graphics_sapphire_4890_vapor_x/
Sapphire Radeon HD 4890 Vapor-X 1GB
Very fast, very quiet
Posted in Personal Tech, 17th September 2009 09:10 GMT
Review When Sapphire had added its Vapor-X cooler to AMD's Radeon HD 4850 it turned a standard single-slot board into a very, very quiet dual-slot card. Now it has performed the same trick on the Radeon HD 4890.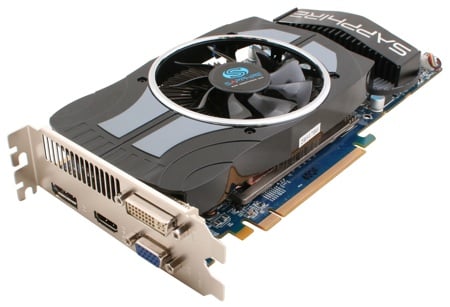 Sapphire's Radeon HD 4890 Vapor-X: very, very quiet...
The two Vapor-X designs look very similar, but there has been a small change made to the new model. The backplane of the 4850 carries DVI, HDMI and VGA outputs, while the 4890 gains a DisplayPort connector. If you have two digital TFT displays connected to your PC, you'll be grateful to learn that Sapphire now includes an HDMI-to-DVI adapter in the box so dual DVI is an option.
Despite the cosmetic similarities, the 4890 is a more formidable gaming beast than the 4850. Its GPU core is clocked at a higher speed and the use of 1GB of GDDR 5 memory rather than 512MB of GDDR 3 increases the bandwidth substantially. If you fancy paying a £35 premium you can buy Sapphire Vapor-X with a mighty 2GB instead.
Sapphire has been quite realistic about the system requirements for this graphics card. You need a 500W PSU if you're using a single 4890, and 600W if you fancy some CrossFireX luvvin'. But you need two six-pin connectors to power each 4890. This might pose a problem if you don't have four six-pin PCIe connectors on your power supply. However, Sapphire supplies two power adaptors in the package with a six-pin PCIe connector on one end and a single four-pin Molex connector on the other. You also get a CrossFireX connector and three CDs that contain CyberLink DVD Suite, CyberLink PowerDVD 7 and 3DMark Vantage.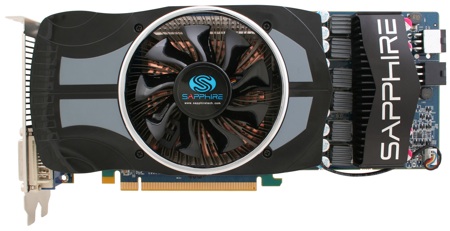 ...but no let-up in gaming performance
Installation of the Sapphire is straightforward provided your case can accommodate a 9.5in (240mm) graphics card.
The core and memory clock speeds of the Sapphire Vapor-X are 870MHz and 4200MHz which is slightly faster than a basic reference 4890, which typically runs at 850MHz. Factory overclocked models are clocked at 900MHz, so the 870MHz chosen by Sapphire falls in the middle.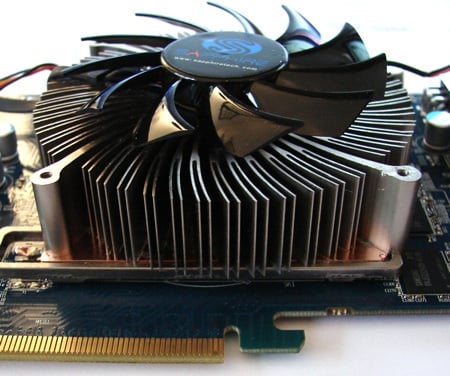 It's the cooler that makes the difference
Sapphire runs the 1GB of GDDR 5 at a true clock speed of 1050MHz which gives an effective speed of 4200MHz. This is at the top end of the various 4890 models on sale, which range from 3900MHz to 4200MHz.
During our testing we found that the Sapphire would overclock comfortably from 870MHz/4200MHz to 950MHz/4480MHz which is slightly slower than the 970MHz/4400MHz we achieved on a reference 4890. The difference amounts to two or three frames per second in Far Cry 2 using Full HD settings. This is mildly disappointing as the Sapphire HD 4890 Vapor-X is a premium graphics card. However, speed is only part of the equation.
3DMark Vantage Results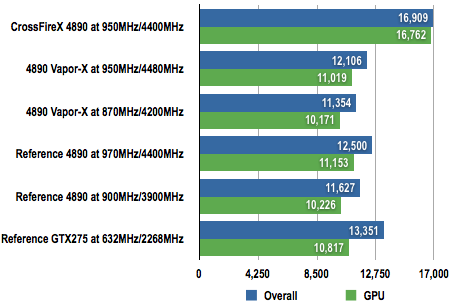 Longer bars are better
Power Draw Results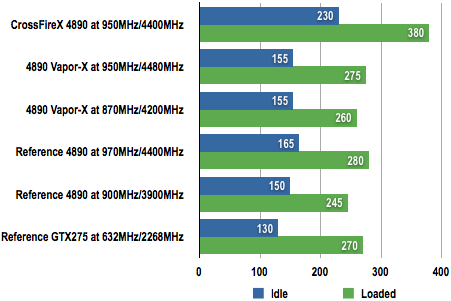 Power Draw in Watts (W)
The main strength of the Sapphire Vapor-X lies in its unique cooling package. The Vapor-X hardware is fairly slender yet it manages to keep the 4890 cool whilst making almost no noise. We were bowled over when we reviewed the Vapor-X HD 4850, but the Vapor-X HD 4890 is even more impressive as it has to cope with an extra 50W of power compared to the HD 4850.
The extraordinary thing is that the extra power appears to have no effect whatsoever as the new Vapor-X seems just as quiet as the previous model. We are forced to rely on memory as the HD 4850 was reclaimed by Sapphire many months ago.
Far Cry 2 Framerate Results
1920 x 1080, Ultra High Quality, No Anti-Aliasing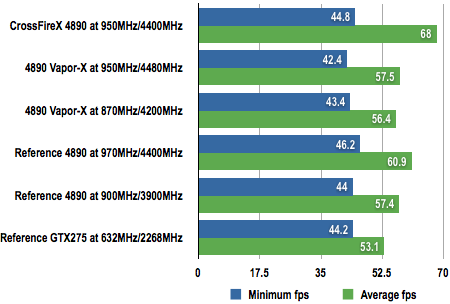 Longer bars are better
1920 x 1080, Ultra High Quality, 2x Anti-Aliasing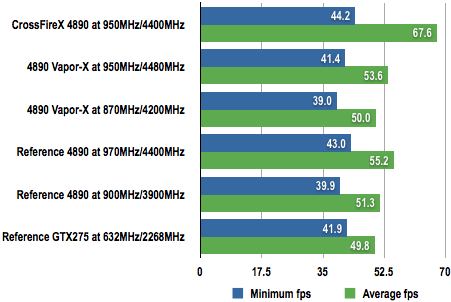 Longer bars are better
We used a Core i7 system based on an Intel DX58SO motherboard which has a passively cooled chipset. Our CPU cooler was the Akasa Nero that won our recent Core i7 cooler round-up. This combination of CPU cooler, motherboard and graphics card is effectively silent in operation even though the PC offers a prodigious amount of gaming grunt.
On the downside there wasn't much in the way of air circulation as the CPU and graphics fans were barely turning so the innards of the system got rather hot. However, it was all within limits and perfectly acceptable.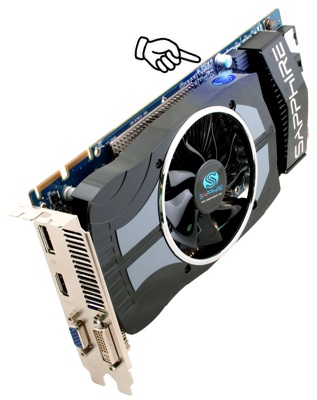 The worst thing we can say about this card is that it has a stupid blue LED built in
You'll be glad to hear that there was an aspect of the HD 4890 Vapor-X that caused us some mild upset and that was the blue LED inside the Sapphire logo on the top edge of the card. It's unnecessary and a bit tacky. Trivial though it is, it's really the only criticism that we can make about this graphics card.
Sapphire charges a modest premium of less than £20 for the Vapor-X cooler. We think it's money well spent, but there is a question about the wisdom of buying a DirectX 10.1 graphics card when DirectX 11 and Windows 7 are imminent.
AMD will launch its DX11 HD 5870 in a few weeks' time but right now its performance and price are unknown. Added to that, we are confident that it will take a good few months before we see the first DirectX 11 games, so if you're in the market for a top-notch gaming graphics card to play straight away, the HD 4890 Vapor-X is worth some serious consideration.
Verdict
We are deeply impressed by the Sapphire Vapor-X cooling system as it combines silent running with top gaming power and a fair price. ®
More Graphics Card Reviews...

AMD ATI Radeon
HD 4770

Zotac GeForce
GTX 275 AMP!

Sapphire Vapor-X
HD 4850

AMD ATI Radeon
HD 4890