Original URL: http://www.theregister.co.uk/2009/09/16/renault_fms/
Renault unveils e-car foursome
Something for everyone, apparently
Posted in Science, 16th September 2009 11:08 GMT
Leccy Tech Renault has announced four e-cars at the ongoing Frankfurt Motor Show.

Renault's Fluence (far left), Twizy (left), Kangoo (right) and Zoe
The line-up includes the Twizy Z.E. city runabout and the slightly more practical Zoe Z.E. small hatchback, both of which Renault described as "close to production concepts".
Despite the "concept" coding, both cars will make it onto roads - according to Renault. But the launched versions may look and handle slightly differently.
Twizy is powered by a 15kW/70Nm (20bhp/52lb-ft) electric motor, has a top speed of 45mph and driving range of just over 60 miles.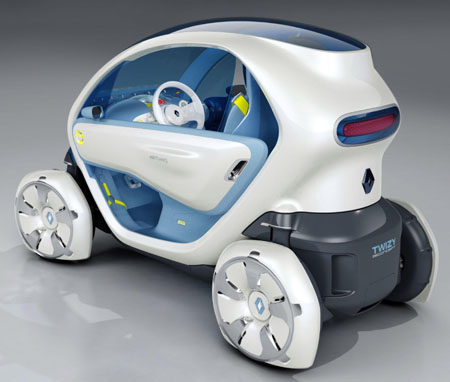 Twizy has a range of just over 60 miles
The car's intended for scooting around congested inner-cities in search of skinny lattes, according to Renault.
Moving up in size, the Zoe, Fluence and Kangoo e-vehicles each have 70Kw/225Nm (94bhp/166lb.ft) electric motors inside, top speeds of roughly 85mph and cruising ranges of approximately 100 miles.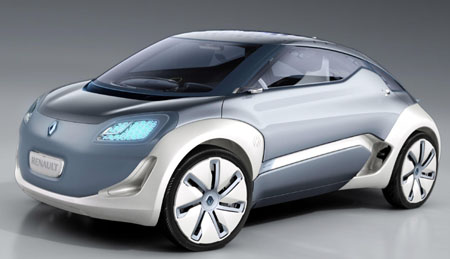 Zoe has a top speed of roughly 85mph
By punting the Twizy, Zoe and Fluence towards passenger mobility and the Kangoo towards more utilitarian movement, such as of bricks and shovels, Renault reckons it has all its e-vehicle bases covered.
All four vehicles can be charged using a standard domestic socket or a quick charge three-phase terminal, according to Renault.
Zoe, Fluence and Kangoo are each also compatible with Project Better Place's Quickdrop battery replacement stations, Renault added.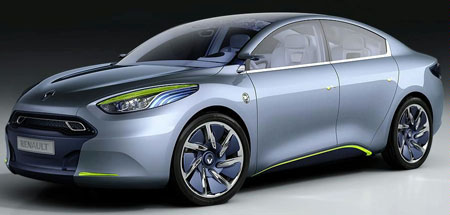 Renault's struck a deal to get 100,000 Fluence's on roads by 2016
The French firm intends to fit all four cars with integrated navigation systems, designed to relay details of the nearest charging facility and remaining range.
Buyers should also be able to reserve nearby charge posts or battery swap locations – infrastructure allowing – using the navigation systems, Renault said.
Fluence and Kangoo e-models will be launched into Europe during 2011, while Renault e-cars based on the Twizy and Zoe concepts will appear in 2012. Prices haven't been announced.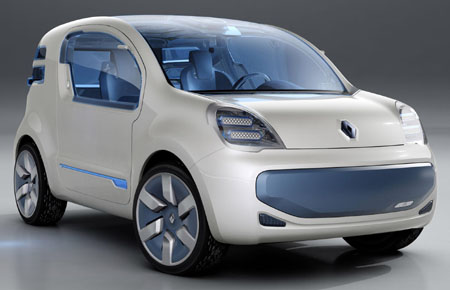 Kangoo is an electric multi-purpose vehicle
In related news, Renault and Better Place have announced joint plans to put 100,000 Fluence ZE e-cars on the roads of Israel and Denmark by the end of 2016. ®