Original URL: https://www.theregister.co.uk/2009/09/15/review_storage_freecom_mediaplayer_ii/
Freecom MediaPlayer II 500GB
Media streamer, meet Nas box
Posted in Personal Tech, 15th September 2009 09:19 GMT
Review Despite its name, the Freecom MediaPlayer II is more than just media streamer - it's a Nas box too. So, not only can you use it to play video files in your lounge, but it's easy to get content on to it as well. Just hook it up to your network, and drag and drop what you want to watch.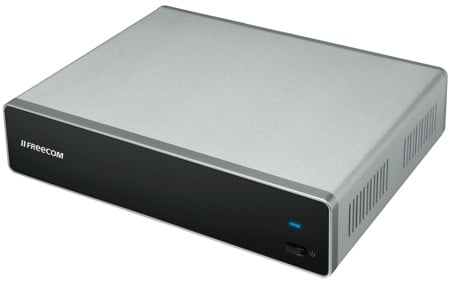 Freecom's MediaPlayer II: Nas and media playback box combined
As a device that will no doubt make its way into the living room, it's not offensive to look at but it's not the most stylish consumer electronics device ever made. The silver case and black front look decent, but it's not going to win any design awards. On the plus side, the constant blue light that's illuminated when it's on isn't so bright that it's distracting if you're trying to watch a video with the lights turned down.
Given its size, the MedialPlayer II is more likely to sit on top of existing AV kit, rather than in amongst it, as it doesn't fit the standard wide, short form. It measures 203 x 160 x 50mm, although you'll need to allow extra space around the back for cable clearance.
On the front, you'll find just a single power switch and a status LED, and the sides are clear apart from air vents. Round the back, you'll find an array of connectors to hook it up to a TV, plus ports that allows it to function as an external hard drive.
On the TV side of things, there's HDMI, component- and composite-video, and both analogue and digital audio. The device will pump out video at up to 1080i resolution. For storage connectivity, there's a 10/100Mbps Ethernet socket and two USB ports - a square type B connector to hook it up to a PC and a flat type A socket to connect addition storage or for use with the optional wireless dongle.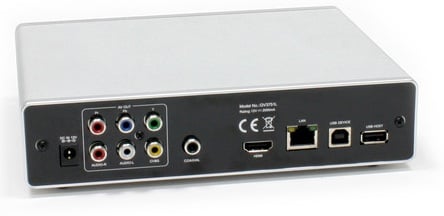 A decent array of connectivity options, HDMI included
Freecom sells the MediaPlayer II in a number of configurations. You can buy it as a drive-less kit to add your own disk to for £115, or you can choose a pre-prepared model with either 500GB, 1TB or 1.5TB inside for £175, £220 and £280, respectively. If you want to be able to connect to it wirelessly, then you'll also need the USB WLAN Adaptor, which will set you back a further £45.
As an external hard drive, you've got three options when it comes to hooking it up to your PC. The simplest is USB, but if you want to access the drive from multiple machines then wired or wireless networking is the better option. As the network port tops out at 100Mb/s, though, USB is by far the fastest.

The power LED isn't distracting
We tested the performance of the drive using three sets of files that all add up to 1GB to see how it handled not only large files but also lots of small ones. The first set was a single 1GB file, the second was 1024 1024KB files and the third set consisted of 8192 128KB files.
Using the USB connection, copying the single 1GB file took 55 seconds, 1024 files took one minute 28 seconds, and 8192 files took two minutes 16 seconds. Reading the same files from the drive took 38 seconds, one minute 15 seconds and one minute 30 seconds, respectively.
Connecting the drive to a PC through a Gigabit Ethernet hub saw the performance drop drastically. Copying the 1GB file took nine minutes 25 seconds, 1024 files took 36 minutes 12 seconds and the 8192 files hadn't completed in an hour with Windows' initial estimation at over three hours. Reading the files back took 11 minutes 21 seconds and 25 minutes 18 seconds for the first two sets, respectively. Again, the 8192 files hadn't completed in an hour and Windows' initial estimate was over five hours.
Switching over to 802.11b/g Wi-Fi saw transfer speeds drop further still. Copying the 1GB file took 14 minutes 24 seconds, 1024 files took 43 minutes 38 seconds and the 8192 file set didn't complete in over an hour, with Windows guestimating it would take at least four. Reading the files back from the drive took 22 minutes 21 seconds for the 1GB files and 27 minutes 20 seconds for the 1024 set. The set of 8192 files failed to transfer in under an hour and this time Windows reckoned it would take over ten hours to complete the job.
File Transfer Results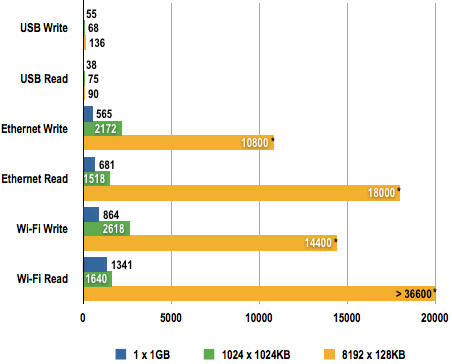 Time in Seconds (s)
Shorter bars are better
* Windows' estimate
We also ran CrystalDiskMark using the three connections and for USB it achieved a speed of 32.47MB/s for a 50MB sequential read, 22.83MB/s for random 512KB reads and 0.57MB/s for 4KB random reads. Write speeds were 27.32MB/s, 27.14MB/s and 1.80MB/s, respectively.
Over Wi-Fi performance dropped to 0.99MB/s, 0.96MB/s and 0.35MB/s for reads, and 1.41MB/s, 1.60MB/s and 0.78MB/s for writes. For some reason, Ethernet read performance was consistently worse, scoring 0.32MB/s, 0.38MB/s and 0.15MB/s respectively. Write performance was slightly better, coming in at 2.38MB/s, 2.35MB/s and 0.64MB/s respectively.
CrystalDiskMark Results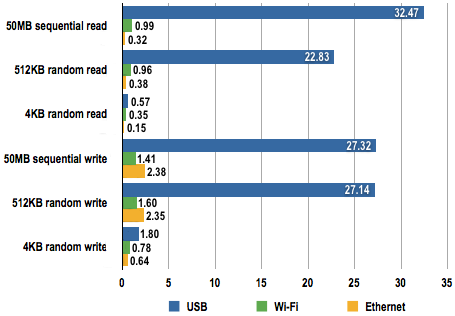 Data Transfer Speeds in Megabytes per Second (MB/s)
Longer bars are better
If you've got a large amount of files to transfer onto the MediaPlayer II, you're probably better hooking it up to a PC by USB, although Ethernet or Wi-Fi are reasonable if you just want to add the odd file now and again.
The MediaPlayer II also has a BitTorrent client built in, so you can pull down files directly to drive and you don't need to leave your PC switched on while it's downloading.
We found its file support a little lacking. It failed to play any of our test QuickTime H.264, MKV H.264 or WMV 9 files whether they were 480p, 720p or 1080p. It could handle both standard definition and HD DivX and Xvid files without a problem and would play these back from either the internal drive or stream them over Ethernet or Wi-Fi without dropping frames.
Standard definition MPEG 2 also proved no problem, both local and streamed, and it can play DVD VOB files without issue. If you've ripped any of your DVDs into ISO format, then it will also let you navigate the menus as well. MPEG 2 files at 720p proved more problematic, with some files playing but not showing on screen and those that would dropped frames when streamed. MPEG 2 1080p had similar problems as well. It will also play MP3 music files and you can view JPEG photos too.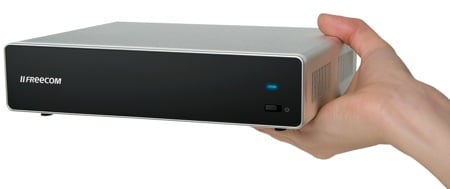 The MediaPlayer is about the size of a large desktop hard drive
The TV interface is extremely basic and slow - we found we frequently overshot the menu item we were aiming for. Having a display does make setup easier - you can see what you're doing to enter Wi-Fi passwords and things like that. On the downside, it appeared to occasionally forget the Wi-Fi settings after unplugging the adaptor and rebooting, which was annoying. The MediaPlayer also got quote hot in operation, so it needs to be placed somewhere were there's good ventilation.
Verdict
While the MediaPlayer II tries to be both a network drive and media streamer, it's not particularly adept at either. Its USB performance is adequate, but its network transfer speed it poor. As a media streamer, the interface is slow and frustrating and the file support limited. You're probably better off buying a dedicated Nas drive and media streamer and connecting the two together. ®
More Network Media Player Reviews

Wyplay
Wyplayer

Netgear
EVA9150

SiliconDust
HDHomeRun

Western Digital
WD TV