Original URL: https://www.theregister.co.uk/2009/09/15/review_media_player_apple_ipod_nano/
Apple iPod Nano 5G
YouTuber's delight
Posted in Personal Tech, 15th September 2009 12:02 GMT
Review Apple rarely - if ever - praises the products of rival companies, but the recent launch of the new iPod range included an unexpected tribute to the merits of the compact and easy-to-use Flip camcorder.
"That's a market we want to get into," said Apple CEO Steve Jobs before confirming that Apple has added a video camera to the new fifth-generation iPod Nano.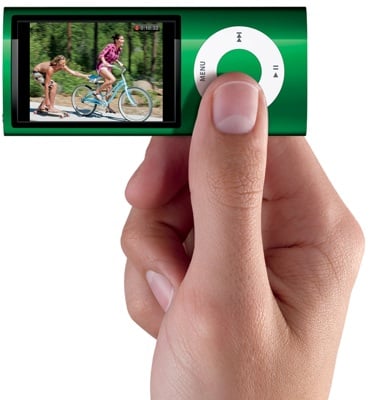 Apple's iPod Nano 5G: now with Flip-style video recording
It's a canny move that allows Apple to tap into a fast-growing market while at the same time shoring up an existing product line. The MP3 player market has had its heyday, so it makes sense to maintain demand for the iPod line by transition members into phones, handheld games consoles and, here, camcorders.
How long before iPod ads contain a sentence of small-print at the bottom that says, "also plays music", we wonder?
It's a pretty modest video camera, it must be said, but it should appeal to teenagers and grown-ups who just want a quick and easy way to shoot video clips and stick them up on YouTube or email to friends and family.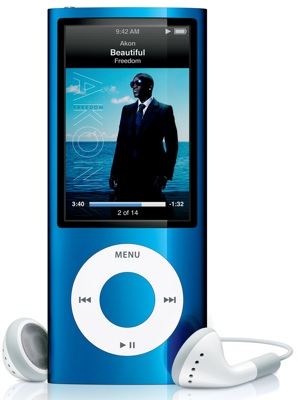 Also plays music, we're told
The camera is purely for video – it doesn't take stills because, according to Apple, the additional sensors required to shoot photos would have increased the thickness of the Nano beyond its current super-slim 6mm profile. The resolution is also pretty modest: just 640 x 480, recorded in H.264 format, and in the old-fashioned 4:3 aspect ratio too.
To be fair, the image quality in our tests was perfectly adequate for using on YouTube. The levels of sharpness and detail were good considering the relatively low resolution, and the tiny microphone proved to be surprisingly effective. And, to keep the young 'uns happy, there's a series of special effects, such as a sepia filter, a thermal imaging look, motion blur and even a Terminator PoV look, that you can add to your clips as you shoot them.
Sample Video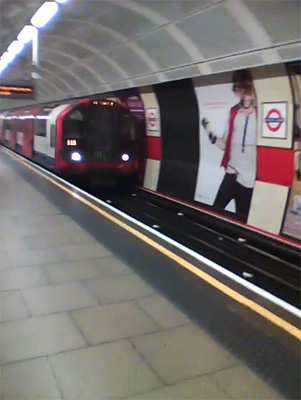 Click for a full-resolution QuickTime movie clip
Windows support is a bit lazy, though. Video clips can be imported into iPhoto on a Mac – rather than iTunes – but there's no version of iPhoto for Windows, so Windows users will have to manually drag-and-drop the files onto their hard disk and then use a third-party video app such as Premiere Elements to organise and edit their clips.
And with no on-board Wi-Fi - unlike the iPod Touch, rumoured to be getting a camera too, though it missed out this time round - you can't upload footage direct to YouTube.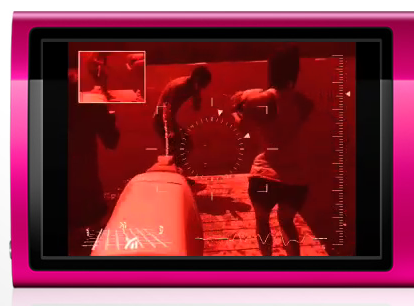 Yes! It's Arnie-cam!
The Nano's 240ppi screen has grown by 0.2in to 2.2in, with a similar increase in resolution from 320 x 240 to 376 x 240. The display sits in the same curvy, oval-section case design as before.
There's an FM radio built into this model too. It's something of a 'me too' as most of the Nano's rivals already have a radio. But then they've done so for years and it hasn't bothered Apple thus far. Why the change of mind? Apple isn't saying, but it's nonetheless one more tick Apple can add to the Nano's feature list.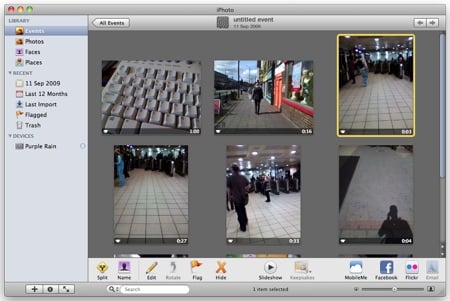 Getting and organising clips is easy on a Mac, less so on Windows and Linux
There is one nice touch, though: an option that allows you to pause and rewind up to 15 minutes of a live radio broadcast so that you can skip back and catch anything you might have missed. We found the indoor reception to be pretty ropey, though, so the radio is really a toy for the great outdoors.
We were surprised to see that the Nano now includes a small external speaker. The sound is a bit tinny for listening to music, but it's adequate for playing the soundtrack on your video clips. The one thing that never seems to change with any iPod is the thin-sounding earphones, which quickly had us reaching for our Sennheisers, as always. The only other accessories in the box are the USB cable and the universal dock adaptor.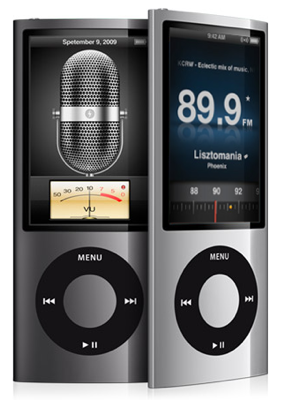 Just want the teens want: a voice memo recorder...
The FM radio is more useful
There are a few other small additions in this model, such as a pedometer, and the VoiceOver feature that first appeared in the iPod Shuffle now works on the Nano too, reading out menu items and song titles so that you don't have to keep looking at the screen.
The price of the 8GB model has actually gone up slightly, from £109 to £115 (£14.38 per GB), but the 16GB model has dropped from £149 to £135 (£8.44 per GB), which should ensure that this update does its bit to keep the 100m sales of previous Nano models going strong.
Apple claims the new Nano can play music for 24 hours on a single charge of the player's battery, though this falls to five hours if you're playing videos. Nothing during our testing suggested to us that these figures are off the mark. As ever, though, with no physical off-switch, power is slowly trickling out of the battery even when the Nano's not in use.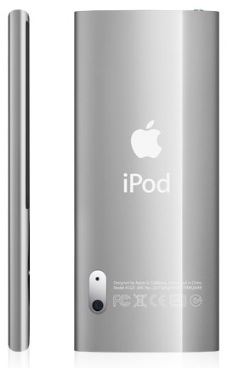 Skinny as ever, and the mic makes for a decent audio pick-up
Verdict
It's disappointing that the camera can't shoot stills, but the Nano's super-slim design and slick interface means that it'll nonetheless appeal to young folk who just want a convenient all-in-one device that will let them play music and video, and shoot video clips of their friends. Yes, there are rival devices that provide a wider range of features but these price points and the sheer techno-lust appeal of the Nano's styling should ensure that it sells like hot cakes again this Christmas. ®
More Media Player Reviews...

Cowon D2+ DAB

Philips GoGear
Opus

Sony Walkman
X-Series

Samsung P3