Original URL: https://www.theregister.co.uk/2009/09/15/hp_fall_pc_lineup/
HP busts out fall PC lineup
Economic meltdown be damned
Posted in The Channel, 15th September 2009 04:02 GMT
The fall PC buying season kicks off for Hewlett-Packard today as the company launches a bunch of new consumer and corporate notebooks as well as two desktop PCs aimed at businesses, a refreshed netbook, an all-in-one PC, and a beefier media server for the home market.
The notebooks and netbooks also sport new and classier-looking shells that are part of HP's effort to make its laptops a little more fashionable as well as durable.
HP held a pre-launch briefing for the new machines, and I got to hold them in my hands. HP's fall laptops are certainly more attractive than the typical laptops with brushed aluminum and plastic enclosures.
If looks matter to you - and it certainly does to some classes of PC buyers, as evidenced by the success and popularity of Apple's usually excellent designs - then you will probably find the fall lineup appealing. I haven't had PC Envy in a very long time, and like many of you think of a laptop or a desktop like I do a hammer or a screwdriver - I just want the tool to work and not break in my hands. And still, if I had to buy a new machine today, like many of you, I would want one that had a little style to it, provided it didn't cost too much of a premium.
The trick for HP has been to make these notebooks and netbooks more sexy in a way that doesn't sacrifice the strength of the shell and that doesn't add substantial cost to the machine - which HP's top brass would certainly not allow, given the economy. (HP designs its laptops in Cupertino, Houston, Taipei, and Shanghai, but currently manufactures them under contract in China. It is hard to get lower costs than this.) HP executives at the pre-launch event wouldn't talk about what all of these artistic touches cost, but gave the impression that it was nominal.
The two most interesting notebooks are the high-end Envy 13 and Envy 15, which sport a hybrid aluminum-magnesium casing. These boxes come out of the consumer team that includes the formerly independent VoodooPC gaming system division. HP merged Voodoo, which it acquired in September 2006, into its consumer division of its Personal Systems Group in July 2008.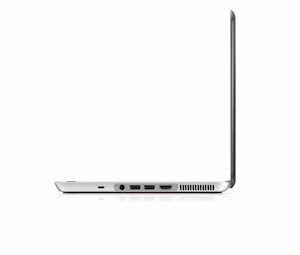 The HP Envy 13 notebook
Rather than mold the bottom of the laptop out of aluminum, which is easy enough and cheap enough, the Envy machines use a thinner aluminum shell that has magnesium reinforcements and that comes with a rubber coating that makes the machine less slippery and resists scratching. (The older Voodoo laptops had a carbon fiber case. It is not clear why it was ditched, but it might be the expense of building it.)
The resulting shell - and I held an all-aluminum empty shell one next to one made out of these three materials - is a lot lighter. On the top of the laptop, encasing the screen as well as the keyboard, HP is using aluminum that has been given a rich copper color using some method that HP did not disclose.
And the handrests below the keyboard have various kinds of etching (which is done by a laser) that help your hands stay put while you are typing, and also gives the surface some flair. Each key is surrounded by the copper-colored aluminum shell, which is meant to offset the keys visually and to keep the crud out. The machine has a glass touchpad that has a slight texture to it as well and a drag coefficient that is better than prior touchpads, according to HP.
Twice as bright
The Envy 13-1030NR is just eight-tenths of an inch thick and weighs in at 3.74 pounds, and as the name implies, it has a 13.1-inch widescreen, LED screen that sports 1366x768 resolution, which means you can view HD TV and movies on it. HP says this screen is twice as bright as any other 13-inch screen on the laptop market.
The Envy 13 uses Intel's Core 2 Duo SL9400 processor running at 1.86 GHz, which has 6 MB of L2 cache and which sports a 1.07 GHz frontside bus. The chip also supports DDR3 main memory; in this case, it has 1GB on the system board and either 2GB or 4GB of additional memory that can be plugged into an auxiliary slot. The Envy 13 comes with a 5400 RPM SATA disk with 250GB of capacity, has a built-in Webcam and microphone.
To get the machine skinny, the DVD drive is external to the unit, and HP's execs say they have done research that shows an increasingly large number of users don't mind lugging around a DVD drive and plugging it in only when they need it. The machine comes with a four-cell lithium ion polymer battery with about seven hours of life; an add-on six-cell "slice" extra battery that can be snapped onto the entire underside of the laptop to boost battery life to as much as 18 hours. The base Envy 13 costs $1,699, and its slice battery costs around $200.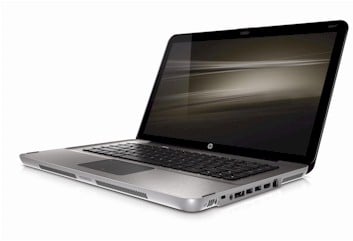 The HP Envy 15 notebook
The Envy 15 is a bit thicker, at 1-inch, and is heavier, at 5.18 pounds. It has a similar case as the Envy 13 (with more complex etchings), and will be based on a future and as-yet unannounced Core i7 processor from Intel. It will have four memory slots, for a total of 16 GB of DDR3 main memory, and will also sport two disk drive bays for customers who want to mirror their disks or double up their capacity. (SATA disks and SSDs are both supported in this machine.) The Envy 15 has a 15-inch LED screen and will have a base price of $1,799.
Both Envy machines will ship with Windows 7, by the way, and they come with the baby QuickWeb Linux environment that lets users open up the laptop and punch up a Web browser, email client, media player in a few seconds instead of waiting for Windows to load.
If the Envy boxes are not in your budget, then HP has two other notebooks it wants you to take a gander at.
The ProBook 5310m is aimed at corporate users and has a less elegant, but still attractive, magnesium-aluminum shell with the rubber-coated bottom. (Yes, that was intentional.) This notebook has a 13.3 high-def LED screen and comes with two processor options: Intel's Core 2 Duo SP9300 running at 2.26 GHz with 6MB of L2 cache or the Celeron SU2300 running at a piddling 1.2 GHz with 1MB of L2 cache. (The faster processor will cost you about $200 more, and is no doubt worth it.)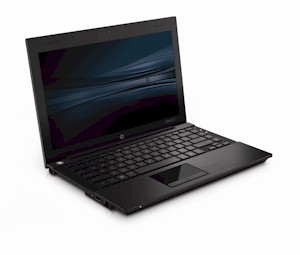 The HP ProBook 5310m
The ProBook 5310m has only a single memory slot, which supports 1GB, 2GB, or 4GB of DDR3 main memory, and has 7200 RPM SATA disks in 160 GB, 250 GB, or 320 GB capacities; 80GB and 128GB SSDs are also supported in this machine. The ProBook 5310m weighs 3.8 pounds and comes with either a four-cell or six-cell lithium ion battery. While it has a nice enough case, it is nothing like the Envy machines. But what do you want for a $699 starting price?
The ProBook 5310m runs Windows XP, Windows Vista, and Windows 7, as well as FreeDOS and, in China, Red Flag Linux. Novell's SUSE Linux Enterprise Desktop 10 is certified on the machine, but you can't get a license from HP for it, which annoyingly means you are shelling out dough for an operating system you are going to nuke if you want to use SLED. (There ought to be a law...) This laptop also sports the QuickWeb baby Linux environment, so it's not like HP is against Linux.
The ProBook 5310m is available now in the Asia-Pacific region running Windows Vista, and will ship in North America and EMEA concurrently with Microsoft's Windows 7 launch on October 22.
The Pavilion DM3 is a kicker to the AMD Neo notebook that HP announced in June. Spec sheets for the Pavilion DM3 were not available at press time, but the machine is just a little under one-inch thick and weighs in at 4.2 pounds using the optimistic gravity fields that all laptop makers seem to deploy when they calculate the acceleration of these laptops in said field.
The DM3 has an all-aluminum case, a 13.3-inch screen, and can be equipped with either dual-core Neo Turion processors from Advanced Micro Devices or dual-core, ultra low-voltage Core 2 Duo processors from Intel. (Exact processor models were not available at press time.) Depending on the configuration, it comes with embedded graphics or optional ATI or Nvidia discrete graphics cards. It has the standard Webcam and microphone and external DVD drive.
The Pavilion DM3 has a starting price of $540 using the AMD Neo processor and costs $649 in a base configuration using the Intel Core 2 Duo. It will also ship in conjunction with the Windows 7 launch on October 22.
Netbooks are hot among some laptop users these days, and HP wants you to accessorize with a new HP Mini 110 that sports some 3D images on the casing that are designed by Dutch artist Tord Boontje; this is a follow-on to a Mini 110 that HP is peddling with some peony prints on the case done by Vivienne Tam for $699.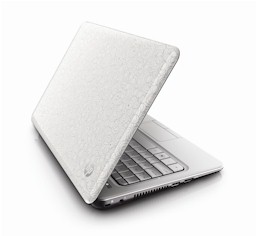 The HP Mini 311, with Tord scribbles
Not everyone has that kind of cash for what amounts to a digital purse, so the Boontje version, which comes in a more staid white instead of the flashy red, costs $399. That's the same price that HP is charging for a revved Mini 311, which will sport a wider 11.6-inch screen (with HD resolution), an Intel Atom processor and nVidia Ion graphics. The Mini 311 will only support Windows 7, and has its own optional, external DVD drive.
That brings us to desktops, and HP has three new ones, plus a media server to link everything together in the home or small office.
Yes, people do still buy desktop PCs, particularly businesses, and for a simple reason: if you try to carry a desktop PC out of a facility, people know you are stealing, and if you carry out a laptop, they think you are just trying to find a quiet place to work or are off to an important meeting.
HP's business customers are getting two new desktop PCs, which still bear the Compaq brand name. The Compaq 6000 Pro comes in two different cases a micro tower or a small form factor desktop that you can stack the monitor on top. It uses a motherboard based on Intel's Q43 Express chipset and supports a wide variety of Celeron, Pentium, Core 2 Duo, and Core 2 Quad processors. The system has four memory slots, and uses DDR3 main memory for a maximum capacity of 16 GB; it sports Intel's GMA 4500 graphics.
The motherboard has four peripheral slots (one PCI, one PCI-Express x16, and two PCI-Express x1), and depending on the chassis, it has room for one or two SATA disks or SSDs. HP is recommending that customers plunk one SSD in the first bay and load it with the OS and then use SATA for file storage. The machines can also be equipped with the Pocket Media Drive, a SATA drive encased in an anodized aluminum case that slips into one of the bays; these come in 250 GB capacities today and will be available at 320 GB beginning in November.
The Compaq 6005 Pro is an AMD machine, and it is based on a motherboard that uses AMD's 785G chipset and uses Sempron, Athlon II, or Phenom II processors, which come in single-, dual-, or quad-core variants and a pretty wide clock speed range. The basic feeds and speeds of the motherboards in terms of memory and storage capacity are identical, as are the microtower and desktop case options and the number and type of peripheral slots. This box has ATI Radeon HD2400 graphics.
Both the Compaq 6000 and 6005 Pro desktop machines are sold with 17-inch and 24-inch flat LCD screens (which won't be available until October 1), and they can run Windows Vista, Windows 7, and Windows XP through a downgrade that will be available through April 2010. The machines can also be configured with Novell's SLED 10 or FreeDOS. The Compaq 6000 Pro has a starting price of $605, while the 6005 Pro has an entry price of $563.
That brings us to the MS214 All-in-One PC, which crams a small PC box with an AMD Athlon X2 3250e dual-core processor running at 1.5 GHz onto the back of 18.5-inch monitor. The monitor has a slimline DVD drive embedded in it, and the PC has room for 2GB of DDR2 main memory in two memory slots and one 320 GB SATA drive. The PC box has all of the usual ports and such that you expect from a PC, as well as a keyboard and a mouse. Pricing starts at $599, and this is the kind of thing that HP expects you to plunk in your kitchen.
Finally, HP is upgrading its MediaSmart servers, which run Microsoft's Windows Home Server operating system variant and which are designed to be a warehouse for files for both Windows and Mac OS PCs in the home environment. The MediaSmart servers have room for four hot-plug SATA drives, and come with either a 1TB (that's the EX490) or 1.5TB (the EX495) drive in the first slot. You add more disk drives as you need capacity, and you can even daisy chain the devices using eSATA ports if you want to keep streaming content from or archiving data to the same MediaSmart server. The updated MediaSmart server has a new media collector program that can scan all of the PCs linked to it and gather up and archive all of these files to make them a shared resource.
HP has chopped the prices on the MediaSmart servers with this launch as well as boosting the capacity. The EX490 costs $549 with one disk and the EX495 costs $699 with one disk. ®