Original URL: http://www.theregister.co.uk/2009/09/14/review_laptop_pc_acer_aspire_5935/
Acer Aspire 5935 15.6in Blu-ray notebook
A lot of laptop for your dosh?
Posted in Personal Tech, 14th September 2009 12:02 GMT
Review The Acer Aspire 5935 is aimed at those folk who don't just want a laptop that's all work and no play. In addition to packing enough grunt to chew through productivity applications, it's also equipped to keep you happily entertained when you've finished working for the day.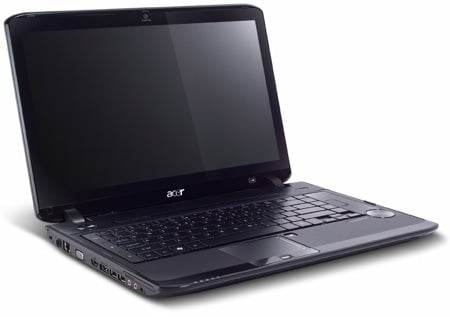 Acer's Aspire 5935: one 720p screen, two GPUs
The inclusion of Nvidia's Hybid SLI technology gives you the best of both worlds when it comes to graphics. If you're just filling out cells in a spreadsheet, you can drop down to the integrated Intel graphics and save power. Once you've filed your final report for the day, you can engage the Nvidia GeForce GT 130M chip instead and get down to some gaming. If you'd rather go for a less interactive form of entertainment, you can kick back and watch an HD movie on the 5935's Blu-ray drive or pick up digital telly thanks to the built in DVB-T receiver.
The 15.6in screen stretches to a 720p friendly resolution of 1366 x 768. If you want to get the full benefit of Blu-ray's 1080p maximum, you'll need to hook it up to a big screen TV using the HDMI port on the side. The screen's glossy finish ensures vivid colours, but also increases the reflectivity so you're more likely to be distracted by things behind you. It's certainly not the worst shiny screen we've seen, but it still picks up reflections of bright lights and daylight streaming through windows.
The case is fairly basic, decked out in black plastic, measuring 382 x 279 x 38mm and weighing in at 3kg. An array of bright blue status lights sits along the front edge, although it's far enough away to be out of your field of view when typing. The bright blue illuminated circle and line power indicator above the keyboard, however, can prove distracting, as can the backlit Acer logo beneath the screen.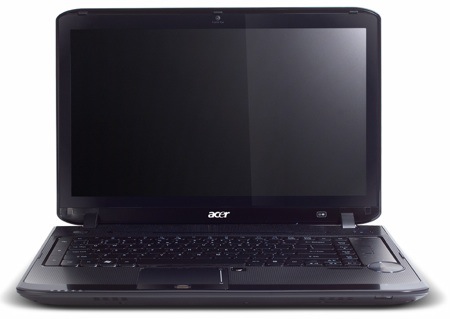 The display has a 16:9 widescreen TV aspect ratio
The 5935 is available in a number of different configurations, so you should be able to find one that suits your budget. The review model was equipped with a 2.66GHz Intel Core 2 Duo T9550 processor, but according to Acer it's more likely to ship with a 2.4GHz Core 2 Duo P8600 in the UK, which is slightly less powerful. The P8600 only has a 3MB cache, compared to 6MB on the T9550, knocking back performance a little further.
The laptop is equipped with 4GB of dual-channel DDR 3 memory, split into two 2GB modules. The Sata hard drive stretches to 500GB, although it's a 5400rpm model - a 7200rpm unit would be preferable on a machine destined to spend most of its life on a desk. The optical drive can only read Blu-ray Discs - if you want to burn as well then you'll need to fork out for a more expensive model. The drive also doubles as multi-format DVD writer.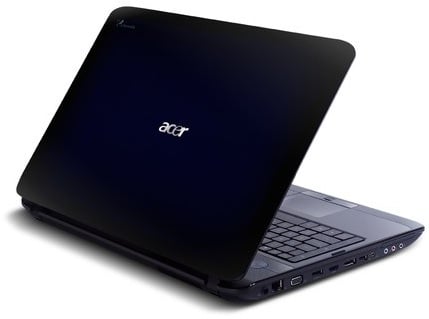 No shortage of ports, including HDMI, eSata and ExpressCard
The bulk of the ports are nestled on the left-hand side, where you'll find a Gigabit Ethernet, VGA, HDMI, eSata, two USB, an ExpressCard 54 bay, and line in, microphone and headphone sockets, with the latter doubling as S/PDIF. Flip over to the other edge and you'll see a memory card reader - SD, MMC, xD and Memory Stick - a four-pin Firewire, another USB and a connector for the TV aerial. There's nothing along the back, and the front edge only houses the infrared receiver for the bundled remote control.
Inside there's 802.11n Wi-Fi, which operates on both the 2.4GHz and 5GHz frequencies, which is useful if the airwaves around you are already congested with hotspots. You also get Bluetooth thrown in too.
The keyboard is large, good to type on and includes a backlight so you can make out which key is which in dark surroundings. On the far left are touch-sensitive shortcut buttons which toggle Wi-Fi and Bluetooth status, and start the Acer Backup Manager. Over on the right is another touch-sensitive panel of media playback and volume controls.
The touchpad is a decent size, and there's a fingerprint reader nestling in the middle of the buttons.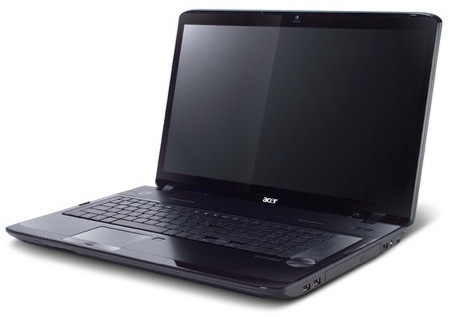 The standard Blu-ray drive is for reading discs only - a BD-R drive costs extra
The Acer is certainly no slouch when it comes to performance. With the Nvidia GPU enabled, Windows Vista gave it an Experience Index score of 5.3 out of six, which breaks down as 5.5 for processor, 5.9 for memory, 5.9 for graphics, 5.4 for gaming graphics and 5.3 for the hard drive. In Intel graphics mode, the overall score dropped to 3.8, thanks to scores of 4.1 for mainstream graphics and 3.8 for gaming graphics.
3DMark06 Results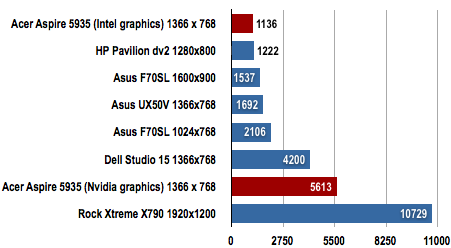 Longer bars are better
PCMark05 Results
Overall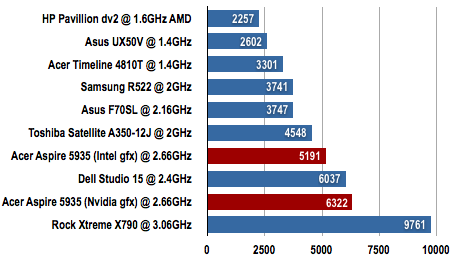 Longer bars are better
CPU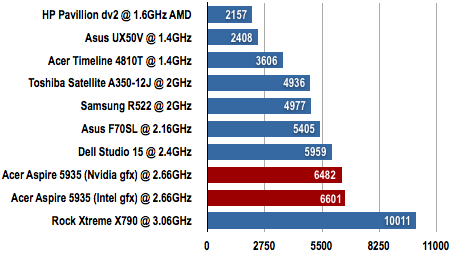 Longer bars are better
Memory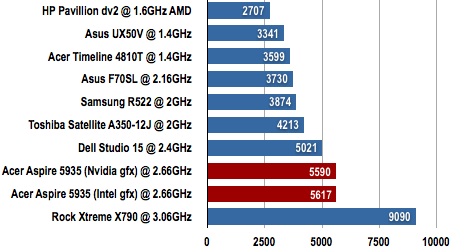 Longer bars are better
HDD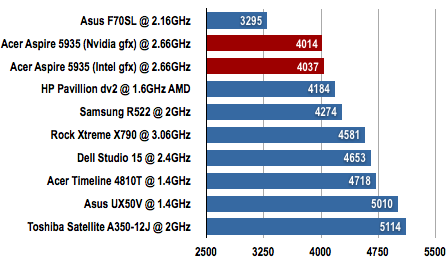 Longer bars are better
PCMark05 Battery Life Results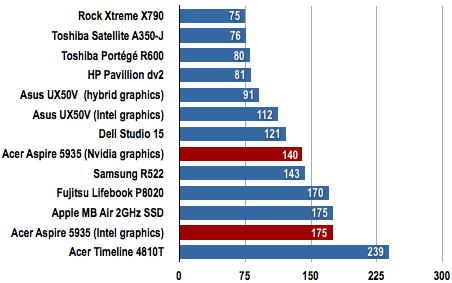 Battery life in Minutes
Longer bars are better
With the Nvidia graphics chip turned on stormed through our benchmarks, racking up an overall PCMark05 score of 6322. Dropping down to the Intel graphics chip saw the overall result drop to 5191. The CPU, memory and HDD sub-scores were largely similar - which is what you'd expect - but it achieved 7318 in the graphics test when using the Nvidia chip but only 2486 when the Intel graphics were doing the heavy lifting.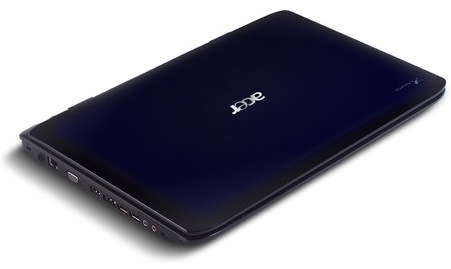 Not bad battery life for a 15-incher
Switching over to 3DMark06, with the Nvidia graphics in control it came home with a score of 5613, dropping to 1136 when shifting down to the Intel chip. The 5935 played Blu-ray titles in either graphics mode quite happily, so you don't need to step to the Nvidia chip just to watch a movie.
Using our standard intensive battery test, which involves running PCMark05 on loop until the battery gives up, the 5935 managed to keep going for 140 minutes with the Nvidia GPU enabled. Switching over to the Intel graphics added over half an hour extra runtime - 175 minutes in total. Given that this is a pretty extreme test, you should be able to achieve something approaching double these times with moderate use, which means enabling the Intel graphics if you're just doing simple application work could give you an extra hour of battery life.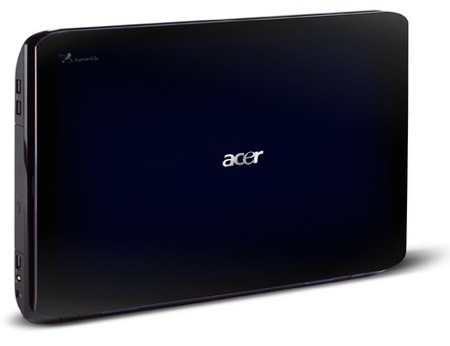 Case design inspired by a netbook?
You can manually control which graphics chip is in use using the utility in the system tray, but there's also a dedicated power savings button that enables preset power settings and changes the theme to Vista Basic. However, we were unable to get PCMark05 to run successfully with this mode enabled to test the battery life as on-screen pop-ups interfered with the benchmark software's operation.
Verdict
The Aspire 593's hybrid graphics means you're not wasting battery life when you don't need accelerated graphics, and the laptop's overall performance was impressive. However, it's not cheap: £1100 is a lot to pay for a 15in laptop these days, even one with a Blu-ray drive. ®
More Notebook Reviews...

Toshiba
Satellite A350-12J

Samsung R522

Dell Studio 15

Acer
Timeline 4810T