Original URL: https://www.theregister.co.uk/2009/09/14/quickoffice_for_iphone_review/
Microsoft Office for the iPhone (without the Microsoft)
Why wait for Redmond?
Posted in Software, 14th September 2009 06:02 GMT
Review No, you can't run Microsoft Office on your Apple iPhone or iPod touch. But you can edit Word and Excel files, including docs and sheets saved in Redmond's current .docx and .xlsx standards.
This convenience is provided by Quickoffice, a company that has for the past 12 years been providing Microsoft Office document support for Symbian, Blackberry, Palm, and iPhone.
Their latest iPhone and iPod touch offering is Quickoffice Mobile Office Suite 1.4.1 - App Store link here. With this $9.99 app, you can also view a broad range of other files, mount your Apple handheld on your desktop as a wireless drive, access and email files from your MobileMe iDisk, and more.
We recently got our hands on a copy, loaded it onto our iPhone 3GS, put it through its paces, and are ready to render judgment. In short, Quickoffice Mobile Office Suite 1.4.1 is a welcome tool for Office users on the go. It's not perfect - more on that in a minute - but what it does, it does well.
But note that this is a review of version 1.4.1. Earlier versions that we tested were both incomplete and buggy. Version 1.4.1 is a solid - and essential - upgrade.
As a viewer and media player, Quickoffice supports a veritable menagerie of file formats. As a file creator and editor, its capabilities are more limited: its Quickword module focuses on Microsoft Word, and Quicksheet handles Excel.
Supported formats include:
Images: .jpg, .jpeg, .png, .tif, .tiff, .gif, .svg
Microsoft Word: .doc, .docx
Microsoft Excel: .xls, .xlsx
Microsoft PowerPoint: .ppt, .pptx
Apple iWork: .pages, .numbers and .key (iWork '09, however, is not supported)
Adobe Acrobat: .pdf (but not password-protected PDFs)
Web Pages: .htm, .html
Web Archive: .mht
Text: .txt (but not .rtf)
Audio: .mp3
Video: .mov, .qt (.m4v files - those optimized for the iPhone and iPod - aren't supported)
Note the inclusion of .docx and .xlsx, the formats used by Microsoft Office 2007 for Windows and Microsoft Office 2008 for Macintosh. As we reported earlier this month, this addition is the first-line feature of version 1.4.
In our testing, support for these newer file formats is nearly identical to how Quickoffice handles the earlier formats. No small feat.
But before Quickoffice can handle any of its many supported files, you need to get them onto your iPhone. And this aspect of the app is a real winner.
File transfer
Files can be loaded onto your iPhone using a number of different methods. The most basic is Quickoffice's browser-based service, for which you simply enter an IP address provided to you by the app into a browser on your Mac or PC, navigate to the file you want to upload, then click a button. Simple and straightforward.
Explorer, Firefox, and Safari are Quickoffice's supported browsers. When we asked about Opera and Chrome, a spokesperson told us that although they "don't expect problems with Opera or Chrome," the app has only been tested using the Big Three.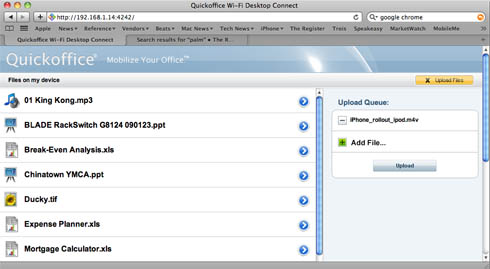 Browser-based file transfer is brain-dead simple
If you want, you can supply a username or password to guard against others on your wireless LAN from accessing your iPhone-stored files. Highly recommended.
If you have an account on Apple's online MobileMe service, you can add that account to your Quickoffice startup screen and directly access files from your MobileMe iDisk. Transfers can also be made from your iPhone to your iDisk as well.
Quickoffice also allows you to access files that you've received on your iPhone as email attachments. The system is a wee bit kludgy - you need to forward them to yourself through Quickoffice's servers - but it worked for us without a hitch.
Our favorite method for loading and unloading files to and from our iPhone, however, was to mount the iPhone itself on our Mac's desktop as a WebDAV-based wireless volume by entering an app-supplied IP address in our Mac OS X Finder's Go > Connect to Server dialog.
Setup for Vista or XP is almost as easy, and when we asked about Windows 7, Quickoffice said: "We expect this support to continue to work under Windows 7, although we have not yet tested in this environment."
Mounting your iPhone on your desktop not only makes moving files back and forth simplicity itself, it also allows you to use your iPhone as a wireless hard drive for any other purpose. Bonus.
In our testing, all file-transfer methods worked as advertised: email attachments, browser, to and from MobileMe (including emailing), to and from from the iPhone mounted as a volume, and in and out of folders we set up on Quickoffice on our iPhone. The UI used to perform some of the transfers wasn't always intuitive - especially in the case of MobileMe - but all worked without a hitch.
Quickword
Like it's spreadsheet companion Quicksheet, Quickword isn't a replacement for Microsoft's ubiquitous word processor, but rather a way to view .doc and .docx files, make quick edits to them, and send them on their way.
Microsoft Word, as anyone who has used it knows, it chock full of formatting capabilities - more, if we're honest, than most of us will ever need. Quickword strips those options down to the basics.
To check how well Quickword rendered .doc and .docx files, we created a test file in Microsoft Word with a number of relatively straightforward formatting tweaks, saved it in .doc and .docx formats, transferred both files to our iPhone, and opened them in Quickword - one at a time, since Quickword can't have multiple documents open simultaneously.
Here's our test file: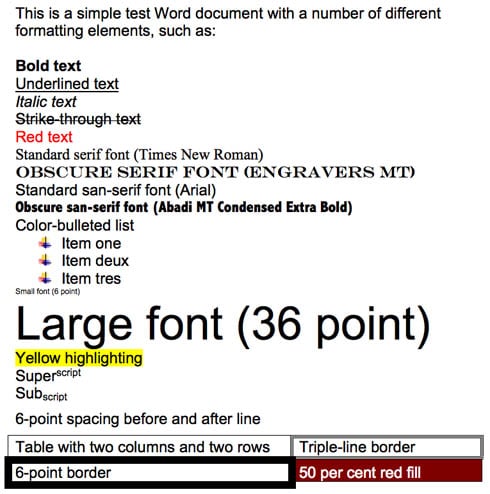 You may not think Abadi MT Condensed Extra Bold is obscure, but Quickword does
And here's how Quickword displayed the .doc version:
Quickword has a relaxed attitude towards highly formatted .doc files
Notice that the opening text has shrunk a bit, a few of the formatting niceties have disappeared, the colored bullets have changed to stock dots - although the original's colored bullet inexplicably reappears at the end of the document - and the "obscure" fonts are missing.
The font substitutions are easily explained: both Quickword and Quicksheet ship with only seven basic fonts, and there's no way to add more. The Quickoffice spokesperson told us that the company is considering adding more fonts in future versions. May we suggest iPhone OS 3.x's new in-app purchases as a way to add more? There's nothing quite like an enhanced revenue stream, guys.
Here's how Quickword displayed the .docx version of our test Microsoft Word file: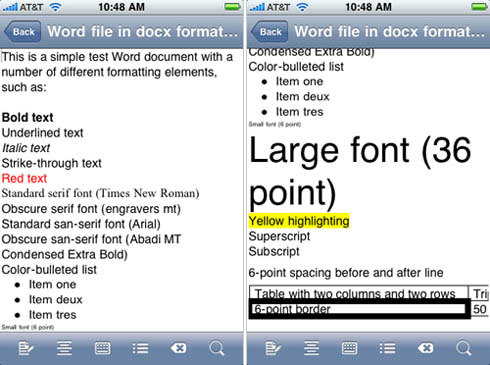 Our .docx file came through just marginally more correct than our .doc file
Not much different, right? The opening text is the correct size and that odd colored bullet is gone, but all else is identical to the .doc version.
Oh, and don't worry about the fact that the table is cut off on the right-hand side. A simple flick of a finger brings it into view - albeit without most of the formatting from the original Word file. You can also simply pinch a document to enlarge or shrink it, and the text will wrap to fit the display.
Although the formatting in Quickword doesn't match up with the formatting in the original Word file, Quickword doesn't muck it up either. When we exported the Quickword-opened files back onto our Mac, they opened with all their original formatting intact. That was a relief.
Speaking of formatting, Quickword offers basic formatting capabilities such as font size and color, bold and italic, text alignment right or left but not justified, and simple bulleted lists. It also supports the iPhone OS 3.x cut, copy, and paste system, and it offers its own straightforward search tool.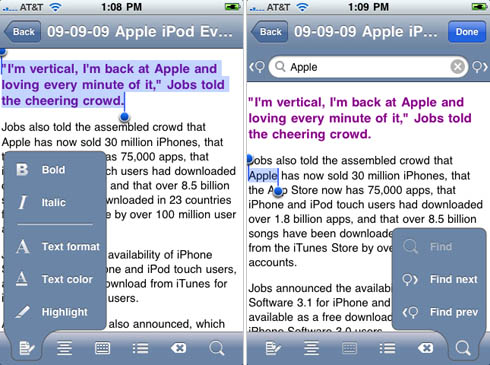 Formatting choices are simple (left) and the Find command uses Apple's selection UI (right)
Typing into Quickword is as simple - or as maddening - as typing into any iPhone app. Same with cut, copy, and paste. Landscape mode is supported, and Quickword uses the same predictive-spelling engine as does Apple's iPhone apps. Just remember to turn on Auto-Correction in your iPhone's Settings > General > Keyboard dialog.
Tapping and holding magnifies the display as opposed to bringing up the iPhone-app magnifying glass. Some may prefer this method of accurate cursor positioning, but we found it distracting for magnified text to disappear off the edge of our iPhone's display, making contextualizing your edits more difficult.
One cutesy touch that we found annoying: To undo an action, you need to shake your iPhone, which brings up an Undo/Redo dialog. A simple button would be easier to deal with, in our opinion.
Quicksheet
Quickoffice's Excel stand-in, Quicksheet, is a more robust module than its Word-wrangling sibling. It's also more difficult to use, seeing as how tapping and dragging tiny spreadsheet cells requires a steady hand and good aim - especially for our admittedly ham-handed fingers.
Fortunately, the same pinching system allows you to grow and shrink your spreadsheet, making cell-selection easier. Be careful, though, to place both fingers on the spreadsheet at the some instant, or you'll select a cell instead.
To test .xls and .xlsx compatibility, we took a mildly formatted Excel spreadsheet and saved it into both formats.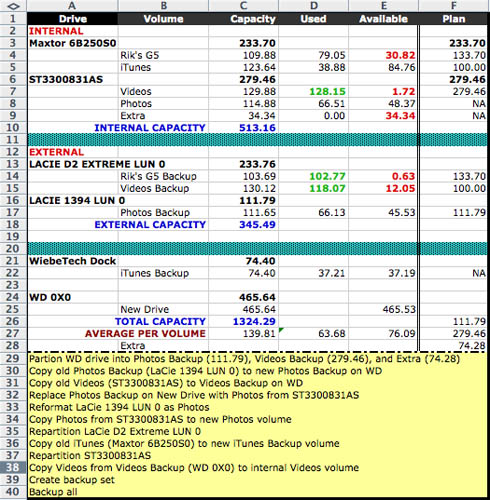 This simple Excel spreadsheet helped me reorgnize the volumes on my trusty Power Mac G5
Out test file not only had some simple borders, colors, and textures, but also conditional formatting: The numbers in bold green were set to receive that formatting if they were over 100, and the numbers in bold red, under 35.
When we opened both files in Quicksheet they were essentially identical, with one tiny niggle: The .xlsx file opened with a slightly higher zoom than the .xls file. No biggie.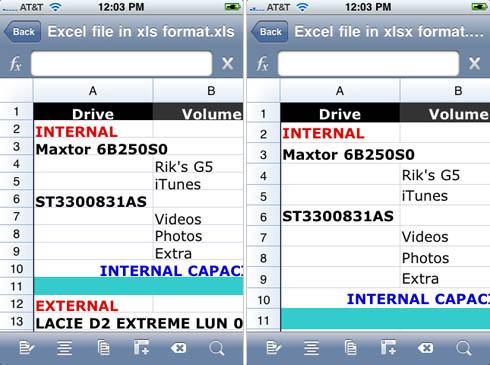 Not only does a .xlsx document have a larger file size, it looks a touch bigger, as well
When we pinched the file to show the entire width of the spreadsheet in the display, it became apparent that Quicksheet, like Quickword, simplifies an Office file's format.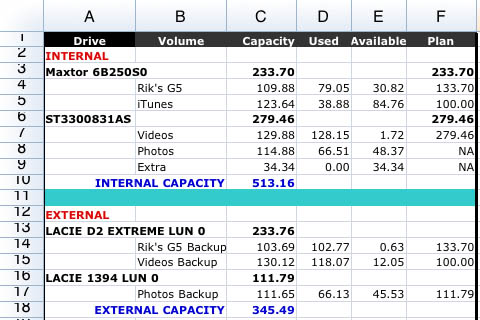 Simplify, simplify, simplify
The lack of texturing in the turquoise bars is a vanishingly tiny problem, and we can live without the double-bar and dotted-line borders, but we found the lack of conditional formatting more problematic. A call to Quickoffice confirmed that, yes, conditional formatting is not supported.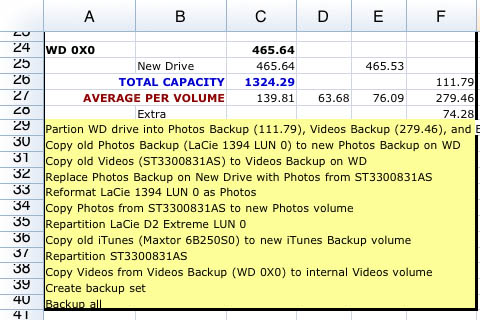 At least the text is smart enough to extend over unfilled cells, à la Excel
When we scolled down to the bottom of our test spreadsheet, we noticed that line 29 - which fit just fine when opened in Excel - jutted out further than it should in Quicksheet.
Inserting and deleting rows and columns is easily accomplished, and a helpful Drag to Align UI made text alignment easy. Quicksheet also allows adding, deleting, or reordering worksheets within an Excel document using a standard iPhone-app UI.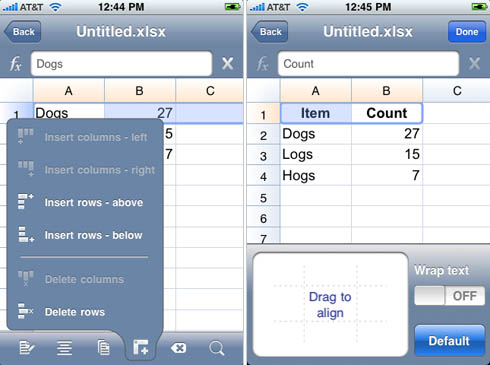 The Drag to Align UI is sheer genius
Unfortunately, although you can edit cell contents when in landscape mode, changing their formatting is portrait-mode only. Neither can you add formulas when in landscape mode.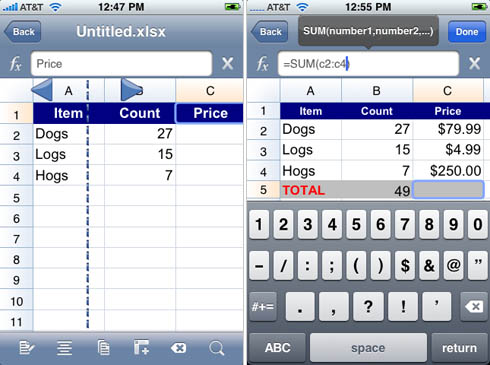 Don't worry, most formulas are far more powerful than SUM
Speaking of formulas, Quicksheet is loaded with them - we counted 121, grouped in such categories as Math & Trig, Statistical, Financial, and more, including one appropriate to most of our Excel usage: Common. To use a formula, you tap the ƒx icon and select the formula from its list. The formula then pops into - where else? - the formula bar and a balloon presents you with its syntax. Type in your variables and away you go.
You can also change row and column widths by tapping and holding until directional arrows appear, then drag right and left, or up and down until you're happy with the result. That may sound easy, but we found this to one of the more challenging tricks to convince Quicksheet to perform - that, and double-tapping and dragging to select a range of cells. Perhaps with more practice? Perhaps not.
As with Quickword, a reduced range of formatting options is offered, simply covering the basics. Oh, and don't go looking for chart-formatting options - Quicksheet doesn't support charts of any kind.
Quickoffice Files
While Quickword and Quicksheet allow you to create and edit Word and Excel files, Quickoffice Files allows you to view a broad range of other types of files - up to a point.
Take Powerpoint, for example. While we were able to view simple Powerpoint (and Keynote) presentations, Quickoffice Files chokes on large files. According to the aforementioned spokesperson, this is due to an iPhone limitation, and not a limitation imposed by Quickoffice.
Quickoffice is up-front about this limitation. In its Help Guide (PDF), for example, it admits that "Quickoffice Files utilizes viewers present on your iPhone to view documents. This document viewer is used by many applications on your iPhone including the Mail application for viewing e‐mail attachments. At times, this viewer can crash or not respond when viewing large or complex documents."
It never crashed in our testing, by the way.
Also, Quickoffice Files warns you when there might be a problem. When we opened a 12MB PowerPoint presentation replete with photos and illustrations, we were first warned that it might take a "long time" to open, and then we were presented with a progress spinner during the actual opening.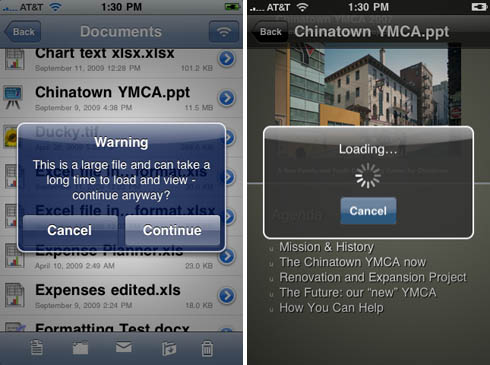 Don't say Quickoffice Files didn't warn you
All well and good, but we would have preferred to have been forewarned that the document might not open correctly.
For example, take a look at this page from our 12MB PowerPoint presentation as displayed on our Mac: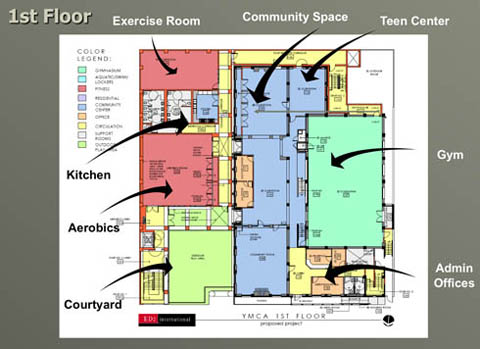 Here's what page 15 should look like
Here's how that same page looked in Quickoffice Files: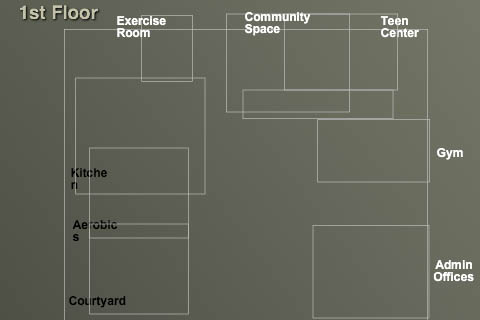 A wee bit less colorful, eh what?
It should be noted that this particular page is halfway into the 30-page presentation, and most of the pages before it displayed fine, photos and all. We should also note that even when photos and illustrations didn't display, the text entered into the PowerPoint pages did.
We also opened TIFFs, both RGB and CMYK; played MP3s and MOVs; and launched non-password-protected PDFs. All went without a hitch.
The Bottom Line
While this review may sound like a complain-a-thon about the limitations of the Quickoffice Mobile Office Suite, we still find much to recommend. After all, it's not intended to be a full-scale substitute for Microsoft Office, but rather a quick-and-dirty file creator, viewer, and editor.
And that it does well. Add the great collection of formulas in Quicksheet, the easy editing in Quickword, and the excellent collection of ways to get files in and out of it, and you've got a winner.
And you get a wireless WebDAV storage device as part of the bargain. Not bad for ten bucks. Not bad at all. ®