Original URL: https://www.theregister.co.uk/2009/09/14/nimrod_mra4_prod_variant_first_flight/
Most expensive RAF aircraft ever takes to the skies
9 Nimrod MRA4s to cost same as 3½ Space Shuttles
Posted in Policy, 14th September 2009 12:47 GMT
Analysis The most expensive aircraft ever built for the British armed forces, a painstakingly-restored De Havilland Comet airliner outfitted as an anti-submarine patrol plane, has made its first flight.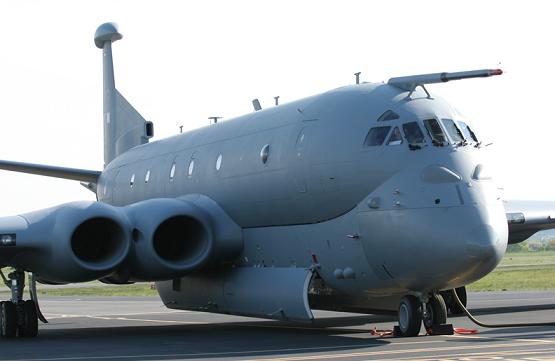 The 1940s* aeroplane that WOULD NOT DIE.
The Nimrod MRA4 programme was initiated back in 1996 by TV presenter, one-time director of BAE Systems and former New Statesman theatre critic Michael Portillo, who was defence minister at the time. Under the original deal, BAE Systems would be paid a "fixed price" of £2.2bn to rebuild, rearm and upgrade the RAF's fleet of 21 Nimrod MR2s, the last De Havilland Comet airframes left flying in the world, to the point where they would effectively be new aircraft. This would have meant a cost of just over £100m per plane. The project was then known as "Nimrod 2000", rather optimistically as it turned out.
As time went by it became clear that the price was not fixed, and that "2000" wasn't a good name for the project at all: it was re-dubbed Nimrod MRA4. BAE Systems has just announced that the first flight of a production-standard MRA4 took place last week, though the aircraft is not yet ready for handing over to the RAF - that will probably take place next year. Then there will be more delay before the type can be declared operationally capable.
Meanwhile the MoD now estimates the programme's overall price tag as £3.6bn, an increase of more than two-thirds. In fact the situation is much worse than this, as the number of planes has had to be slashed to prevent even worse cost overruns. The RAF will now receive just 9 aircraft rather than 21.
As a result the cost per plane has actually quadrupled: each MRA4 will now have cost the taxpayers a cool £400m, better than $660m at current rates. And this is without allowing for the fact that the original planes, supplied for upgrade by the government, had already cost a substantial sum. This makes the Nimrod MRA4 not only the most expensive British military aircraft ever made but one of the most expensive aircraft in the world: you could buy a fleet of space shuttles or stealth bombers for the price Blighty is paying to have restored 1950s-vintage airliners.
But perhaps a modern anti-submarine plane costs this much normally?
No it doesn't. India, for instance, earlier this year ordered a fleet of 8 brand-new P-8 Poseidons, the type the US Navy is getting, for $260m each - 40 per cent of what Britain will pay for its Nimrod MRA4s. And the P-8 is based on the 737 airliner, in commercial service all around the world, meaning that its running costs will be a fraction of those associated with keeping the last 9 Comets flying. We can expect that the 8 Indian planes will offer significantly more capability that the 9 British ones, in fact.
But at least Blighty retains the ability to do proper high-tech, surely? After all, the MRA4 is to feature all-new computers, sensors, engines etc. Who cares about the airframe as long as we retain critical skills like this?
In Afghanistan, the most expensive comms-relay and camera plane ever
No again. The new combat computer architecture is by Boeing, in fact, not BAE. The electronic-warfare fit is from Israel. Most of the MRA4's weapons will be from America. Its engines will have "Rolls Royce" stamped proudly upon them, but will in fact come from Germany.
So we're paying almost triple market rate for largely foreign kit integrated into a historical chassis. And it won't have escaped most readers that the threat the old Nimrod MR2s were built to fight - the Soviet submarine fleet - is nowadays simply not an issue. There are still a handful of Russian subs left operational, but the Red Army is no longer in any position to invade Western Europe. The critical need to secure the North Atlantic NATO supply lines is gone.
Sure, a few of the existing Nimrod MR2s (and much more so, the three specially equipped electronic-intelligence birds, the Nimrod R1s**) have been doing useful work over Afghanistan. But for the MR2 this has mainly been a matter of relaying ground radio communications between units separated by mountains. A few MR2s have been fitted with an electro-optical camera turret for use as high-flying spyeyes, too - the MRA4s will all carry a Northrop Grumman "Nighthunter" set for this sort of work.
But you don't pay the best part of a billion dollars per bird for comms relay and basic aerial spyeye capability, not unless you're insane. A cheap unmanned drone able to do such things costs no more than £10-20m, even with the MoD buying. The mere fact that MR2s have been, and MRA4s will be, able to make themselves marginally useful above Afghanistan doesn't mean they're worth what they cost - not in money or in lives.
There can't be any doubt that we should simply cancel the whole project right now. The price of an equivalent number of P-8s would be recouped very quickly indeed through lower running costs. And actually, we might very well give some thought to simply not having subhunter planes for a while - it's hardly top of the priority list right now, and we've recently bought loads of incredibly expensive anti-submarine helicopters and frigate sonars which will do just fine if any enemy subs should actually appear.
Cash freed up by not having maritime patrol planes for a while would let us put some more troops on the ground in Afghanistan - we have the people in uniform already, the manpower cap there is primarily a matter of money - and maybe make some progress in the war we started 8 years ago. Or we could pay our troops decently, or look after the injured better.
But there seems to be zero chance of anything common-sense like that happening. This is largely due to the very successful obfuscation by the RAF of just how relatively little - considering the massive costs in money and lives - the Nimrods have actually been contributing in Afghanistan. It doesn't take away from the hard work and sacrifice of the crews to say that: it should be obvious that maritime patrol aircraft aren't going to be a critically important counter-insurgency tool. Once again, operational security ("can't tell you what they're doing old boy, frightfully secret") has been used as a cloak for empire-building, or in this case empire-preservation.
"It's just wonderful to see this aircraft take to the skies," enthused BAE's Steve Timms last week.
Not if you're a British taxpayer or serviceman, it isn't. ®
*The de Havilland Comet first flew in 1949.
**A Nimrod R1 elint plane is hugely more relevant and useful than either an MR2 or MRA4. Fortunately, the MoD seem to be resisting BAE's plan to replace the aged R1s with more specially-pimped Comet relics at colossal and unnecessary cost. Instead the ministry is looking to buy US "Rivet Joint" planes for this job.