Original URL: https://www.theregister.co.uk/2009/09/11/nokia_7705_square/
Nokia dumps candybar phones for squares
It's hip to be square, apparently
Posted in Personal Tech, 11th September 2009 11:21 GMT
Nokia has finally proven how square it really is, with the launch of a square-shaped mobile phone.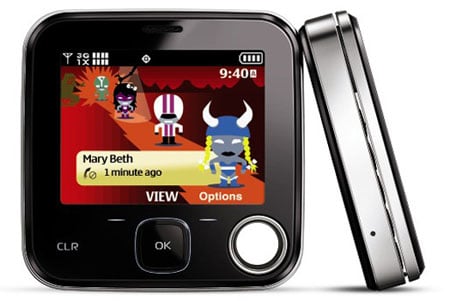 Nokia's 7705 Twist is square, but well designed
But instead of choosing an equally square name, like Colin or Raymond, Nokia has bestowed the cell-phone oddity with the moniker 7705 Twist messaging mobile.
Apparently a "bite-size" phone, the 7705 Twist features a full Qwerty keyboard that slides out from beneath a 2.4in display – both of which are, you guessed it, square.
A customisable Contact Light Ring – identifiable at the bottom right on the above picture – allows you to assign different colours to different contacts and message types.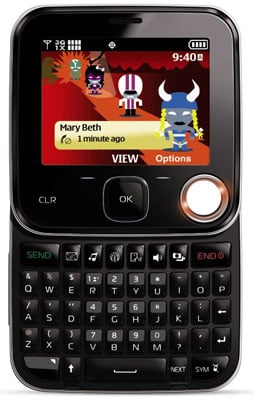 The light-up ring flashes different colours for texts and calls
For example, the ring could be set to light-up pink when your partner texts you and then red when they call to ask what time you'll be home.
Text messages are threaded on the handset, Nokia pointed out, as they are on the iPhone and Palm devices. A 'post to blogs' feature also enables you to simultaneously fire the same message out to multiple social network sites.
Nokia has equipped the 7705 Twist with a 3Mp camera – featuring a flash and self-timer mode. The latter should be quite handy for taking group shots with yourself in because the phone's flat-edged design will apparently let you stand it on end.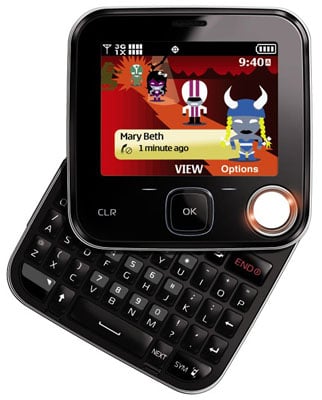 Verizon's V Cast Music service is also supported, in North America
The Nokia 7705 Twist will be available in North America later this month, but a UK price hasn't landed yet. ®