Original URL: https://www.theregister.co.uk/2009/09/09/samsung_launches_acronym_tastic_screen/
Samsung launches skinny monitor, spurious marketing
Meaningless acronyms ahoy
Posted in Personal Tech, 9th September 2009 12:28 GMT
Warning, meaningless acronyms ahead. Samsung today announced a new 23in monitor with "LED BLU" technology on board. Something to do with Blu-ray Disc, perhaps, or some other HD jiggery-pokery? No. 'BLU' simply stands for... er... "back light unit".
Yes, Samsung could easily have said its XL2370 monitor has an LED backlight. It would be equally sufficient to say the screen has a 5,000,000:1 contrast ratio, but no, another acronym is required: DCR, for "dynamic contrast ratio".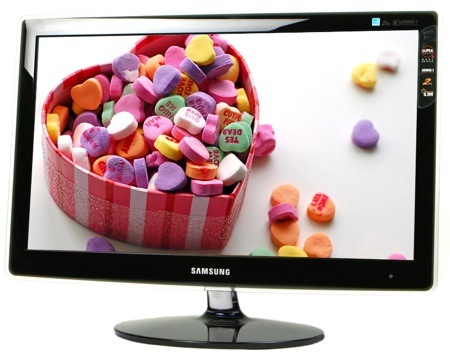 Samsung's XL2370: JAFM™
Actually, it's a "Mega" dynamic contrast ratio.
The XL2370 is a 1920 x 1080 panel. It has a 2ms response time. It uses 33 per cent less energy than "standard" displays, by which Samsung means screens without LED backlighting. It is 70 per cent thinner than said.
The screen is "VOC-free", Samsung claims. 'VOC', we assume, stands for Very 'Orrible Chemicals.
The new screen is quite attractive for a monitor. Couldn't the marketing drones have focused on that? Now with QAFAM, anyone?
The Samsung XL2370 will be available in the UK in November, BLUs, VOCs, DCRs and all. ®