Original URL: https://www.theregister.co.uk/2009/09/08/review_networking_powerline_d_link_dhp_303/
D-Link DHP-303
200Mb/s powerline Ethernet kit
Posted in Networks, 8th September 2009 12:02 GMT
Review Despite an early charge, powerline networking has suffered something of a stall over the past few years. The stuff is still shifting off the shelves, but we haven't seen much in the way of improvements in the technology.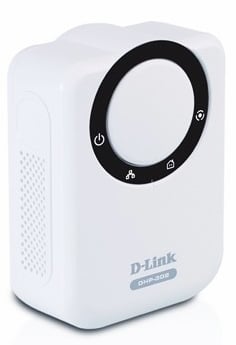 D-Link's DHP-303: no change over the years but the model number?
Back in 2007, we were graced with 200Mb/s adaptors that provided a more reliable alternative to wireless when streaming HD video. Since then very little has changed and there's still no sign of the 400Mb/s adaptors that the rival HomePlug and UPA groups have been shouting about the past year or so.
So when we heard D-Link had some new adaptors for us, we had our fingers crossed in the hope they would be the first to sport a 400Mb/s chip. Sadly, they don't. Instead, the DHP-303 units are very similar - both visually and on paper - to D-Link's DHP-300 adaptors from a couple of years back.
Before we go any further, it's best to clear up D-Link's somewhat bizarre naming convention. In what can only be seen as an effort to confuse, it calls the starter kit - as reviewed here - the DHP-303, although the individual adaptors are known as DHP-302s.
The adaptors subscribe to the UPA specification and therefore won't play ball with any HomePlug kit you may already have. They use the latest Aitana chipset from DS2 to fire data over the mains, which is backwards compatible with older 200Mb/s UPA adapters.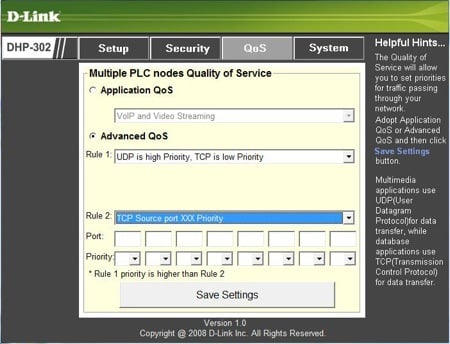 Change the settings in software
There's nothing fancy about the design. A black ring houses four status LEDs, while a 10/100Mb/s Ethernet port - there's no need for Gigabit since they won't get anywhere near 200Mb/s in the real world - is found on the underside.
It's disappointing that D-Link hasn't taken the opportunity to do something about the bulky nature of the adaptors. At 99 x 74mm, the units are fairly bulky and sit almost flush to the power socket. As you can see in the photo below, in our test location they pushed up against the socket's switch – it didn't cause a problem when switched on, but it meant we had to physically remove it in order to switch it off. Whether the adaptors' bulky dimensions cause you problems will ultimately depend on the style of wall socket in your home.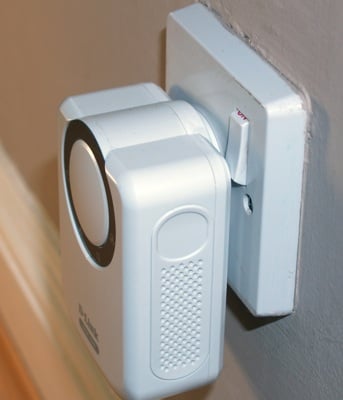 The bulky adaptor doesn't leave much room for switches
In our tests, transfer speeds were good, with throughput averaging at around 45Mb/s when transferring a large cluster of files. Bear in mind that the speeds you achieve will depend on the quality of wiring in your home, along with other factors such as whether they're plugged into multi-plug distribution boards and how much interference generated by washing machines, dishwashers and the like there is on the line.
We were slightly disappointed to find that the adaptors still take a good 25-30 seconds to provide connectivity after being switched on – HomePlug devices we've tested usually take no more than five seconds.
As is the norm with the latest powerline adapters, encryption can be set up simply at the press of a few buttons. Pressing and holding the button on one adaptor for around ten seconds will designate it the master. Once you've done this, push the button once more on the master, then dart to the other adaptors and do the same. The randomly generated AES key is distributed to the waiting units, and all traffic encrypted from that moment on.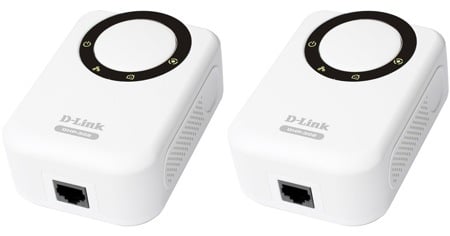 Two units can set each others' encryption keys at the push of a button
As with all powerline adapters, D-Link's set get warm during use, but thanks to two vents on either side the heat is dissipated well and they never became worryingly hot during testing. They also feature a power-saving feature, which triggers after 15 minutes of network inactivity. During normal use, we measured a power draw of 4W and, sure enough, 15 minutes after turning the attached laptop off, this dropped to 1W.
Bundled software lets you change settings such as the network ID and turn the power-saving feature on or off. You can also specify QoS settings to give video streaming priority over other traffic, for example.
Verdict
It would seem very little has changed from the D-Link DHP-300 adaptors that were released a couple of years ago, and the updated DS2 chipset didn't appear to have much of an impact on throughput, with speeds similar to rival 200Mb/s adaptors. It's also a shame that D-Link has stuck with the same bulky design. That said, they certainly get the job done and will cope fine with demanding network activity such as HD video streaming. ®
More Networking Hardware Reviews...

D-Link Xtreme N
DIR-685

Solwise Piggy 6

Devolo dLAN AVEasy
Wireless G

Huawei E176