Original URL: https://www.theregister.co.uk/2009/09/08/iwf_peter_robbins_interview/
IWF chief: We don't need crusaders
El Reg speaks to URL-blocker boss Peter Robbins
Posted in Policy, 8th September 2009 12:00 GMT
Interview Peter Robbins, Chief Executive of the Internet Watch Foundation (IWF) comes across as a genial politician – and a through-and-through pragmatist. He is in no way the moralising, censorious villain that some of the internet's more Libertarian anti-censorship lobby would make him out to be.
For all the bonhomie, there is a toughness there too: a sense that this is not a person to cross.
El Reg met with Peter Robbins about a week ago. The IWF is an organisation that features ever more prominently in the governance of the internet – even meriting a mention in the recent report on Digital Britain, as a model that UK plc thinks the rest of Europe should buy into. We were naturally interested in where their Chief Executive believes them to be heading.
At the same time, we wanted a better sense of the man behind the organisation. We sat down together in the somewhat spartan, antiseptic surroundings of a room in the IWF's HQ in Oakington, just north of Cambridge. There is a calm about the place, an almost monastic quietness that is very different from other workplaces.
That may be the building – a renovated house, as opposed to purpose-built offices - or perhaps it is the nature of the work. Around 15 people are regularly on site, and some of them spend a fair proportion of every day grappling with the most horrendous images of torture and abuse imaginable. Piped music and everyday banter might be inappropriate.
Robbins' record is solid. He joined the Metropolitan Police in 1971, retiring in 2002 as the Borough Commander for Hackney. During his service he worked in the Obscene Publications Branch at Scotland Yard. He also liaised regularly with Child Protection Units. Along the way, he picked up the Queen's Police Medal, later receiving the OBE in 2008 in recognition of his services to child protection.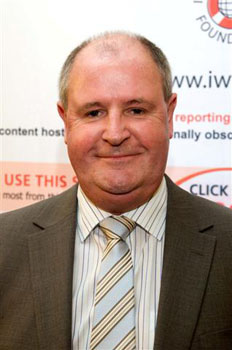 Peter Robbins
Did he have a special interest in Obscenity or Child Protection, we inquired, sensing an agenda? "No," was the simple answer. If anything he comes across as the quintessential police manager: proud of his achievements wherever he is working. A recurrent phrase throughout the interview is "team work": he is a man with a strong sense of traditional managerial responsibility. He likes to look after his own and, we suspect, looks for loyalty in return.
If there is an agenda – and we have no reason to think there is – it remains well hidden. He moved from post to post, aiming always toward the rank of Chief Superintendent – which he eventually achieved in Hackney. The placement with the Obscene Publications Unit was brief, and was back in the late 70s. His special area of interest, as he climbed up the promotion ladder was public order – and disorder.
His sense is that any sort of moral agenda would be wholly wrong for the IWF. "This is not an organisation that requires crusaders - anyone who is here to stamp stuff out is probably the wrong person," he states. "We need objective strong people who will stand by decisions - we need common sense."
That is a quality that Robbins returns to at various points throughout the interview. Why did the IWF recruit a senior policeman as opposed to a lawyer? He cites pragmatic reasons: "Police culture is different. The work of the IWF requires frequent liaison with police forces - an insider knowledge of how those forces work is useful."
Robbins rejects claims that the IWF is too police-oriented, citing instead a practice group put together to evaluate the material they work with, which draws experts from a broad range of disciplines, including lawyers and child protection specialists.
Is the balance about right? He suggests that there might be a role for the IWF to bring in further input from outsiders.
Is blocking of URLs – the activity that is most associated with the IWF, courtesy of a list compiled by the IWF and passed to subscribing ISPs – the right way to go? Why not more emphasis on takedown?
Again the P-word. Robbins argues that the current system is pragmatic. He says: "URL-level blocking is about right. We'd like more takedown – but we are in the hands of law enforcement agencies around the world, and if they can't or won't act swiftly, we have to do something."
For the future, there are a few pointers. He doesn't see the UK model shifting much. It is a minority approach – with the majority of other countries' efforts to police the net mediated through official law enforcement bodies. But it works – and he does not see much government appetite for imposing change. On the subject broached by the Digital Britain Report, of expanding the remit of UK model to cover Europe, he is tactfully polite – but unenthusiastic.
On the questions that have excited the anti-censor lobby, he suggests that if anyone has an issue, it should be with the underlying legal position, as the IWF does not make the law. He says: "We are not in the business of going into grey areas. We don't want to be forever embroiled in controversy over pictures that are borderline. There is enough serious child sexual abuse material out there to keep us very busy."
However, he points out that prosecutions have succeeded in cases where the evidence fell short of even a level one standard of indecency. He cites a recent case where pictures were taken of children clothed and with parents present.
"The key," he suggests "is context". Which brings us round to the infamous Scorpions episode, in which an IWF block on a picture of an album cover that had been kicking around since the late 70s resulted in the rapid and widespread propagation of an image that would otherwise have had little publicity.
"My team were right to block it," Robbins asserts, "and the Board were correct in their decision to unblock it. However, the IWF has learnt from that incident.
"Context includes not just how the picture is used, but how it is viewed by the world in general. More investigation would happen if such a picture came up now - with hindsight, if the same circumstance was repeated, we probably would not block it."
So the IWF is not looking to cast its net wider and wider? "Not at all," he says. Robbins is politely dismissive of the way in which politicians reach for the IWF whenever they need to bolster their plans to censor some new material. "The difference," he adds, "is that child sexual abuse material is almost universally illegal. That is not the case with websites advocating suicide, or even terror."
The number of URLs on the IWF blocklist – around 500 - is close to an all-time low. Something is having an effect across the globe, and Robbins does not expect the IWF to pick up the slack by going for more borderline material. In the end, he says, he would be happiest of all if the entire operation could pack up and go home.
Peter Robbins' contract has just over two years left to run. After him, who knows? Another ex-policeman? A retired judge? A politician? Undoubtedly, the IWF will continue to excite controversy and strong opposition.
Under Peter Robbins, at least, a central aspect of its mission – to defuse criticism, and to brand the IWF as an innocuous and cuddly helper in the business of law enforcement – would appear to be in safe hands. ®