Original URL: http://www.theregister.co.uk/2009/09/02/nokia_n900_maemo5/
Hands on with the Nokia N900
We rush to judgement
Posted in Phones, 2nd September 2009 14:58 GMT
First Look Announced last week, the N900 finally gives Nokia something competitive in the high-end market, and offers a great deal for developers to get excited about. I had a hands on today and came away with fairly positive impressions, for an iPhone user. But more importantly, Nokia has a roadmap that takes it into the next decade.
Qt will become the API across Nokia devices, which means developers might actually start writing applications for them. Qt is much easier for quick and dirty applications, and proven for heavyweights such as Google Earth, Opera and Skype, where high performance is a necessity.
The Linux stack Maemo looks set to blossom into a range of high-end products, Nokia VP Anssi Vanjoki made very clear today. Symbian will fill the mass-market stubbornly occupied by S40 at present. It will continue to be used for "workhorse smartphones" Nokia says, but Linux is where the investment for high performance devices will now go.
The N900 is the first tablet to fit a shirt pocket. It's heavy, and still a bit nerdy, but it looks more of a 'flagship' than anything Nokia has thrown at the market in the past couple of years. As Vanjoki all but admitted, the N97 was badly in need of a patch-up - he stressed how quickly Nokia was working to address criticism.
But tweaks and patches won't update the two-year-old technology in the device, nor give it a forward-looking UI, which is what Maemo 5 finally offers. So the N900 has some of the glitz and slickness of Android, the iPhone and the Pré. After five minutes, most users should find their way around.
Nokia's inclusion of cellular telephony has surprised quite a few people. Motorola has thrown thousands of bodies at Linux, without much to show for the effort. A year ago, Linux still couldn't handle UMTS 3G. Meanwhile, the Nokia Internet Tablet has zig-zagged through three generations: first it was internet radio and browsing, then it sprouted a keyboard and was a GPS device.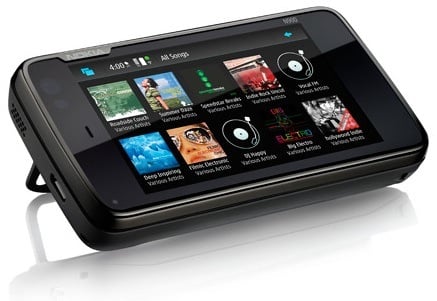 Is it a tablet? Is it a phone? Both?
The Tablet series looked like a technology looking for a purpose. But too many people asked for the 3G capability for Nokia to ignore, Maemo chief Ari Jaaksi told us.
Most of the demand, he said, comes from people who want a data connection rather than a primary phone. And so Nokia finally fulfills the abandoned Hildon roadmap it developed with Psion between 2000 and 2002, that included "palmtops" with embedded data capability. A Series 5 with an embedded modem was just one of the products Psion never brought to market.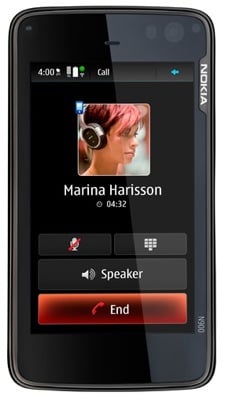 No (physical) call buttons
Jaaksi said that including cellular telephony and data was discussed at the tablet's birth - "what markets could we build out of that?" - but it was simpler to omit it, bypassing the complex approval steps.
"They made it very clear that they want a device that integrates the experience of Tablets but with added cellular capabilities. It was critical feedback," he told us.
So really it's because people want to check email or Facebook - another email system, but with knobs on - while out and about, rather than talk to one another.
"Heavy users need the ubiquitous connectivity more," he said. "Maybe the wireless LAN coverage didn't take off as fast as some people expected. They were talking about wherever you go there will be wireless coverage - that really didn't happen. But 3G really provides the same kind of experience."
Maybe in Finland, I pointed out - but er not in the UK.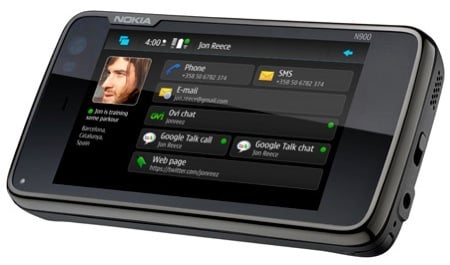 UI tweaks abound
The device is much more compact than the earlier slabs - the N770, N800 and N810. It feels like a dense package of electronics though - around 30g heavier than the similarly-sized N97, and 45g heavier the much slimmer iPhone.
Oddly, it doesn't include Nokia's most powerful, 1500mAh battery, using a 1320mAh battery instead. But "go compact" was evidently the order of the day, so perhaps there wasn't the room.
The N900 has made a radical break, not just with earlier versions of the tablet UI (Series 90/Hildon), but also S60. The Finns demonstrate it below, but a few subtleties aren't immediately obvious.
In stark comparison to the short-lived S90 series and Nokia's first Linux tablets, which sprouted all kinds of buttons, the N900 offers a blanket slate. A 'tablet rasa', if you like. There are no call and end keys to indicate that it's a mobile phone.
I offer this diagram from the Nokia 7710 manual as a comparison: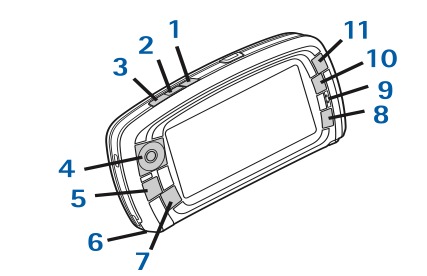 Menu key, Desk key, Escape key, Switch key, Zoom key... oh, sod this.
In the landscape mode, the N900 has standard phone camera controls across the top, a pin-sized (but perfectly usable) power button, and a lock slider. And that's it.
The N900 UI dispenses with the pull-down menus of its predecessor, with an emphasis on switching applications quickly. You do so with an Android or Pré-style flick. There is just one menu bar, although this isn't really obvious, and this simply brings up a settings menu. So the natural state of the device "at rest", if you like, is this view of miniatures of applications.
The old "home" screen, with its shortcuts for contacts or applications, has been spruced up a bit. And the old applications folder is still there.
Spec-wise it builds on its predecessors, keeping GPS and adding a 5Mp camera and an FM transmitter. The no-frills keyboard is adequate, and better than the awful N97 and (worse) N97 Mini keyboards, but nowhere near the BlackBerry Bold.
Text input is still hugely neglected by everyone, Nokia included. The marketing people at Nokia are obsessed with photo sharing on the web, perhaps because the expensive marketing consultants they hire tell them that. Or focus groups are loaded to "rich media". But the "content" that most of users "generate" is text. Even Apple makes its SMS app needlessly obtuse - although typing on the iPhone is much easier than any of Nokia's Qwerty keyboards.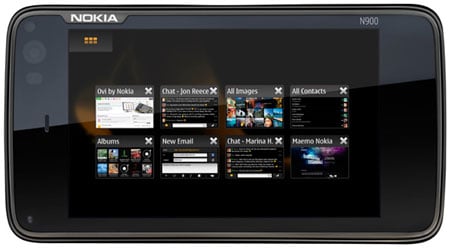 Look, no buttons
Nokia is very coy about battery life, but says the N900 should fulfill the goal of getting through a day. Talktime, I was told, should be comparable to other high end devices. [Update It's five hours, Nokia says.] I'll be astonished if that's true. Nokia's own E71 sets such a high standard here for the entire mobile industry, I can't imagine how an OpenGL device pushing five times as many pixels around is going to get close.
What of the apps? Messaging looks pretty slick. Email supports Mail for Exchange as well as conventional IMAP/POP3 mail. I have painful memories of the N800 taking a minute to shake hands with an IMAP server, and while I'll report back on email performance later, the N900 is a great improvement. Messaging still isn't quite "unified" - but given the quantity and low value placed on IM messages or the Twitter deluge, compared to the high value of personal SMS messages, that's a good thing.
The P900's PIM functionality is surprisingly good. It supports multiple calenders and integrates to-dos.
The browser is based on Mozilla. It's much improved on earlier versions, and the performance here brings it into the Android and iPhone class. But somewhere near the back of the class, where the slow children sit. It doesn't feel quite as slick at loading pages or scrolling as these rivals - while you really need a heavy site to slow down the 3GS, but my dusty personal archive took about 20 seconds to load on the N900, which felt like ages.
It doesn't support Java, but it does support full Flash, so YouTube works fine. It's stolen some of the iPhone's gestures (double tap to zoom) and a really wacky one where you corkscrew clockwise to (slowly) zoom, or anti-clockwise to zoom out.
I fear some blogger, who probably spends half the day licking the window, told Nokia they thought this was "way cool".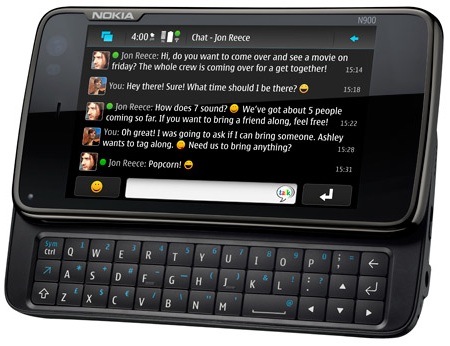 It's about text, stupid.
For now, the browser may be good enough, but there's room for improvement. For example, the purpose of double-tapping in the iPhone's browser is not merely "zoom", but "zoom to fit" a block of text. The former may require you to faff around for ages, the latter lets you get reading much faster. Has Nokia got some cultural prejudice against both reading and writing?
Given the work that has gone into every other aspect of the device, the browser is the N900's weakest link.
So what's the verdict?
The snap judgement
Now that Linux, rather than Symbian, is Nokia's focus for expensive prestige devices, I'm more confident about improvements. Nokia's tie-up with Intel suggests larger, faster and more powerful Maemo devices. Nokia's partnership with Microsoft should slow these right back down again. Just kidding.
The N900 excels at task switching, the communication apps are good enough, and music playback and photo browsing are better than on any previous Nokia.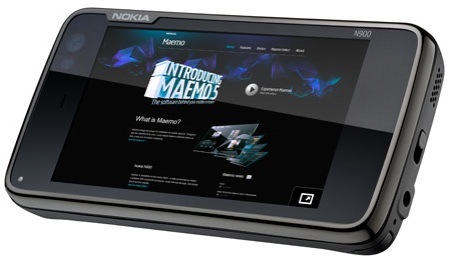 Maemo 5: now more important that Symbian?
Nokia has been plugging away with its tablet for five years, and finally has something people might actually want. The always-on data capability ensures that. A few may opt for the N900 as a primary phone - perhaps people who don't make too many phone calls. Many more may be tempted by the prospect of keeping a small lightweight phone (for phone calls) and dumping the data duties onto a separate device.
I envisage two major obstacles. At €500, the cost is higher than any of its predecessors, comparable to a pay-as-you-go iPhone, and twice that of an Asus Eee PC. Cheaper Android phones will offer the speed and slickness, with mobile operator subsidies. That'll be a tough battle.
The challenge, and it's one for almost everyone, is that punters with disposal income, who are looking for a bling gadget, either want the iPhone and iPod Touch - or already have one. That's despite the fact that Apple's finest don't really excel at any one thing except music sync.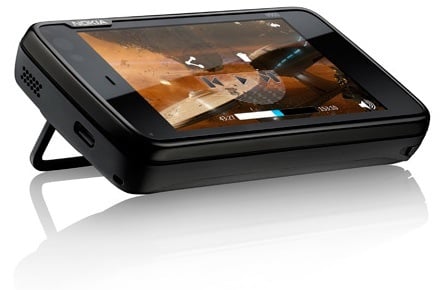 iPod rival?
But even though the N900 is not an essential purchase, Nokia deserves credit for plugging away, and appreciating that a completely fresh approach was needed. ®