Original URL: https://www.theregister.co.uk/2009/09/02/california_wildfire/
NASA sat snaps LA wildfire
City threatened by 'most intense' blaze in 10 years
Posted in Science, 2nd September 2009 09:45 GMT
NASA's Terra satellite has captured a dramatic image of the Los Angeles "Station Fire" wildfire. It is one of at least seven conflagrations currently affecting California, which by yesterday had reportedly laid waste to over 133,000 acres and consumed 80 buildings.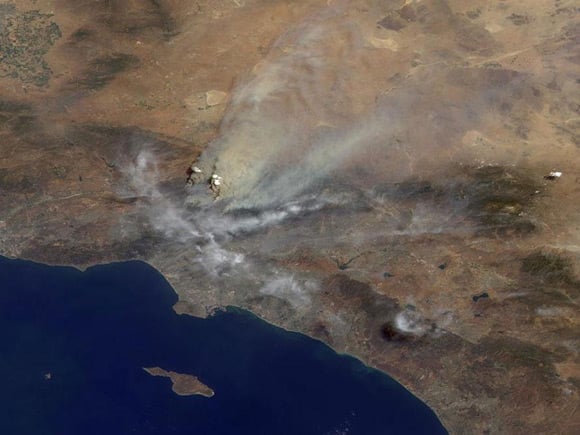 NASA explains: "The area covered by the image is 245 kilometers (152 miles) wide. Several pyrocumulus clouds, created by the Station Fire, are visible above the smoke plumes rising from the San Gabriel Mountains north of Los Angeles in the left-center of the image.
"Smoke from the Station Fire is seen covering the interior valleys along the south side of the San Gabriel Mountains, along with parts of the City of Los Angeles and Orange County, and can be seen drifting for hundreds of kilometers to the east over the Mojave Desert."
The Station Fire is described as "the most intense wildfire" the authorities have faced in a decade. It alone has already accounted for 120,000 acres and 70 buildings and continues to menace the hills along the northern edge of Los Angeles. Firefighters say it could take up to two weeks to completely control the blaze. ®