Original URL: https://www.theregister.co.uk/2009/08/28/review_hd_panasonic_dmr_bs850/
Panasonic DMR-BS850
Freesat+ Blu-ray recorder with nearly all the trimmings
Posted in Personal Tech, 28th August 2009 12:15 GMT
Review At first glance, Panasonic's DMR-BS850 Freesat+ Blu-ray recorder is essentially identical in appearance to the DMR-XS350, it's DVD version we reviewed recently. Actually, Panasonic offer two Blu-ray models with the £1000 DMR-BS850 featuring a 500GB hard drive, while the DMR-BS750 has 250GB drive and an £800 price tag. Shop around is all we can say to that.

Panasonic's DMR-BS850: Blu-ray recording for the HD enthusiast
Compared to the DVD recorder, these twin tuner Freesat+ machines feature HD recording onto Blu-ray discs. Lest we forget, the blue light on the front panel to let people know you have something fancy on the sideboard. This also illuminates to indicate when an SD card is in the slot but, mercifully, can be extinguished too.
One other minor difference is that the VieraCast facility is a little more feature-rich than that of the DVD version, adding weather, Bloomberg market information and the Tagesschau German news service to the Picasa and YouTube offerings included on the DVD model. Annoyingly, there's a chirp from the audio with each keypress when you're using VieraCast on these units, and unlike on Panasonic's TVs, you can't turn it off in the options.
In terms of connectivity, case design and basic functionality there's no major difference between the Blu-ray and DVD recorders – so rather than re-hash it all here, take a look at the DMR-XS350 review for our thoughts on the interface and day to day usage.
The remote control is pretty much the same, but with the additional Direct Navigator label on one of the buttons. This gives access to the contents of the various drives, is also used to call up the pop-up menus for a Blu-ray movie.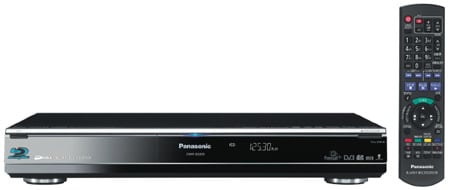 Existing DVDs are upscaled for HDTV playback
Movie playback is straightforward, though it takes a while to load Blu-ray discs. With a compatible display, you can watch films at 1080p24, and your existing library of DVDs will be upscaled on playback, with displaying impressive quality at 1080p. The Ethernet port on the rear means that there's also support for BD-Live, should you have any discs that offer it.
There's also an extensive menu of options for the audio playback on Blu-rays, allowing you to request that some of the newer formats be downmixed automatically, which could be handy if you have an older surround processor. We'd quite like to have seen a built in decoder too, with multi-channel analogue audio outputs, but that would perhaps have cluttered the back panel.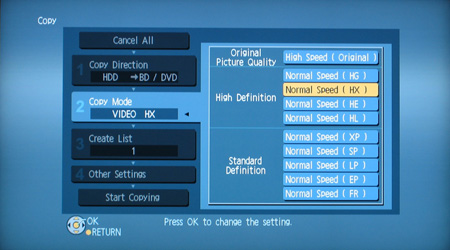 You can re-encode HD material to fit more on a disc, but you can't save it to DVD
The DMR-S850 does not support DVD-Audio and SACD formats either. SuperVideoCD and the like, is also incompatible. To be fair, not many BD players do support legacy formats, but when you're paying this much, we think you're probably entitled to expect that it will play back all the media you've bought over the years.
Recording from Freesat is a doddle, and the automatic programme tracking ensured that when the athletics over-ran, we still got the whole of our scheduled recordings from BBC HD. To all intents and purposes, the user interface is the same as the DVD recording DMR-XS350 too, complete with the somewhat pregnant pauses when you switch between tasks, and the wait of several seconds to go into live pause.
Where things differ, of course, is in the support for Blu-ray discs. In fact, we suspect that a lot of the code is the same between both machines. Certainly, when copying recordings to DVD on the DMR-XS350, lots of high definition options appear, but they're not selectable, but they are accessible on the DMR-BS850.
You can copy a recording from an HD channel as a bitstream, so it's not re-encoded, and the copy will complete faster than real time. It takes about 39 minutes to copy 1hr 40mins of HD programming, or 40 per cent of running time. Re-encoding, but still in HD, is a real-time process.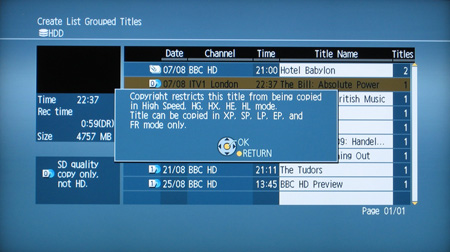 Freesat HD programming is copy protected, so you can only make a single HD disc
However, this is one area where users are likely to run into some annoyances. The cost of Blu-ray media is still pretty high and the cheapest we've found is a little under £4 for a 25GB disc. Panasonic's own web shop will set you back twice that, and more for re-writable ones.
It's a shame, then, that though the DMR-BS850 can play back HD video that's recorded on DVDs – like our home-made HDTV setup disc – it can't write HD video onto recordable DVDs. You might not get a huge amount on each one, but some would be better than none, as the HD re-encoding options could help resize recordings to fit more on a DVD. You can, of course, copy HD recordings in SD mode to either DVD or BD.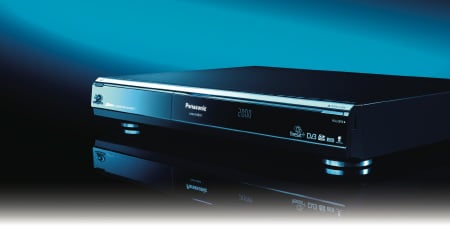 Blu movies: recorded disc compatibility proved hit and miss on other players
We had mixed results trying out a finalised Blu-ray disc on other players. Most Panasonic units we tried were fine, except for the SA-BT200. A Sony BD-PS350 played our disc, but the results looked very pixelated, as did a Blu-ray equipped Vaio PC. A Samsung HT-BD1220R spat the disc out, while the BD-P4600 loaded it, displayed a message about an unsupported language, and refused to do any more. While not the most wide-ranging test, given our results – coupled with anecdotal online reports – we'd caution that sharing Blu-ray discs is not going to be plain sailing.
Perhaps more annoying to some is the copy protection that's implemented on Freesat HD programming. Most programmes on BBC HD and ITV HD are flagged as Copy Once. You can make as many SD copies as you, but only one in any of the high definition modes. That obviously helps prevent piracy, but it also means that you can't burn a Blu-ray on your machine, and then copy it back from that disc to the hard drive.
You won't, of course, have that issue with HD material from a camcorder. Indeed, the sizable hard drive, together with support for AVC HD via the SD card slot suggest this model will appeal more to those who want to capture and create their own HD, with Freesat a useful extra, rather than its raison d'être.
Verdict
The DMR-BS850 is certainly a pretty impressive piece of kit, as you'd hope from the first Blu-ray recorder to go on sale. Like its DVD-recording sibling, however, it doesn't have the polished interface that you'd expect from a high-end satellite DVR, and appears more enticing to HD camcorder owners than telly addicts. ®
Thanks to John Lewis, Oxford Street, for letting us use its players to test out our Blu-ray disc recordings.
More Blu-ray Gear Reviews...

Pioneer BDP-51FD
Blu-ray player

LG BE06-LU10
Blu-ray recorder

Group test:
Blu-ray players

Pioneer BDR-203BK
Blu-ray recorder