Original URL: https://www.theregister.co.uk/2009/08/27/review_cpu_intel_core_i7_870/
Intel 'Lynnfield'
Next-gen Core i7 - and Core i5
Posted in Personal Tech, 27th August 2009 12:02 GMT
Preview When Intel launched the 'Nehalem' architecture-based Core i7 - codenamed 'Bloomfield' - and the X58 chipset in November 2008, we assumed that the anticipated mid-range follow up would be called Core i5.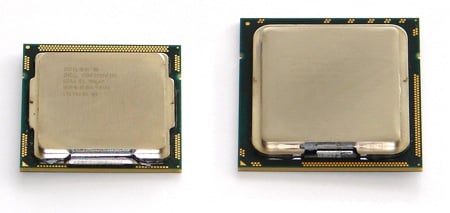 LGA1156 vs LGA1366: on top...
This mid-range processor - codenamed 'Lynnfield' - was flagged as a replacement for Core 2. It will use a new, LGA1156 processor socket and feature an integrated PCI Express graphics controller (1 x 16 or 2 x 8). Like Bloomfield, it will have an integrated DDR 3 memory controller, but it will be a dual-channel job rather than the triple-channel unit found in Bloomfield.
But it hasn't quite worked out that way.
Lynnfield is Core i7 and Core i5. Specifically, it appears as the Core i7 800 series and Core i5 700 range. Officially, Bloomfield is the Core i7 900 line.
The differences between the two new families of processor are quite slight despite the apparent gulf between the Core i7 and i5 names. The memory controller on the i7 800 has been cut down from the i7 900 and the QPI link has been replaced with DMI (Direct Media Interface). If you read our feature on DDR 3 performance on Core i7, the prospect of losing the triple-channel controller is unlikely to cause you any concern.
Similarly, the shift from QPI to DMI shouldn't cause you to lose sleep if you have a single-processor PC and aren't thinking about upgrading to a dual-CPU workstation or a multi-CPU server.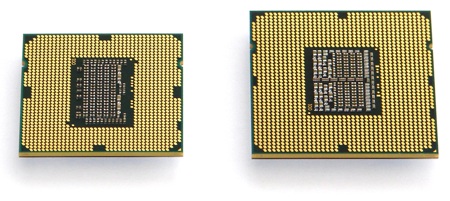 ...and underneath
The i5 is quite similar to the i7 800 except that it loses HyperThreading so only has four physical cores instead of eight virtual cores. It also supports virtualisation, but not as fully as the i7, which also includes VT-d, a technology that extends virtualisation to direct I/O access.
Intel has enhanced the Turbo Boost feature for Lynnfield and this is worth a closer look. Turbo Boost is a dynamic overclocking tool that increases the clock speed when the CPU is under load, so long as it continues to operate inside its thermal limits.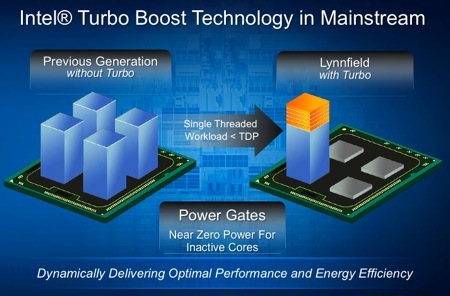 The i7 900 made limited use of Turbo Boost and only raised the CPU clock speed by one step of the 133MHz base clock for all four cores, or two steps if the software was thrashing one or two cores. In other words, a 2.66GHz Core i7 920 would accelerate to 2.8GHz on all four cores or 2.93GHz on one or two cores. This is a welcome increase, but the vast majority of enthusiasts who lay out the cash for Core i7 900 will surely want to overclock way beyond that point.
Lynnfield increases the impact of Turbo Boost by bumping the clock speed of all four cores of a 95W TDP CPU by two steps (266MHz) when the CPU is under load. If the software you are using only takes advantage of two processor cores then Turbo Boost can increase the clock speed by another two steps: 533MHz above the standard speed. If you are only using a single core, Turbo Boost will raise the speed by a total of five steps, or 666MHz. This means that Intel will dynamically overclock our 2.93GHz Core i7 870 to 3.2GHz on all four cores, 3.46GHz on two cores, or 3.6GHz on one core.
The low-power 82W TDP Lynnfield CPUs have another trick up their silicon sleeves. Turbo Boost will raise the clock speed of all four cores by a single step, but two cores can run a further five steps faster, and one core can go another step faster for a total of seven steps, or 933MHz.
It's anticipated that there will be five initial models of Lynnfield:
Core i7 870 2.93GHz (3.6GHz), 95W TDP
Core i7 860 2.8GHz (3.46GHz), 95W TDP
Core i5 750 2.66GHz (3.2GHz), 95W TDP
Core i7 860 2.53GHz (3.46GHz), 82W TDP
Core i5 750 2.4GHz (3.2GHz), 82W TDP
We were sent a Core i7 870 sample with a clock speed of 2.93GHz and a stock Intel CPU cooler. The Core i7 900 has a hefty maximum TDP of 130W that covers the whole family from Core i7 920 to 975 Extreme, while the first Lynnfield CPUs will have a TDP of 95W. This is a welcome step but Intel annoyingly set the LGA1156 cooler mounts are just a couple of millimetres closer together than the ones on the LGA1366 socket.
Some heatsink manufacturers will undoubtedly launch designs that have sliding mounts that can accommodate both LGA1156 and LGA1366 motherboards, but in the meantime we have to preview our Core i7 870 using a standard Intel cooler that looks a bit weedy. Although the stock cooler appeared to do a decent job during testing, we got the impression that it had an impact on our overclocking efforts and we look forward to using a chunky aftermarket cooler in the future.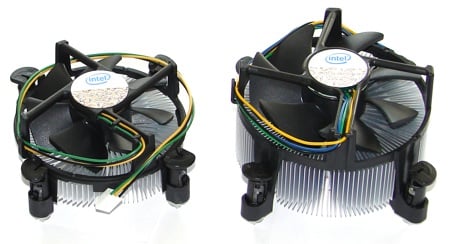 Intel's stock heatsinks for LGA1156 (left) and LGA1366
A CPU isn't much use on its own, so we rounded up an early sample of a Gigabyte GA-P55M-UD4 motherboard. At present, Lynnfield is only paired with the P55 chipset, which is a single chip that is the equivalent of the historic southbridge - aka MCH - that manages USB, Sata, HD audio and Ethernet. The GA-P55M-UD4 is a compact Micro-ATX motherboard that manages to offer two graphics slots despite its small size. We rapidly found that it isn't a finished production item - the integrated Gigabit Ethernet doesn't work and the mobo comes with 6Gb/s Sata ports that won't make it to the production model.
When it came to sourcing DDR 3 memory we had no such trouble as Lynnfield uses the same low-voltage memory as the Core i7 900 except that you use two modules instead of three - or four instead of six.
We're previewing Lynnfield with the new processor under non-disclosure agreement (NDA) prior to its launch so we are constrained in what we can say. However, Intel lifted the veil ever so slightly when it discussed the performance of Lynnfield versus a Core 2 Q9650 at Computex: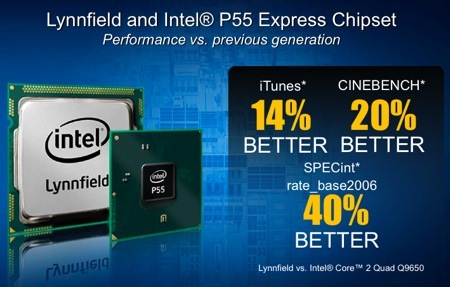 The Computex slide refers to Lynnfield but doesn't make it clear whether we are talking about Core i5 or Core i7 800. If we assume that Intel compared like-with-like and so used a 2.93GHz Lynnfield, ie. the Core i7 870.
Happily, we had a Core i7 870 and we also have a 3.0GHz Core 2 QX9650. Add in a Core i7 940 with a clock speed of 2.93GHz and that's three quad-core CPUs with similar clock speeds that represent LGA775, LGA1156 and LGA1366. Game on.
We benchmarked the Core 2 QX9650 on an Asus Maximus II Gene motherboard with an Intel P45 chipset that supports DDR 2 Ram. We combined the Core i7 940 with an EVGA X58 SLI mobo which has an Intel X58 chipset and which uses DDR 3.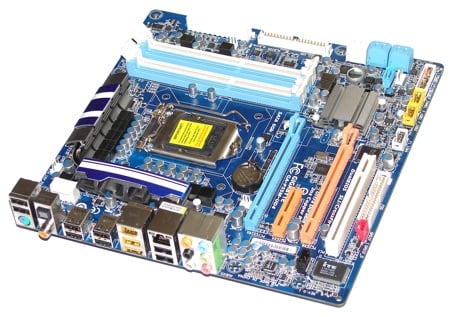 Gigabyte's GA-P55M-UD4: nice mobo, but not yet finished
In all three cases, we adjusted the memory multiplier to keep the speed close to 1066MHz so the memory shouldn't be a factor in our tests. Other hardware consists of an Intel X25-M SSD and a AMD ATI Radeon HD 4890 graphics card. We used 32-bit Windows Vista Ultimate Edition.
We'd love to be able to give you chapter and verse on our test results but that's not possible, thanks to the NDA. However, the graphs should make the following points clear. At standard clock speed, the QX9650 sets a decent standard but it was beaten in most of the benchmarks by the i7 940. The i7 870 takes things a step further and trounced the i7 940 in every test, presumably thanks to the enhanced Turbo Boost and despite the reduced memory bandwidth.
More impressively, this extra performance is delivered with a power draw that is 40W less than the i7 940 consumes.
The comparison at standard clock speed was fairly straightforward but things took a turn for the complicated when we started overclocking. The first candidate was QX9650 where we disabled SpeedStep, increased the CPU core voltage by 0.2V and cranked up the frontside bus from 333MHz to 420MHz to give a clock speed of 3.78GHz.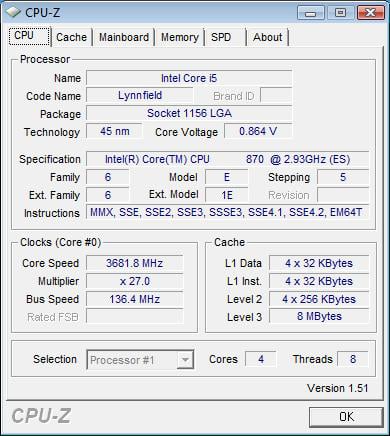 Next we moved on to Core i7 940. Again, we disabled SpeedStep and increased the QPI voltage by a hefty percentage from 1.1V to 1.5V. With that done, we could raise the base clock from 133MHz to 160MHz to give a clock speed of 3.53GHz. That's fairly unimpressive as we have regularly achieved clock speeds of 3.8GHz and 3.9GHz with the i7 920. Our 3.53GHz Core i7 had performance that was almost identical to the 3.78GHz QX9650 with the exception of DivX 7 recoding as Core i7 supports SSE 4.2 which gives it an advantage over the Core 2's SSE 4.0.
We also tested the overclocked Core i7 940 with Turbo Boost disabled and found that the feature doesn't have much value - its speed increase is marginal. You'll often find that the overclocking fraternity disable SpeedStep and Turbo Boost when they are working with Core i7 to assist stability.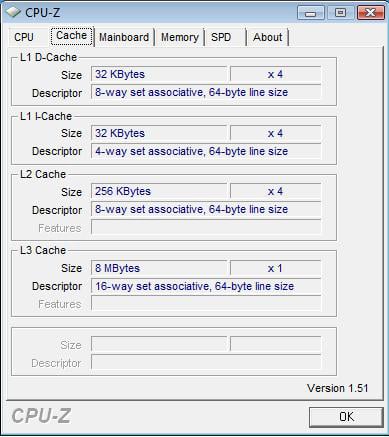 And so we come to our first experience of overclocking the i7 870 and we have to admit that it didn't go especially well.
We raised the CPU core voltage slightly along with the QPI voltage, which is intriguing as Lynnfield uses DMI rather than QPI, but that's what the Bios calls it nonetheless. With these settings we were only able to raise the base clock from 133MHz to 150MHz which resulted in a pathetic clock speed of 3.3GHz. We ran the overclocked i7 870 with Turbo Boost on and off, and also with HyperThreading disabled to mimic how a Core i5 770 might perform when Intel gets round to inventing it.
Our results clearly show that both HyperThreading and Turbo Boost play their part in increasing performance, and this is especially clear in the 'All CPUs' test in Cinebench. In an older benchmark, such as PCMark05, the benefit is minimal.
Things would be a good deal clearer if we were able to spell out our test results, but the Intel NDA makes things tricky. At this stage in the proceedings, our view was that the i7 870 was marginally inferior to the i7 940. The snag here is that the i7 940, which has been replaced by the 950, is an expensive luxury as you can overclock a £200 Core i7 920 close to 4GHz if you use a decent motherboard.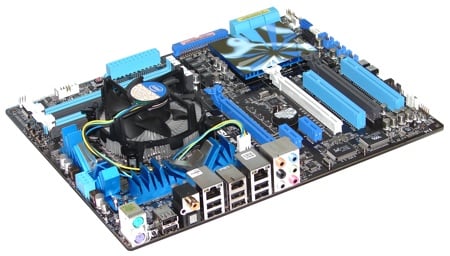 Asus P7P55D Deluxe: ideal for overclocking?
Things took a turn for the better when Asus sent us a P7P55D Deluxe motherboard along with the assurance that it overclocks like a dream. We ran the i7 870 with the same settings we used on the Gigabyte mobo, although the QPI voltage setting has been renamed IMC. Initially, we found no difference to the clock speeds we could achieve. However, Asus was adamant that Lynnfield requires the bare minimum of voltage. This is somewhat strange as the P7P55D Deluxe has three switches that allow you to use enhanced voltage settings in the Bios for Ram, CPU and IMC.
POV-Ray Performance Results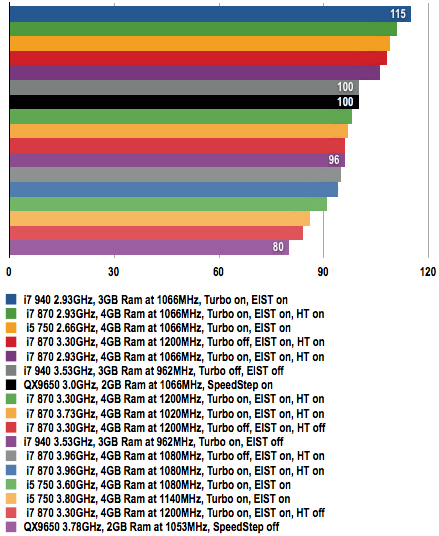 Time taken relative to Core 2 QX9650
Shorter bars are better
350MB AVI Video Conversion Results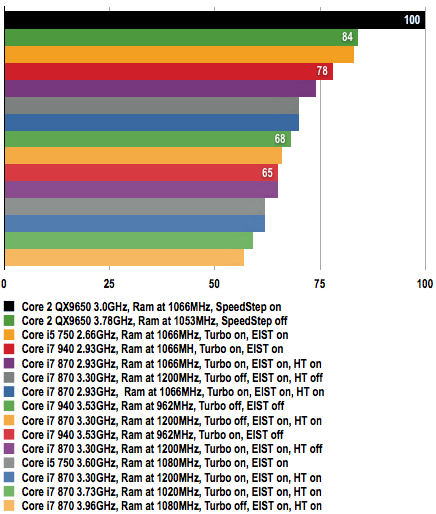 Time taken relative to Core 2 QX9650
Shorter bars are better
We reset the IMC voltage back to Auto and changed the CPU Core Voltage from a fixed value to an offset value. This means that the motherboard uses the regular dynamic voltage setting plus an amount that we choose in the Bios. We selected +0.2V and found that our Core i7 870 would run most of our benchmark tests at 3.96GHz with Turbo Boost and HT enabled. We got better results by disabling Turbo Boost which makes sense as 3.96GHz is way beyond the realms of the maximum 3.6GHz Turbo Boost speed that applies with this CPU. In addition, it was clear that the stock Intel CPU cooler was at the limit of its performance.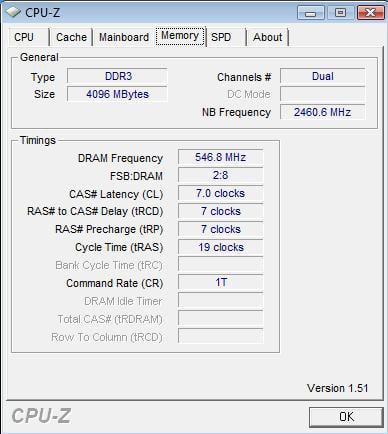 By this stage, we also had a sample of a 2.66GHz Core i5 750 so we strapped it to the Asus on the same +0.2V setting and found it would overclock to 3.8GHz. The absence of HyperThreading was apparent in Cinebench, but there's no denying this an impressive turn of speed. It also suggests that Lynnfield has the same 1GHz potential for overclocking as the i7 900.
With this information we returned to the Gigabyte and tried to use the same method for overclocking but it was not possible. In the Gigabyte Bios, you either set the CPU Core voltage as Auto or as a fixed value, but it does not offer the option applying an offset that delivered the results on the Asus board. We don't want to write off the GA-P55M-UD4 as it was clearly using a Beta Bios, but this is certainly something that overclockers should watch for once Lynnfield goes on sale.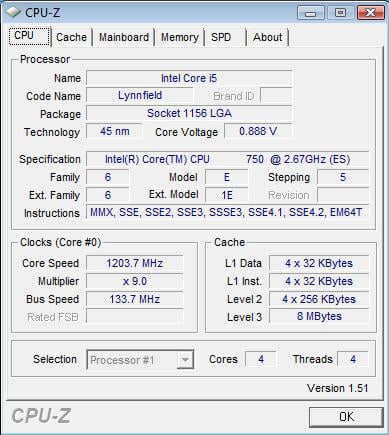 Verdict
All in all, we were deeply impressed by the performance and low power requirement of Lynnfield and feel confident that the Core i7 860 will be the processor of choice through to the end of 2009. This doesn't nail down the coffin lid on Core i7 900, but it does mean that the 32nm 'Westmere' Core i7 will have to deliver impressive results and the subsequent six-core update will need to play a blinder. To the best of our knowledge, LGA1156 will top out at quad core, but that will put it bang in the mainstream for the next year or three. ®