Original URL: https://www.theregister.co.uk/2009/08/25/sony_daily_reader/
Sony posts 'Daily Edition' e-book reader teaser
Wireless Kindle-killer near release?
Posted in Personal Tech, 25th August 2009 14:41 GMT
Updated Sony has begun teasing e-book reader buffs with a backside glance at a new version of its Reader - the 'Daily Edition'.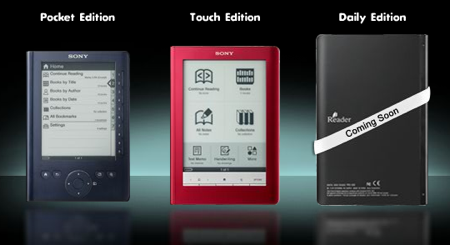 Sony's e-book reader range: wireless Daily Edition on its way?
Update The word over the interweb from Sony's launch even is that the Daily Reader has a 7in screen, 3G connectivity and a $399 (£244/€279) price tag. According to Sony, it'll be available in the US by Christmas.
The new Reader is said by Sony to be "coming soon" and... er... that's it. A small piccy of the device suggests it's a little bigger than its siblings, but a closer inspection reveals it's Sony's usual snap of the back of the PRS-600 - aka the 'Touch Edition' Reader - blown up.
Will the Daily Edition be larger than the 17.3 x 12cm PRS-600 or the 15.6 x 10.6cm PRS-300 'Pocket Edition'? Well, if the assumption, taken from the device's moniker, that this might be a wireless gadget for the delivery of newspapers, then it is indeed likely to be bigger.
Unlike Amazon's Kindle, Sony's e-book readers have never had on-board wireless connectivity. Whether the Daily Edition will have Wi-Fi, cellular or both remains to be seen. ®