Original URL: http://www.theregister.co.uk/2009/08/25/review_laptop_asus_ux50v/
Asus UX50V
Easy on the eye, but not on the wallet
Posted in Personal Tech, 25th August 2009 12:02 GMT
Review Think stylish laptops, and brands such as Apple, Sony and, if you've a particularly bizarre sense of style, Toshiba's Qosmio range spring to mind. Having pioneered the netbook revolution, Asus is more likely to conjure up images of small, portable and good value laptops. However, the Taiwanese giant has always had a penchant for eye-catching laptops, such as its Lamborghini range and the slightly more peculiar Bamboo model.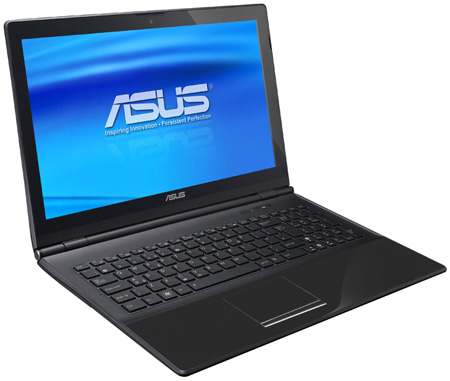 Asus' UX50V: all that glitters…
The UX50V is its latest attempt at creating a laptop for those who like to stand out from the crowd. It features a glossy 15.6in display with a 1366 x 768 resolution, delivering a 16:9 widescreen aspect ratio. It is powered by a 1.4GHz SU3500 – an ultra-low voltage, single-core CPU from Intel's Core 2 Solo range. A more powerful Core 2 Duo SU9300 version of the UX50V with a 500GB hard drive appears on the UK web site, yet Asus tells us this isn't actually available in the UK, so we're stuck with the Core 2 Solo model.
According to Asus, the UX50V's design is inspired by that of a butterfly with the view that it, "resembles the curvature of the wings of a butterfly once opened". Jokes aside, we're assuming Asus isn't serious about this butterfly thing, as the company has done well in creating a slimline chassis, measuring 29mm at its thinnest point. But at 2.6kg, it's a long way from the realm of ultraportables, or butterflies for that matter.
In an effort to preserve the UX50V's good looks, Asus has opted to lump the majority of ports at the rear of the chassis. These include two USB, audio in/out, HDMI-out, Gigabit Ethernet, VGA-out and the power socket. Although this design keeps all those ugly wires out of view, it also means you'll keep knocking them when the UX50V is resting on your lap.
Asus has found room for a further USB port and a card reader on the left side of the chassis, but these are both hidden behind a rather pointless plastic flap. You also get a Wi-Fi power switch on the left, while a DVD writer of the slot-loading variety is the only blemish on the right side.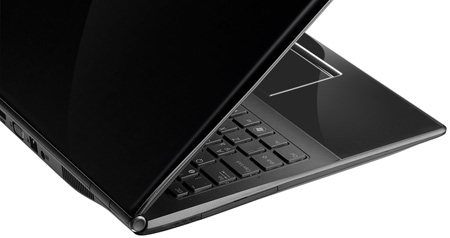 Backside lash: interfacing for most peripherals appears the rear
Asus has gone for the chiclet-style of keyboard, with each key poking out of its own individual slot in the chassis. It looks good, but initially we struggled to type at any sort of speed without frequent slips onto neighbouring keys. After a day or so of extended use we became more accustomed to the design, but our fingers never really felt at home.
A numeric keypad is squashed on to the right side of the keyboard, with the keys measuring just 11mm wide. Although it's a nice feature to have, we feel Asus would have been better off ditching it, thereby affording more room to the rest of the keys. The inclusion of this numeric keypad results in the arrow keys being too small – the right arrow key also has a larger gap between it and the rest of the arrow keys, which causes further problems.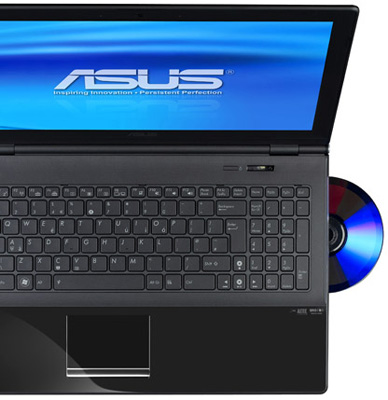 The keyboard would have been better without the numeric keypad cramping it
The numeric keypad is also susceptible to a large amount of flex, although Asus assures us this is a problem with only the pre-production model it sent us. Another issue, we're told will be fixed on retail versions, is the power switch. On our sample, it required a curious rubbing motion to operate.
The whole keyboard is backlit and able to automatically adjust its brightness according to your surroundings. The UX50V's display performs a similar trick, and both can be overridden if required.
It's hardly surprising Asus didn't want to blight the wrist-rest with a textured trackpad, but the result is a trackpad that's less than perfect in terms of usability. Not only is it hard to locate the scrolling zones without looking at it but, unless you've a very light touch, it doesn't feel particularly comfortable to use.
Our biggest criticism, however, is reserved for the trackpad's buttons. Taking the form of a single rocker bar with a light-grey metallic design, it complements the overall design of the UX50V but, being recessed into the chassis, far too thin and with a spongy feel, it's incredibly frustrating to use.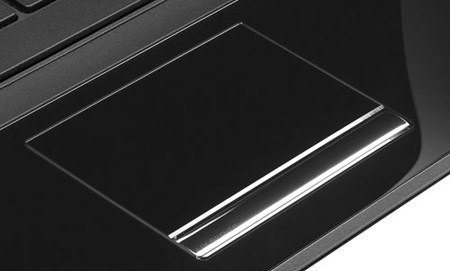 A nice touch? We're not convinced
Wi-Fi, courtesy of Intel's Wifi Link 5100, and Bluetooth make up the wireless connection options, while a 320GB hard drive provides ample storage and comes with Vista Home Premium preloaded.
PCMark05 Results
Overall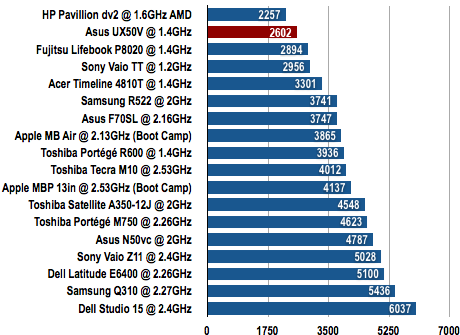 Longer bars are better
CPU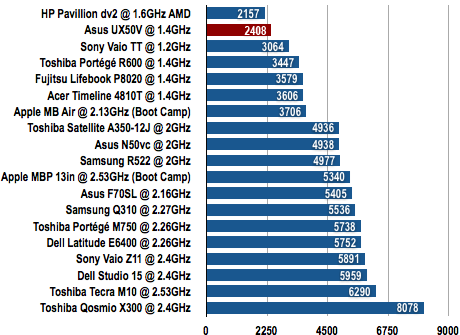 Longer bars are better
Memory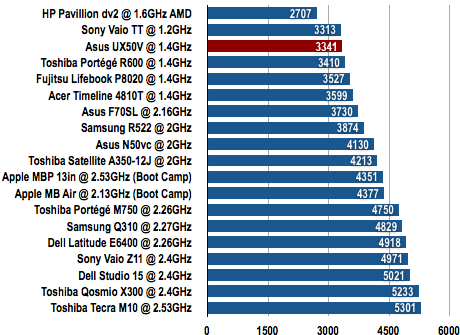 Longer bars are better
Graphics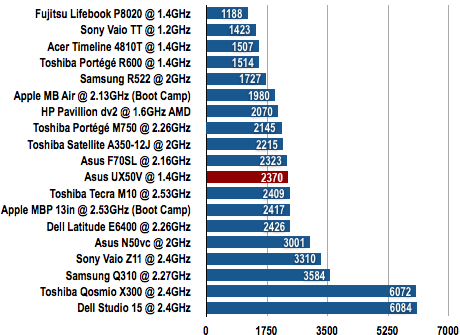 Longer bars are better
HDD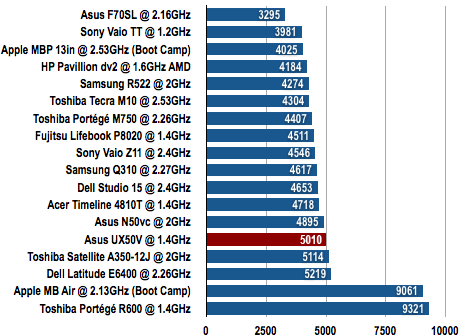 Longer bars are better
3DMark06 Results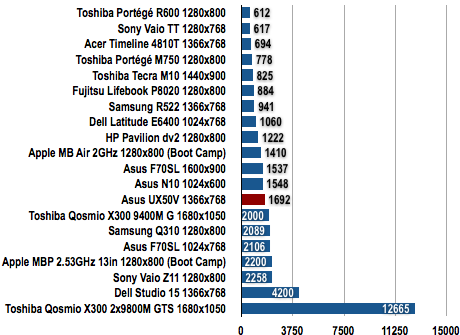 Longer bars are better
Battery Life Results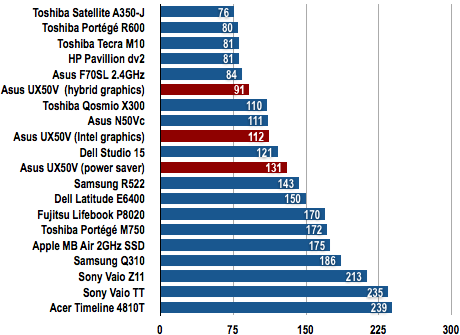 Three different modes determine battery life
Longer bars are better
Should you be in a hurry, the Linux-based Express Gate OS can be booted in under 10 seconds and provides access to applications such as a web browser and a media player. Although Express Gate booted fine on our review sample, attempting to run anything resulted in the OS stalling - Asus tells us retail versions won't be blighted by this problem.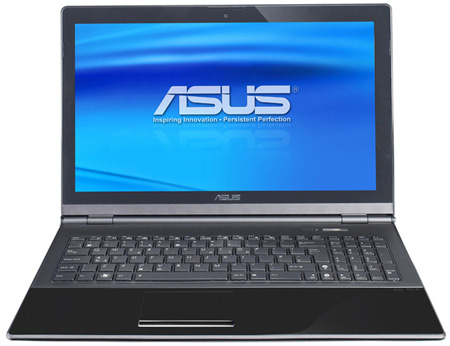 Powered by an Intel Core 2 Solo, no Core 2 Duo option for UK customers
Scores of 2408 and 2370 in PCmark05's CPU and Graphics modules respectively held the UX50V's overall PCmark05 back to a rather lacklustre 2602. In 3Dmark06, the integrated Intel GMA 4500MHD chip could only power the UX50V to a score of 642 at its native 1366 x 768 resolution.
However, thanks to Nvidia's Hybrid Graphics, it's able to unleash the awesome power of the Geforce G105M behemoth. Yes, sadly we've let sarcasm get the better of us, since the Geforce G105M sits dangerously close to the bottom of Nvidia's mobile graphics line up. Despite its best efforts, the G105M only managed to drive 3Dmark06 to 1692.
Gaming is just about possible, but it's not an entirely pleasant experience. We fired up Call of Duty 4 at the UX50V's native 1366 x 768 resolution and achieved an average of 10fps. Older games and those with the detail settings whacked right down will play better, but the relatively slow processor holds things back, so it's best not to trouble the UX50V with too many gaming sessions.
One advantage of Hybrid Graphics such as this is that, when not struggling to play games on the UX50V, you can switch to the integrated Intel chipset in an effort to save the battery. In our tests (PCmark05 on a continuous loop, brightness and max and Wi-Fi switched on), the four-cell 2800mAh battery managed 1hr 31mins on a single charge.

Certainly on the slim side
When we switched to integrated graphics (no reboot is required) and ran the same test, it powered on for a further 21 minutes – not a massive leap, but better than nothing. Activate the full power-saving mode, which caps CPU usage at 60 per cent, and another 20 minutes can be garnered, resulting in a total battery life of 2hrs 12mins. Considering it's powered by a single-core, ultra-low voltage CPU, we were hoping for longer.
So how does the UX50V fare in the value for money stakes? Not so well, as it happens. Take the recently-reviewed Dell Studio 15, for example. It packs a much faster Core 2 Duo P8600 CPU, has better graphics in the form of an ATI Mobility Radeon HD 4570 and is roughly similar as far as portability goes. However, the real killer blow for Asus is that Dell is flogging the Studio 15 we reviewed for just £719 – almost £300 cheaper than the UX50V.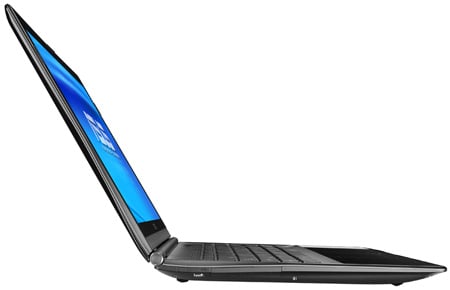 The price of fashion
Granted, the UX50V is around 10mm thinner than the Dell and far easier on the eye, but that's not enough to justify its rather hefty price tag. With its slimline design and shiny wrist rest gleaming back at you, the Asus UX50V makes a great first impression. Dig a little deeper, though, and it starts to lose its gloss.
Verdict
Although attractive, we weren't hugely impressed with the keyboard, while the design of the trackpad buttons is woeful. And despite its ability to switch to a discrete graphics chip, the Nvidia Geforce G105M isn't up to much in terms of gaming. If you're happy sacrificing power and a fair wedge of cash for style, the UX50V will probably appeal. But we think Asus has its work cut out in persuading customers to shell out £999 for its latest catwalk queen. ®
More Notebook Reviews...

Toshiba
Satellite A350-12J

Samsung R522

Dell Studio 15

Acer
Timeline 4810T