Original URL: https://www.theregister.co.uk/2009/08/25/preview_os_apple_snow_leopard/
Mac OS X Snow Leopard First Look
Our initial impressions of Apple's new baby
Posted in Software, 25th August 2009 12:48 GMT
At my age, I look forward to upgrading my OS about as much I look forward to a trip to the dentist. Why break something that works? Why risk wasting hours hunting down drivers that potentially don't exist, with the possibility that well-loved hardware becomes obsolete?
Last time I upgraded the OS, I had to put my scanner on Craigslist. At least Microsoft has got one thing right: a compelling upgrade comes up as often as a trip to the dentist should - about every eight years.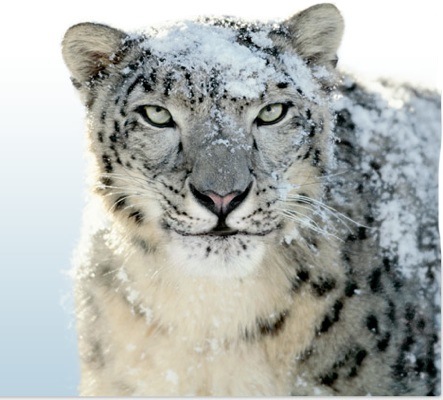 Snow Leopard: the World's most advanced OS, fine tuned. Apparently
Apple's 10.6 release - aka Snow Leopard - faces even more than the usual challenge. It's an important engineering release that isn't being sold on features - because there aren't really that many new ones. It also leaves behind Macs as recent as three years old - it will only install on Intel hardware. And Leopard now works so well, many will wonder why they should risk things at all?
Consequently, Snow Leopard has got a price to match: just $29/£25 for a single-user upgrade from 10.5.
I've been using a release candidate cut of the OS, and found plenty to like. Whizz-bang features are thin on the ground, but it's undoubtedly faster and more responsive than its predecessor. And despite radical under-the-hood changes, such as the move to 64-bit and a new scheduler, it provides excellent compatibility.
Consider what follows an illustrated scrapbook of my experience on two Macs. I can't promise you that this is the final version, although some web forum posters have suggested that it is. Nor is it a benchmark, a comprehensive run through of all the features - I didn't test Cisco VPNs, for example - or a technical analysis. All these goodies will come in due course.
Installation and Upgrading
I installed Snow Leopard on a three-year-old quad-core Xeon Woodcrest Mac Pro, and a 15-month-old basic MacBook. Not exactly the latest and greatest hardware, but in both cases EFI reported a 64-bit system.
On the MacBook, I nominated to keep the Leopard partition intact, and reformat a Boot Camp Windows partition for Snow Leopard. I was a bit surprised to find I couldn't format this from inside the Installer - I needed to quit the Installer and run Disk Utility manually. But otherwise it was plain sailing. On the Mac Pro, I performed an in-place upgrade.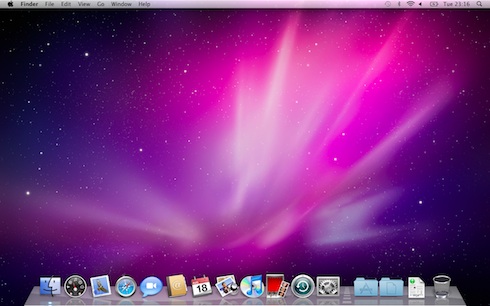 The default desktop
What greeted me was familiar: Snow Leopard starts like Leopard, down to the pixel.
Apple promises that Snow Leopard frees about 7GB from a comparable Leopard installation. This left me a bit puzzled. With X11 unchecked, but with the foreign language fonts installed, a clean install took up a shade over 10GB. Apple's system requirement is 5GB of free space.
Nevertheless, there's some serious shrinkage going on. Safari's public beta on Leopard weighs in at 45MB, but the Snow Leopard Safari at just 14MB. The Address Book shrinks from 58MB to 15MB. Mail is now 77.5MB.
The Leopard option to 'Open in Rosetta' is still there for PowerPC applications, but there's now an option to open 64-bit apps in 32-bit mode. I noted that for Safari, this was turned off, but Address Book started in 64-bit mode.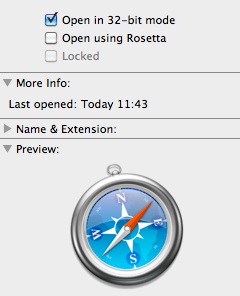 Safari starts in 32-bit by default
I discovered that Rosetta isn't a default installation option - you must customise the installation to include it.

If you need Rosetta, remember to choose it at install time, or else you'll need your DVD.
Perhaps it's a licensing issue? Rosetta is the miraculous run-time technology developed at Manchester University by a computer science professor, who went on to found Transitive - a brief history here. IBM acquired the company last year. Rosetta smoothed the migration to Intel hardware enormously, and will be needed for some time.
It has been claimed that Snow Leopard will download Rosetta if it wasn't installed but you need it subsequently. We couldn't confirm this.
Finder
It's an amazing eight years since we first discussed a truly "native" Finder, one written to the Cocoa frameworks. And here it is.
As you can see, there are no new applications, or even icons. Another reference point, the System Preferences panel, also looks exactly the same as before. If you squint, you'll see Sleep has acquired a keyboard accelerator - Apple add-on keyboards haven't had a power button for a few years now.
Changes are minor, and some improvements are subtle.
Previously, if you wanted to use the fastest method of navigating a folder hierarchy - the old NeXT method that's now called Column view - it would insist on an alphabetical sort order. No longer. Now you can quickly zip through columns listed according to the order that you prefer, by size, kind, date modified and so on: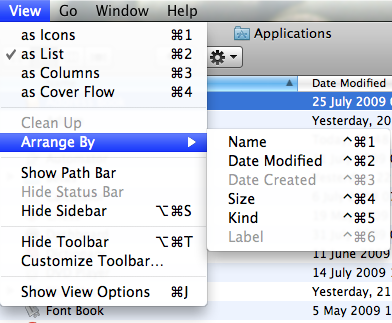 Sort options available in List view...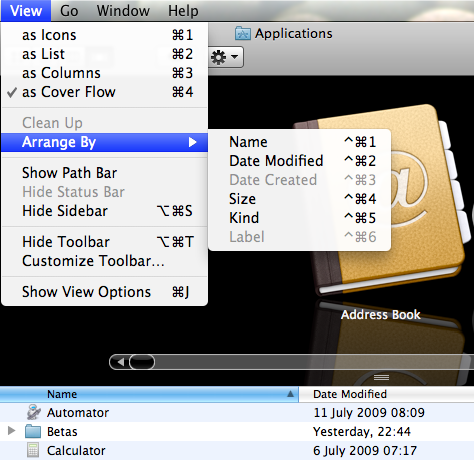 ...Cover Flow...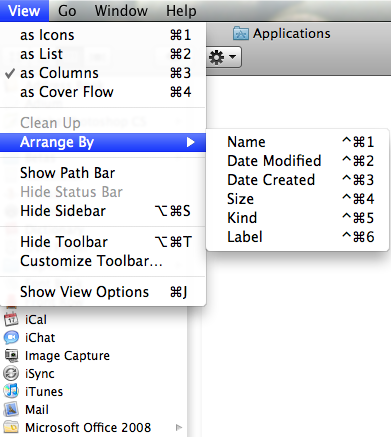 ...and Column view
Stacks are gradually becoming regular Finder windows - or more like the old pop-up folders in the classic Mac OS. Stacks open much more smoothly and reliably in Snow Leopard, and are scrollable.
In Finder windows, you can magnify the icons up to 512 pixels. Now why would you want to do that?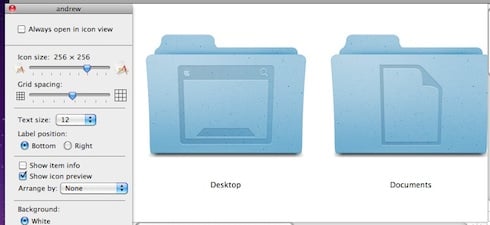 Because you're a weirdo. For fans of icon porn, a closeup looks like this: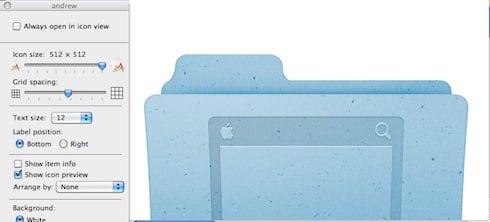 So far, so useless. Where it might start to get useful is when the icon is more than symbolic representation of the data, but a document preview in miniature. Such as here: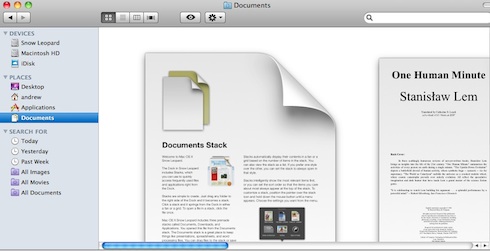 A PDF (but not RTF) document can be browsed at this magnification too, page after page - the icon gets forward and backward arrows: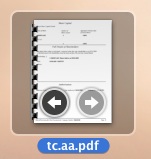 I've mixed feelings about all this. I find that a desktop full of document 'miniatures' to be inefficient: the icons are hard to distinguish, not least because desktop icons are limited to 128 pixels. It was much easier in the old days, when you were forced to read the filenames. And, even at 512 pixels, it's almost impossible to read the contents of a document that's primarily text, especially on larger monitors.

Click to see the 512 x 512 icons - well, except Opera's...
Then again, it doesn't matter, because of Leopard's terrific preview feature, QuickLook. This has saved me more time than any other addition to the OS last time around, and the 2009 version has been accelerated noticeably.
So it's all a bit pointless today. This kind of thing will possibly useful down the line when pixel densities are higher, perhaps, but not just now.
Dock
Down at the Dock, the behaviour has been changed a bit. Menu options have now been consolidated and given a more iPhone OS look:

The new look Dock options
A long click on a dock icon in Leopard brings up a menu. In Snow Leopard, it activates Exposé's Application Windows feature. Whether this is quicker than moving the pointer to a corner or smacking a function key is debatable. But I know new users who are still perplexed by the Dock, and they may find it useful.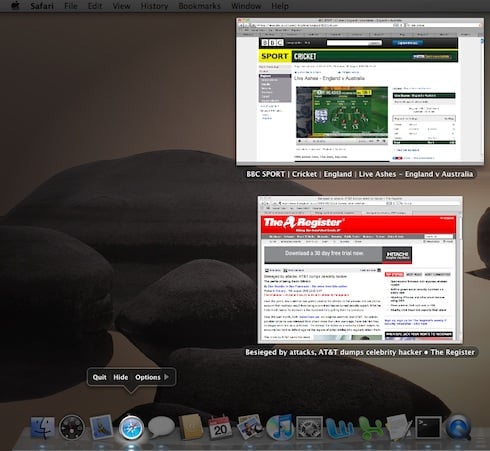 Using Expose from the Dock
Hold down Alt while clicking, and you get slightly different options: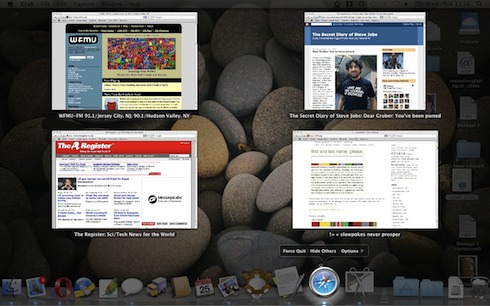 In any case, with the feature activating in less than a second, it's easy to stumble upon, and that's the biggest headache for any software designer: getting people to try something potentially useful. After noticing the new option, I got the habit, and the habit stuck.
And to encourage Exposé use, there's the new choice of where minimised windows end up. You'll find this in the Dock Preferences:

Minimise to the application icon - in the left-hand side of the dock - reduces clutter on the Dock's right-hand side
Speaking of Dock curiosities, I don't know why the Apps and Docs folders show as folders, but the Downloads "as Stack". Presumably, it's to show right up that docked folders can be displayed in a choice of ways.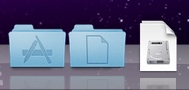 I discovered that I could open multiple applications from a Dock folder using Cmd-Alt-click, with the folder remaining in the foreground.
Services
Services is a venerable IPC feature from the NeXT days that's never really been pushed very hard with Mac OS X - people are amazed to discover, for example, that for years you have been able to Bluetooth a file from the Finder, with just one keyboard shortcut. This is a system default and no faffing is needing.
In Snow Leopard, Services have had a long-awaited overhaul. As with the Dock, there's been more rationalisation. The naked Services menu is exactly where it was, but it now looks like this, illustrated here with a text file selected: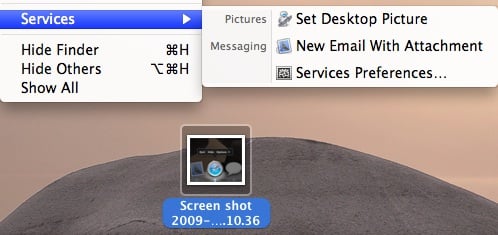 The new-look Services menu
Icons provide cues, and the entries are categorised. You can attach Services to right-click contextual menus too.
The old Keyboard preferences pane has been tweaked to allow you to choose which Services to activate. It stops the Services menu piling up with junk, such as trialware you forgot you had.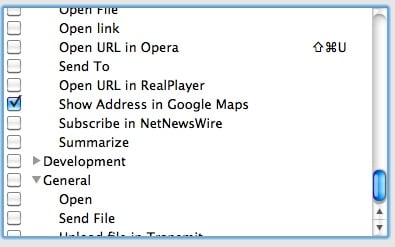 Choose which services appear in a context menu
Mac OS X's hidden gem, Automator, has been spruced up in Snow Leopard. Apple now offers more starting points for scripts, but I mention it here because it can be used to create Services of your own.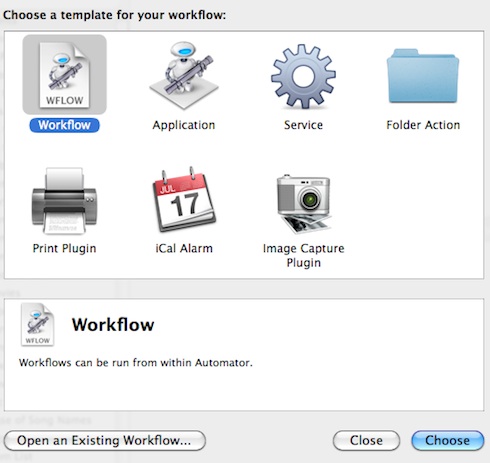 Automator has an improved welcome screen
Mail and Safari
In keeping with the Snow Leopard theme, there are only minor changes to other applications - performance was the major goal here. I found the Mail application certainly benefitted from this.
After upgrading, Mail will offer to convert your mailboxes to the app's new format, a process which I found to be much faster (on the Xeon) than earlier transitions.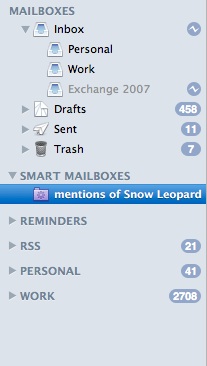 No great UI changes in Mail
Mail now supports Exchange 2007 servers, something that Windows doesn't do. Come to think of it, Microsoft is dropping an email client from Windows altogether for Windows 7, you have to download the old Outlook Express software, now called Live Mail, separately.
I couldn't test Exchange 2007 support because I don't have access to a suitable server, and while Zimbra 5 can ape an Exchange well enough to use with iPhone's push email, Snow Leopard didn't want to know.
The whole Exchange/Zimbra/Apple compatibility picture is really complicated and a little confused at the moment, so we'll set that aside for now.
Safari is evidently Apple's showcase for the benefits of Snow Leopard - even though Safari has been in public beta for six months now.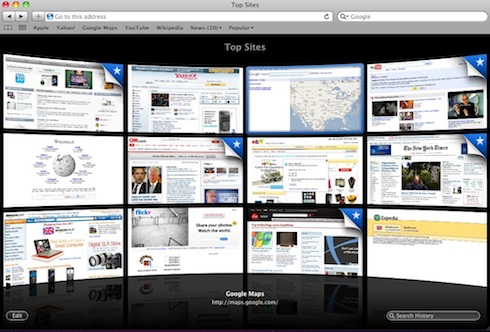 Safari's version of Opera's Speed Dial is called 'Show Top Tabs'
You can see why as soon as you try it - it's blazingly fast. It's a credit to the Apple engineers who have raised the stakes for other browser manufacturers. It's certainly good enough for newcomers to the Mac, but not enough to tempt me from the Rolls Royce of web browsers, Opera, which has too many essential usability features. Speed isn't just about rendering a page, but letting you get to information quickly, and rapidly switch between pages too.
With Apple's excellent scripting, Safari makes a capable workhorse for grabbing and manipulating web data. Here's a peek at the Safari library: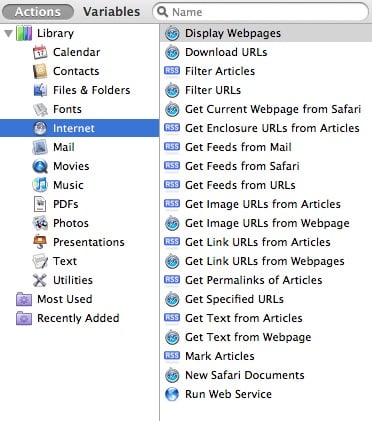 Get scripting: Safari's events library
QuickTime
QuickTime has been essentially unchanged for a decade, and this upgrade has been in beta for what seems like years. The new version, dubbed QuickTime X, is a mixed bag.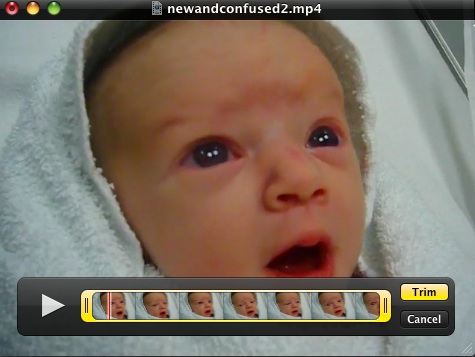 QuickTime X: the new, more basic player window
There's no doubt that QuickTime is one of Apple's crown jewels, but it's even harder to tell now. Previously, Apple wanted around $29 for a "Pro" version which offered full-screen viewing, and cut and paste.
QuickTime has long offered a "Trim to Selection" feature, but its star turn was cut and paste. Now Apple wants to you use the iPhone 3.0-style trim feature. If you can find it - it's hidden under the "send to" or "share" menu.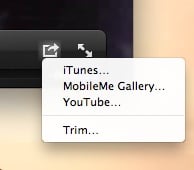 On the plus side, QTX played Flash movies without complaint, something currently only possible with third-party add-ons. Since QuickTime is built into the OS, browsing libraries of videos in different formats is better.
In terms of compatibility, I had no problems with a series of applications I tried: Microsoft Office 2008, a six-year-old version of Adobe Photoshop, even applications that use low level I/O, such as Amadeus Pro and Audio Hijack. Both required updates last time around. The only software that couldn't run was one called Blogo.
Conclusion
I like Snow Leopard, and found moving back to Leopard quite surprisingly painful. Was it really so slow? It didn't feel so a week ago.
There's some controversy about how "64-bit" this upgrade really is. I have no complaints about compatibility, and 10.6 promises to be a much smoother upgrade than going from 10.4 to 10.5. Leopard proved to be an excellent release in the end, but many people experienced driver issues and other gotchas.
By setting expectations low for its successor, and with a price to match, I'm sure a lot of people are going to be pleasantly surprised. If performance matters, it could be $29/£25 very well spent. Too bad G4 and G5 hold-outs don't get their own optimised version - they need it the most. ®