Original URL: https://www.theregister.co.uk/2009/08/24/lexus_concept/
Lexus planning compact e-car?
Firm teases with concept sketch
Posted in Science, 24th August 2009 14:31 GMT
Leccy Tech Lexus has promised to unveil a "ground-breaking" concept compact car at next month's Frankfurt Motor Show, leading many to wonder if the company's sketched plans for a small-size leccy vehicle.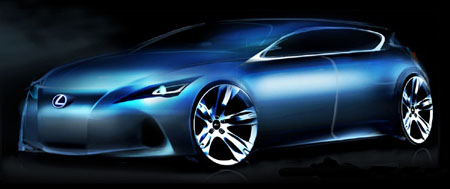 Lexus' concept car: will be unveiled at the Frankfurt Motor Show next month
Although it isn't giving much away just yet, Lexus has released a drawing of the auto – which the firm claimed "will demonstrate a mix of technical innovation and ground breaking design".
Exactly what this means, we can't be sure. Reading between the lines, though, it's entirely plausible that Lexus has designed a smaller version of its recently unveiled HS250h dedicated hybrid.
In US spec, the HS250h is powered by a 2.4l four-cylinder petrol engine that pumps out 147bhp but it also has an electric motor connected to a 400V NiMH battery pack in the boot that when fully charged can boost the system power output to 187bhp.
Lexus will reveal all at the German motor-show on 15 September, so for now you will just have to be content with the firm's artistic sketch. ®