Original URL: https://www.theregister.co.uk/2009/08/21/e_books/
Sony sparks digi book fireworks with ePub move
Giving Mills and Boon readers something to hide
Posted in Software, 21st August 2009 09:43 GMT
Analysis Sony has said its ebooks will henceforth be supplied solely in ePub format, creating a duopoly with Amazon's Kindle platform.
Sony's endorsement of ePub gives the format a welcome breath of life, but its decision to mandate Adobe's Content Server is more interesting; the combination challenges Amazon's Kindle and could lead to a duopoly of providers protecting content in an industry more interested in middle-aged housewives than early-adopting IT professionals.
There is a myriad of ebook formats - 26 listed in Wikipedia - with varying capabilities but generally focused on creating works that can be somewhat reformatted to suit the device being used to read them. This contrasts with PDF documents, which mandate the whole layout (WYSIWOG - What You See Is What Others Get - as Adobe used to term it).
Sony's strategy is to use a combination of ePub and PDF: the latter in situations where changing the layout is too important to change, such as comics or some technical manuals, and the former for everything else including the eBooks on sale from the Sony Store.
But it's a strategy inspired by Adobe: ePub is managed by the International Digital Publishing Forum, an organisation whose only employee was snapped up by Adobe back in September 2007 when Adobe announced its full support for the standard. Since then a new employee has been found, and various publishers and content producers have signed up to endorse the standard which looks set to dominate pretty quickly - alongside PDF - with Adobe pushing for either format to be combined with its Content Server 4 to provide the combination of text format and digital rights management that's considered essential to the success of electronic publishing.
All this sidelines the already-popular Mobipocket format, which combines formatting and DRM in its own ".mobi" files, and allows users to copy content between devices as well as buying it from a variety of sources. But Mobipocket is owned by Amazon these days and has been withering slowly as the new owner focuses on shifting Kindle from a piece of hardware into a software platform, and it surely won't be long before Mobipocket is merged into something firmly locked to the Amazon store.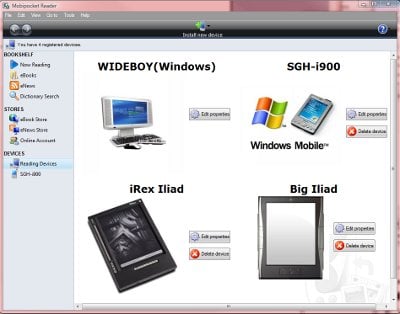 The Kindle platform also embodies both content and rights management, including the more controversial ability to retrospectively rescind those rights as spectacularly demonstrated by its recent withdrawal of electronic copies of George Orwell's Nineteen Eighty-Four. Kindle also operates as an extension to Amazon's book store, ensuring revenue for generations to come - but DRM isn't just about protecting revenue streams, it also protects the industry itself, though it may not always be clear why the publishing business feel it necessary to impose restrictions that proved so unpalatable to music fans.
Part of the problem with literary piracy is the inability of authors to make money elsewhere: personal appearances don't often pay, and many authors don't perform well in public. Selling posters, t-shirts or branded towels isn't going to work for many, so authors are denied alternative sources of revenue that arguably exist for musicians.
Banging the DRM
Services such as WattPad are intended to provide hosting for user-generated texts, but only remove copyrighted content when requested to do so: authors whose publishers who can afford to keep checking get their stuff removed while others don't manage it in time - and readers are unlikely to buy a legit version of a book once they've read it.
Libraries also like DRM: with protected content, libraries such as Luton's can lend out electronic content to members with time restrictions included - borrow an eBook for free, with no fine to pay when the text disappears after seven days. More than 23,000 authors got paid for library loans last year, under the Public Lending Right (PLR) which includes electronic books, representing an important revenue stream for many.
DRM is also essential if an advertising-supported model can be viable. Amazon's Kindle platform can not only place adverts in the pages of a book, but it can also update those adverts and target them based on context or user: providing subsidised reading material for those willing to put up with the adverts.
But that's not enough to convince the IT-savvy crowd who early-adopted mobile music, and still refuse to buy anything unless it's completely unencumbered with DRM. But this time it's not that gang who will be dictating things: electronic books have found an audience that doesn't give a toss about DRM, but buys a hell of a lot of books:

It won't be the IT Crowd calling the shots this time around
Romance publisher Mills & Boon are enthusiastic supporters of both ePub and Adobe's Electronic Editions software; unsurprising given that, according to the New York Times, 80 per cent of US fiction sales went to women, so a Mills & Boon endorsement could mean a lot more than Sony's. The publisher does support Mobipocket though its Harlequin brand, but the future of romance is clearly Adobe's. Women are buying a lot of ebooks, and they'll buy hardware to suit the content they want rather than finding a way to get content onto their chosen hardware.
Mills & Boon don't publish the kind of literature that looks good on a shelf: few people want to show off their collection of bodice-rippers that are less "literary tome" and more "extended magazine", with the disposability of the latter. While we might rant about the risk to long-term access that DRM presents, those buying Mills & Boon don't care about that - they want to read stories, backed by a brand they trust to ensure a level of quality, and with at least one rippling torso on the cover.
Device manufacturers will need to support that content, including the DRM that comes with it. When MP3 players launched there were a range of different DRM systems being proposed, confusing both users and manufacturers, but an Amazon/Adobe duopoly could simplify that.
Qualcomm, which provides chips for the Kindle 2 as well as Sony's Reader line, reckons there are 20 companies working on electronic books at the moment, with half of these scheduled to launch before CES in January. So we're about to experience an explosion of hardware from manufacturers whom Adobe will be actively courting in an attempt to turn a duopoly into a monopoly - and we've not even seen what Apple has in store for us yet. ®