Original URL: https://www.theregister.co.uk/2009/08/20/nasa_inflatable_heat_shield_test/
Orbital skydives to follow inflatable heatshield success?
NASA steals march on Italian space-pod parachute babes
Posted in Science, 20th August 2009 13:37 GMT
NASA has announced a successful live test of a prototype inflatable heat shield for re-entry to a planet's atmosphere. The blow-up shield could have important implications for future missions to Mars - and also, perhaps, for the nascent field of orbital spacesuit skydiving.
The test unit is known as the Inflatable Re-entry Vehicle Experiment, or IRVE. In packaged form its fabric is wrapped tightly around the gas cylinder used to inflate it - described as a "glorified scuba tank" by NASA engineers. The shield unit is 42cm in diameter and about a metre long on its own, and for this week's test another 50cm cylinder of electronics and telemetry gear was added.
After being fired 131 miles into space by a sounding rocket from NASA's Wallops Island test range, the IRVE then inflated its conical shield using nitrogen from the gas cylinder as it fell back towards the atmosphere. The fabric of the bladders uses silicone to provide gastightness, kevlar for strength and structure, and layers of "Kapton" film and "Nextel" fabric to resist the heat of re-entry.
The mushroom-cap-esque bag unit, when fully inflated, formed a circular heatshield 3 metres across. According to NASA, this successfully resisted the heat of re-entry at hypersonic speed - greater than Mach 5 - then slowed down through the supersonic realm and thus into the subsonic without difficulty.
"Everything performed well even into the subsonic range where we weren't sure what to expect," said NASA hypersonics boffin Neil Cheatwood. "The telemetry looks good. The inflatable bladder held up well."
"This was a small-scale demonstrator," added Mary Beth Wusk, IRVE project manager. "Now that we've proven the concept, we'd like to build more advanced aeroshells capable of handling higher heat rates."
Orbital skydiving finally on the cards?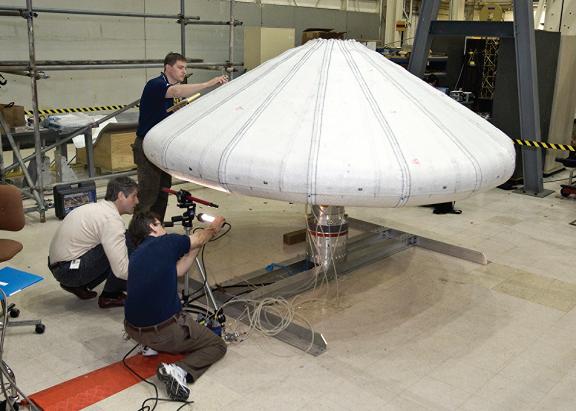 Jump out of a perfectly good spaceship? Blow me
The fact that the IRVE remained stable into subsonic flight does suggest that such a unit could be used by a skydiver to re-enter Earth's atmosphere. Once safely slowed down, the intrepid user would use parachutes for the final landing.
However, a lot depends on just how fast one would be re-entering. The IRVE didn't quite fly straight up and fall straight down again, but it did splash down less than hundred miles from Wallops Island. It didn't even come close to achieving orbital velocity.
NASA doesn't say what the peak airspeed reached by the IRVE was as it fell, but it doesn't seem likely to have been anything like the Mach 25 experienced by spacecraft de-orbiting above Earth. The fact that NASA says the IRVE free-fell for about 2 minutes 11 seconds before seriously interacting with the atmosphere suggests not a vast amount more than Mach 5 once you add in lateral speed, explaining Wusk's desire to get a bit more serious.
The atmosphere of Mars, of course, is hugely thinner than that of Earth, so NASA may never build an inflata-shield capable of Earth re-entry. But there are others who would like to.
Spacesuit company Orbital Outfitters, for instance, have discussed plans for jumps by suitably equipped skydivers from suborbital space-tourism vehicles - and even from proper orbit. Italian aerospace firm Aero Sekur have also proposed the manufacture of insta-foam heatshields allowing orbiting astronauts to reach Earth safely using minimal amounts of kit. Having some bailout option less bulky than a Soyuz capsule could be handy for future spacecraft designers.
Aero Sekur even have some potential test space-divers lined up in the form of their company-sponsored all female parachute display team, the Shooting Stars - perhaps better known (cough) under the title "space pod parachute babes".
Apart from civil uses, there's the notion of space paratroops to be considered as well - though even Robert Heinlein, in his classic Starship Troopers, considered that the Mobile Infantry would leave the drop ship in one-man disposable capsules rather than inflating their heatshields as they fell*.
A Russian inflatable system intended for bringing down small loads from the International Space Station (ISS) has been tested several times, too, though it has been dogged by failures. NASA's Cheatwood says that this week's trial is "the first time anyone has successfully flown an inflatable reentry vehicle".
Given the limited nature of the NASA test, however, it could be a while before the first backpack re-entry skydive kits for spacesuits appear. ®
Bootnote
*He also had the MI wearing armoured suits with powered exoskeleton assistance and jet boots enabling them to leap over buildings. Personal weaponry went up to and including shoulder-fired nukes, as well as less-drastic options such as flame guns, gas and even psywar grenades.
Very little of the cool technology made it from the book to the film, presumably for budget reasons, much to the disappointment of some.