Original URL: https://www.theregister.co.uk/2009/08/19/almaz_reborn/
Soviet military-surplus manned spacecraft to fly again
Company acquires armed orbital stations, capsules
Posted in Science, 19th August 2009 11:17 GMT
A company with a former NASA astronaut among its management says it has acquired several Cold War era Russian ex-military spacecraft and stations. The firm intends to refit its "Almaz" reusable capsules for commercial manned operations in orbit.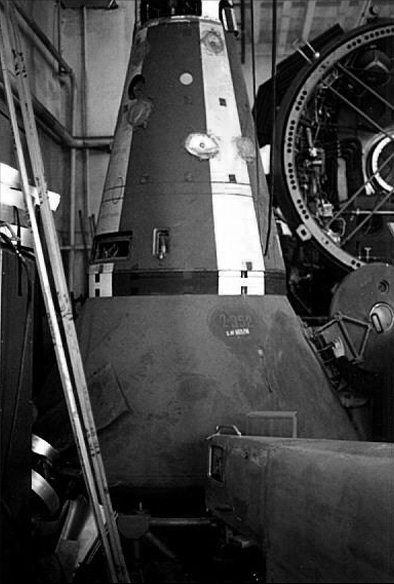 What the Soviet space-recon force rode in.
The new Isle of Man headquartered corporation is called Excalibur Almaz (EA), and is headed by former NASA legal consultant and space biz kingpin Art Dula. Among the company's vice-presidents is ex-NASA astronaut Leroy Chiao, a former commander of the International Space Station and veteran of both Shuttle and Soyuz missions. In addition to his job at Excalibur Almaz, Chiao is currently serving on the Augustine panel formed to advise President Obama on the way ahead for NASA's manned space programme.
According to an announcement issued yesterday by EA:
EA has ownership of several Almaz spacecraft, including reusable reentry vehicles (RRVs) and space stations.

EA will tailor space missions to accommodate customer objectives including exploration, cargo transportation and experimentation.
Almaz - the Soviet Union's secret armed space fleet of the 1970s
Almaz (or "Diamond") was a secret Soviet military space programme of the 1970s, launched in response to a similar US effort. The idea was to conduct reconnaissance (spying) from space using manned platforms. The crews of the Almaz spy stations would travel up and down using fully-reusable capsules launched by conventional rockets, the RRVs referred to by EA.
Three Almaz stations were launched into space under the pretence that they were civilian Salyut research craft. (The US military spy-station project, which in the end never flew manned, was similarly dubbed the "Manned Orbiting Laboratory").
"Salyut 2" suffered a disastrous breakdown shortly after reaching orbit and no crew was flown up to it, but "Salyut 3" and "Salyut 5" both spent substantial periods operational in orbit and were both crewed at times. Apart from spy scopes and such, credible sources (pdf page 11) suggest that the stations were equipped with a modified jet-fighter cannon. This was apparently test-fired by remote ground control during the "Salyut-3" mission. The cannon could have been used to defend the station against an anti-satellite attack.
In the late 1970s, the Soviets concluded that manned space reconnaissance offered no worthwhile advantages over unmanned spy satellites and the Almaz programme was shut down.
Now, however, EA intend to update and modernise their fleet of Almaz RRVs in cooperation with original Russian builders NPOM. They say that the refitted capsules will be mated to an expendable service module so as to offer a decent amount of space in orbit, and will be "compatible with a number of launch vehicles and capable of being launched from worldwide sites". The firm believes that the first launch could come as soon as 2013.
After a sojourn in orbit lasting perhaps a week, the three-person crew of an EA mission would get into the RRV and undock from the service module, which could later be de-orbited and destroyed. The RRV would return to Earth, making a soft landing using its parachutes and retro-rockets, and then be prepared for another mission. Some of the RRVs have already been into space "several times" back in their Soviet military days, according to the company.
EA has thus far announced no plans to launch its stock of ex-Soviet space stations. If it does, it's to be presumed that the firm will remove the armament, which could get the company into hot water under the Outer Space Treaty. ®