Original URL: https://www.theregister.co.uk/2009/08/17/review_laptop_apple_macbook_air_2ghz/
Apple MacBook Air June 2009
Laptop lightweight packs more punch
Posted in Personal Tech, 17th August 2009 12:02 GMT
Review Now in its third generation, the MacBook Air hasn't had the same sort of overhaul as the rest of the MacBook range has had in recent months. Even so, Apple's super-slim laptop has received a welcome price and performance tweak that should help broaden its appeal in more ways than one.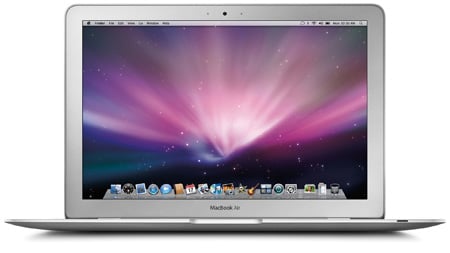 Apple's MacBook Air: still skinny
The MacBook Air's great strength, of course, is its lightweight, slimline design. Although it has a 13.3in screen with 1280 x 800 resolution, it weighs just 1.36kg and measures 18.8mm at its thickest point. The reduced weight really does make a difference when you're travelling – it's like carrying a paper notepad rather than a notebook computer.
However, one of the downsides of the ultra-slimline design is that there's not much room for a cooling system – or a battery either – so the machine has always tended to use relatively modest processors in order to keep power consumption and heat output as low as possible.
The previous version cost about £1200 with a mere 1.6GHz Core 2 Duo processor, or almost £1800 with a 1.86GHz CPU. In the latest line up, the cheaper of the two models model gets a speed boost from 1.6GHz to 1.86GHz, along with a price cut of about £120 that brings it down to £1149.
We tested the faster version of the Air, that breaks the 2GHz barrier for the first time, reaching the giddy heights of 2.13GHz. This model gets a larger price cut from £1761 to £1349. Yes, it's still expensive, but not out of line with similar top-name brands such as Sony's ultra-portable Vaio TT or the Fujitsu LifeBook.

Solid Air: available with an optional 128GB SSD
Both Air models have the same Nvidia GeForce 9400M 256MB graphics core, featured in the previous refresh, plus 2GB of DDR 3 Ram, which is fixed and non-expandable. Our review unit also had a 128GB SSD, while the cheaper option has a conventional 120GB hard disk.
Mac Benchmarks
Xbench Results
Overall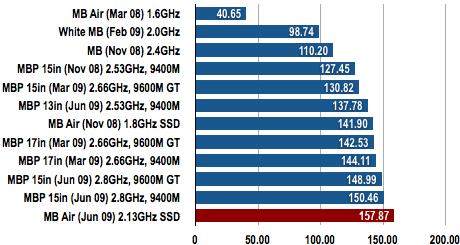 Longer bars are better
Note: the speed of MacBook Air's SSD storage exaggerates its Overall rating.
CPU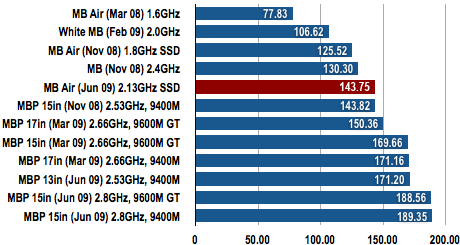 Longer bars are better
Memory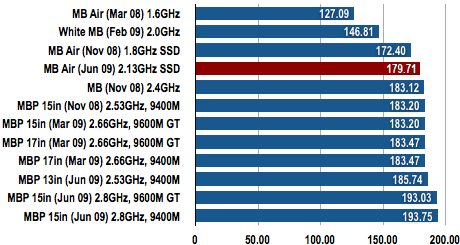 Longer bars are better
Graphics – Quartz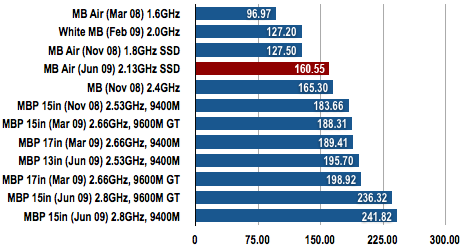 Longer bars are better
Graphics – OpenGL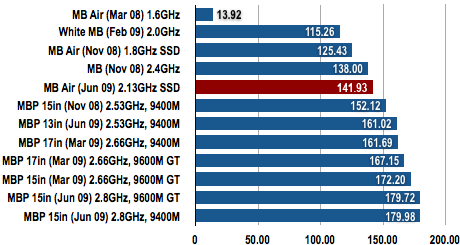 Longer bars are better
HDD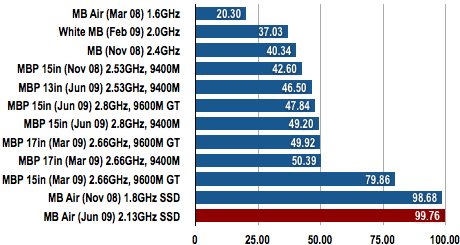 Longer bars are better
The 2.13GHz model performs pretty much as we'd expected in our Mac-native Xbench tests, outpacing its predecessor by around 15-20 per cent. A little experimentation with the bundled iMovie video-editor also confirmed that it is noticeably more responsive when working with large video files. Still, it's a shame that the 2GB of memory can't be increased.
We used Apple's Boot Camp option to install Windows Vista and run a few PC benchmarks to see how it would match up to some of its ultra-portable PC rivals.
PC Benchmarks
PCMark05 Results
Overall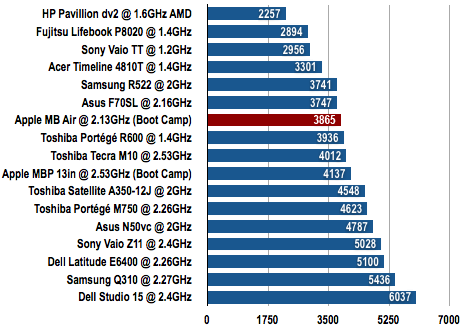 Longer bars are better
CPU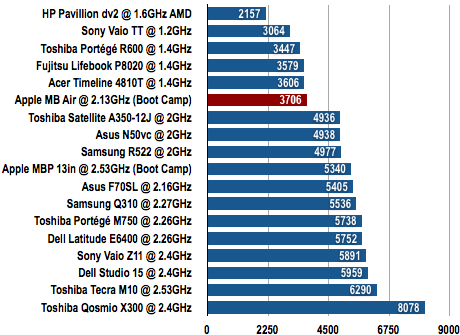 Longer bars are better
Memory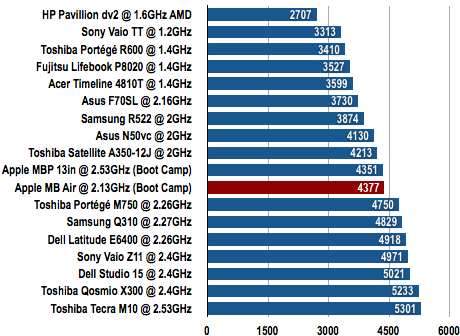 Longer bars are better
Graphics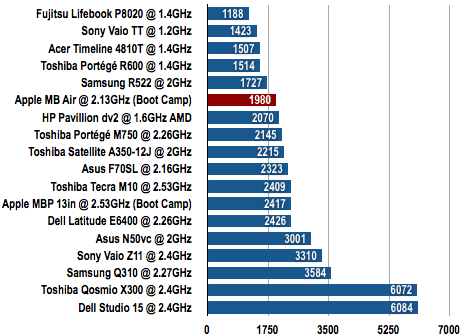 Longer bars are better
HDD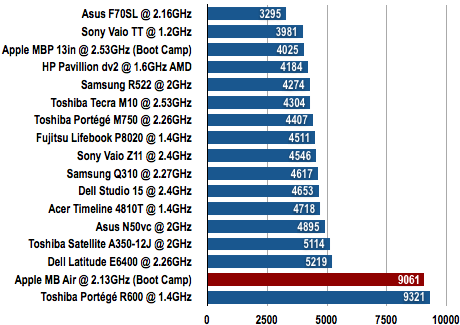 Longer bars are better
3DMark06 Results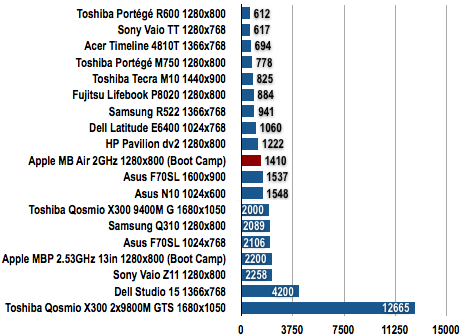 Longer bars are better
Battery Life Results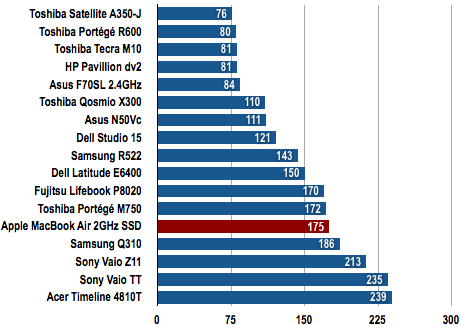 Longer bars are better
Although less expensive than the Vaio TT or LifeBook, the MacBook Air has a more powerful processor and graphics and predictably outperforms them in most areas. And while it struggles to cope with the Windows version of Far Cry 2, it should still provide passable performance for the more limited range of Mac-native games available these days.
One point to note is that the SSD drive produces extremely strong performance that disproportionately boosts the laptop's overall rating in both PCMark05 on Windows and Xbench on OS X. The SSD drive certainly helps with tasks such as opening large video files in iMovie, but it doesn't provide much benefit for more routine tasks such as surfing the web or using Microsoft Office.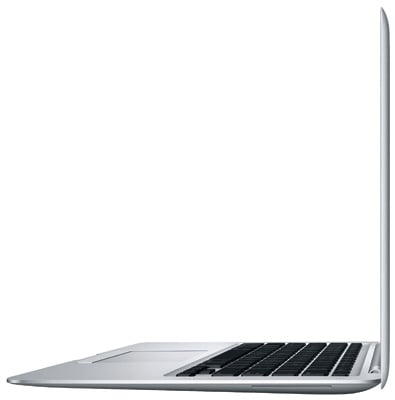 No internal optical drive, but CD/DVD drives from other machines can be accessed
Battery life has improved too. The battery is sealed-in and non-replaceable, so you can't swap it for a replacement on a long plane-flight. However, the MacBook Air now uses the same Apple-designed lithium-polymer battery as the MacBook Pro range and managed to last for just five minutes short of three hours when looping PCMark05 continuously.
Switching back to OS X, we got almost exactly three hours and 30 minutes of video playback using an H.264 file stored on the SSD drive, and you should be able to beat four hours quite comfortably for lighter tasks such as typing away in Word. We were also pleased to see – or rather, hear – that the laptop remained very quiet at all times during use. The base of the unit does get a bit warm at times, but never got too hot to rest on our lap.
Mind you, there are other aspects of the MacBook Air's design that remain as infuriating as ever. Some people might consider the non-replaceable battery to be a deal-breaker, but in daily use we found ourselves more annoyed by the single USB port and lack of Ethernet, the latter being available as a USB adapter option. And, of course, anyone that's got a Firewire camcorder or hard disk is left in the lurch by the omission of Firewire too.
And while we understand the decision to omit a built-in optical drive in order to reduce weight, Apple offers an optional external USB SuperDrive unit for an additional £64, if you really need it. Although we have successfully hooked up other optical drives with the Air, Apple offers a facility to install software over your network using the CD/DVD drive from another computer running Remote Disc for Mac or Windows.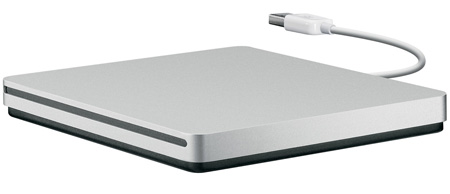 Optical extra: Apple's SuperDrive USB external DVD writer
Appearing as a disc in the Air's volume listings, drive sharing is technically ingenious and relatively easy to use. Still, when we needed to do a clean install of OS X for our tests and then install the bundled iLife suite and MS Office, we simply wanted to slap in the disks and get going straight away. There's another big limitation here, as it appears an external drive is necessary with Boot Camp to install Windows on the MacBook Air.
And, of course, while the bundled iLife suite is powerful, versatile and easy to use, the MacBook Air's limited connectivity means that it can't always make the most of iLife's multimedia features, although iDVD can save projects as a disc image for burning on other machines.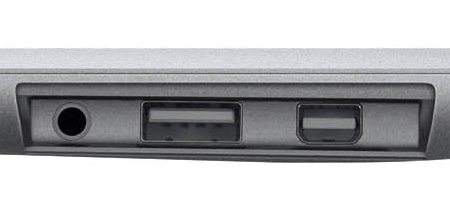 DisplayPort interfacing delivers a maximum 2560 x 1600 output to an external monitor
With no audio input, GarageBand users will need a USB audio interface to go beyond recording with the internal microphone. The mono speaker mono isn't much cop for listening to music through, but there's always the headphone connector.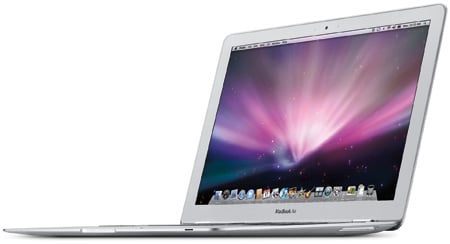 Includes an updated battery based on the long life type used in the Pro models
We'd gladly swap the machine's Mini DisplayPort interface for an extra USB, Firewire or Ethernet port. And whilst we understand the reason for omitting those features, it's important to realise that the MacBook Air's limited connectivity can be a source of frustration at times. If you need better connectivity options then the new 13in MacBook Pro might well be the better solution.
Verdict
The MacBook Air is by no means perfect. Its performance and connectivity options are both more limited than those of conventional but heavier laptops. However, it does perform well when compared to other ultra-portable PCs in the same price bracket. Ultimately, the real clincher for us is the weight, or lack thereof. Instead of leaving it in the office – as we tend to do with our older, heavier White MacBook – undoubtedly, we'd be carrying the MacBook Air around with us and using it, pretty much all of the time. ®
More Apple Laptop Reviews...

MacBook Pro 13in
June 2009

MacBook 13in
June 2009

MacBook Pro 15in
June 2009

MacBook Pro 17in
March 2009