Original URL: https://www.theregister.co.uk/2009/08/17/freecom_pitches_xs/
Freecom pitches 'credit card' USB drive
Posted in Personal Tech, 17th August 2009 14:42 GMT
Freecom may say its new Hard Drive XS is "the size of a credit card", but as the following picture shows, there's a bit more to the mini storage add-on than that.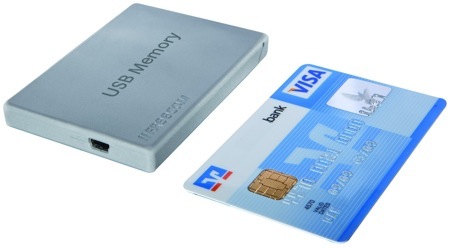 Same footprint, but not the same thickness. And we're not sure how many wallets this so-called "wallet-sized" drive will fit easily into either...
They'll be £85 or £100 lighter, in any case, depending on whether their owner has splashed out on the 120GB XS or the 160GB model.
We'd note, though, that Samsung's almost as small but rather sexier Mini S1 120GB hard drive is a tenner cheaper than the 120GB XS. ®