Original URL: http://www.theregister.co.uk/2009/08/14/review_e_car_mitsubishi_imiev/
Mitsubishi iMiEV five-door e-car
Genuinely fun to drive
Posted in Science, 14th August 2009 12:02 GMT
Review Much midnight oil was burnt at Register Hardware while deciding just when and with what we should begin our Leccy Tech car tests. Try as we might, we just couldn't convince ourselves that battery powered quadbikes like the G-Wiz or Think City were the place to start. Nor could we rustle up much enthusiasm for third-party modifications like the Electric Car Corporation's battery powered Citroën C1.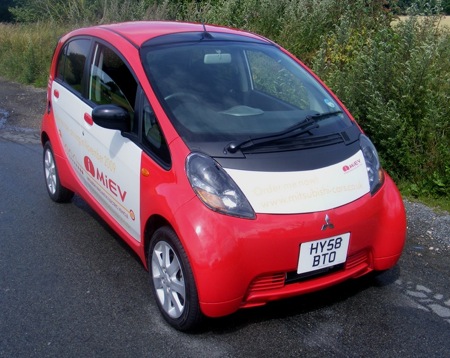 Mitsubishi's iMiEV: a proper electric car, at last
So we decided to wait for a dyed-in-the-wool electric car from a major car maker, and that car is the iMiEV from Mitsubishi, a leccy city car that will go on sale in the UK in limited numbers at the end of the year. It's made of good old-fashioned steel and won't fold up like a wet cardboard box if it's involved in an accident.
The iMiEV's exterior is frankly something of a love or hate affair, though our test car was hardly flattered by all the advertising and information logos that Mitsubishi had plastered all over it. Of course, the basic shape, with its rather bulbous cabin and extremely short front and rear overhangs, has nothing to do with the specific needs of electric propulsion since it's carried over from the petrol-driven Mitsubishi 'i' city car, a vehicle not available in the UK.
Either by happy coincidence or some inspired forward planning, the rear-mounted engine and rear-wheel drive platform of the original i lent itself perfectly to a leccy reinvention with the electric motor, inverter and associated technology taking the place of the petrol engine and fuel tank, and the lithium-ion battery pack sitting under the floor.
Once you settle behind the wheel in the rather upright driving position, the overwhelming impression in one of great space and excellent visibility. The second thing that hits you is that interior is remarkably unremarkable. Where is the expanse of LED instrumentation telling you how many trees you are saving? Thankfully, they are nowhere to be found. Instead, you get a workaday instrument set, three-dial aircon and basic CD entertainment system. Strangely in this day and age, the iMiEV lacks an MP3 jack or iPod dock.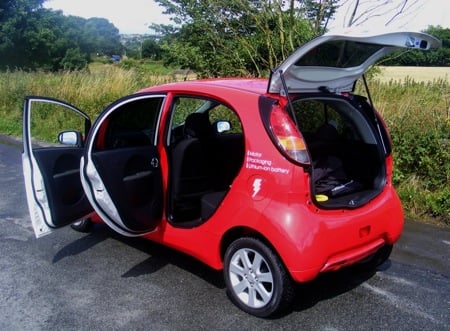 A decent number of doors?
The instrument binnacle has been designed to be as twit proof as possible. A large LCD speedometer is surrounded by a power-demand gauge that runs from blue – energy being returned to the battery pack via regenerative braking – through green – the normal driving mode, with no excessive demand being placed on the battery pack – to grey. With the needle in the grey are you're seriously depleting the battery pack.
To the left of the speedometer sits the power gauge, which lets you know how much charge you have left in the battery. Let it get too low and various battery shaped icons and lights start flashing telling you top find a charge point ASAP. Ignore that and a tortoise icon appears to let you know the car is about to enter its limp-home-slowly mode. On the other side of the main gauge is a simple LCD odometer.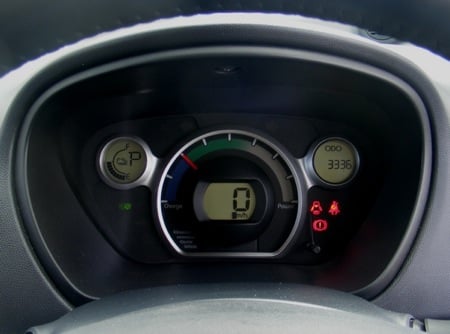 Check your charge and current power usage
We asked Mitsubishi why the charge gauge can't be set to show the remaining battery capacity in terms of miles available to drive rather than just as a simple 'fuel gauge' and was told that getting such a system to show the remaining range with any degree of accuracy was extremely difficult due to the impact that driving style and terrain can have on effective range.
Nissan's forthcoming e-cars are rumoured to have just such a system, and one that communicates directly with the integrated satnav system to determine if your chosen destination is within current battery range, presumably by basing its calculations on average power demand over the ground already covered.
Sitting between the seats is a transmission lever with the usual automatic settings for Park, Reverse, Neutral and Drive. Only the presence of positions marked Eco and B suggest that this is not your run-of-the-mill automatic transmission. Of course, it's not strictly speaking a transmission lever at all as the iMiEV only has one speed and doesn't actually have a gearbox.
To get under way, you simply blip the remote central locking, get in, deactivate the immobiliser and then turn the knob that sits where you would expect the ignition key to be until the instrument panel flashes up "READY".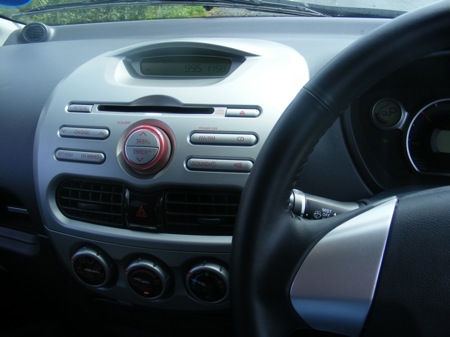 Workaday instrument set
All this happens in complete silence, which is fine if you've driven an electric car before but can be a little disconcerting if you haven't. A bigger issue is remembering not to get out and walk off leaving it unlocked and 'running', but final production versions of the car will have something more along the lines of a conventional ignition key and immobiliser rather than the on/off knob fitted to the test car.
The iMiEV's motive power comes from an electric motor with a maximum 47kW (63bhp) output and a 88-cell, 16kWh 330V lithium-ion battery pack. While the motor's power output may not sound that exciting, its torque figure of 180Nm (133lb ft) – all of it on tap from rest, remember – suggests the fun quotient may be higher than expected.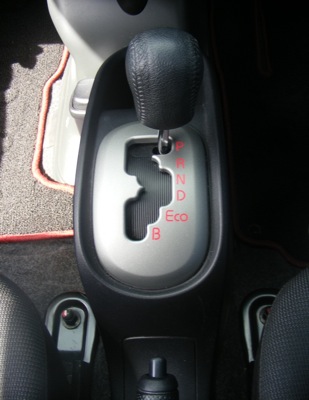 Set the motor mode with an auto-esque lever
While driving around town at low speeds, the iMiEV behaves exactly like any other super-mini. It's only when you plant the throttle and discover that torque-steer is noticeable only by its absence and that all that low-end torque can flick you towards the horizon rather faster than expected that you realize that this isn't just another small hatchback.
The iMiEV's combination of a high profile and rear-wheel drive didn't exactly instill us with confidence but the car's low centre of gravity – a handy side effect of the floor-fitted 200kg battery pack, which accounts for 20 per cent of the car's total weight – makes it a remarkably agile and stable vehicle. Despite some deliberately hamfisted and over enthusiastic cornering, we never came close to having a seriously brown moment.
For all Mitsubishi's claims that the iMiEV is a city car designed for local commutes and the school run, it's an absolute hoot to drive hard on the open road and this can easily deflect drivers from its environmental raison d'être.
Mitsubishi claims the car will cover the 0-60mph sprint in under 13 seconds, but that number belies the car's sprightliness in getting from a standstill to 30 - which we reckon takes about five seconds - and its mid-range urge, which is never less than impressive. Floor the throttle at 40mph and as the power demand needle buries itself in the right-hand side of the gauge the iMiEV surges forward in a manner that can easily catch you unaware.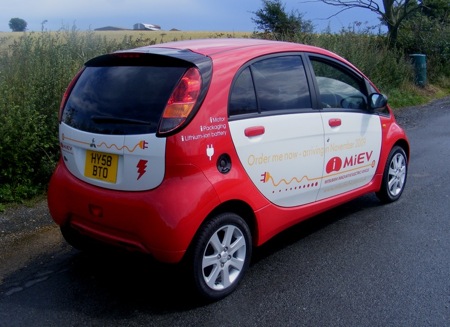 Sprightly mover
Officially, the iMiEV's top speed is 81mph but proving that on the open road would obviously be illegal so lets just say it gets to the motorway speed limit – and stays there - with ease, and leave it at that.
Hard acceleration is accompanied by a distant whine as the electric motor starts spinning up to its 8500rpm maximum. The whine is never intrusive or annoying, rather it just lets you know that the motor is about its business while also giving you a handy aural reference for your acceleration.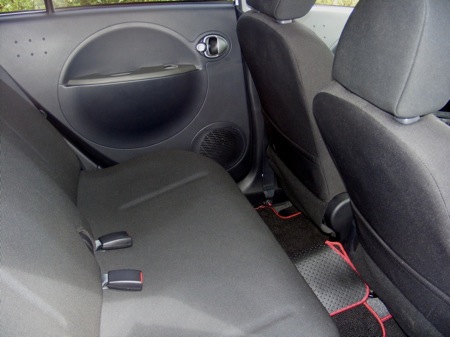 Passengers or luggage - the choice is yours
Motor whine notwithstanding, the iMiEV is as peaceful and relaxing a drive as you are likely to find in this class of car. Yes, road noise is more noticeable than in many cars but this is more a result of there being no engine noise to drown it out than of the iMiEV being in any way unrefined.
Back to greenness, the iMiEV's Eco setting restricts the motor to 18kW rather than the maximum 47kW. Moving from Drive to Eco does have a noticeable impact on performance but the car is still very drivable.
During a brief excursion down a B-road, we got stuck behind a pensioner in a 1.1l Ford Fiesta. With no hope of overtaking, we slipped the lever into Eco and settled in for the duration. Despite some pretty severe inclines the iMiEV was easily able to keep up with the flow of traffic. The 18kW on tap in Eco also proved more than adequate for pottering around Cirencester town centre.
Below Eco is B - for braking. Put the selector here and the regenerative braking effect is cranked up to maximum, unfortunately making it more or less useless unless you're driving down a very, very steep hill.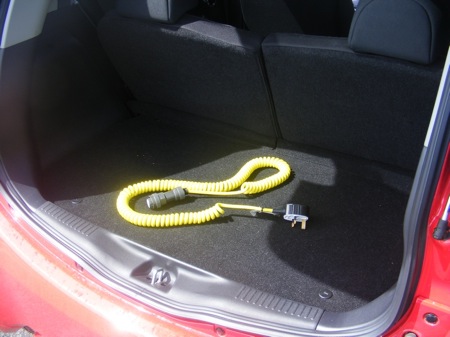 Enough boot space for the charging cord - and not a lot else
We reckon Mitsubishi has over-egged the pudding on this one. If you move the selector into B while heading down a 20 per cent incline, the power use needle heads deep into the blue zone, but the system still actually slows you down so much that you have to either move from B back to Eco or Drive or use the accelerator to keep your speed up. Of course, doing the latter negates the point of putting the car into B to start with.
Leave the car in Drive or Eco and in everyday driving the regenerative braking system itself is wholly unobtrusive. Where it not for the needle flicking about the power-use gauge, you'd assume the job was being done by conventional engine braking or a set of common-or-garden disc brakes.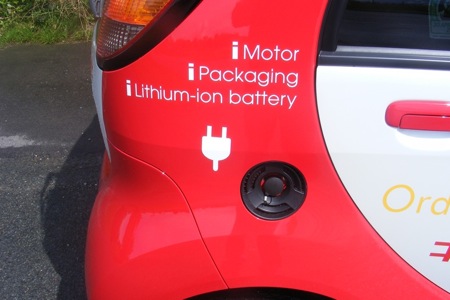 Power up the battery with a domestic lead...
During the day we spent with the iMiEV, we managed to get exactly 48 miles from a full charge. Not too impressive, we grant you, but then we did drive it hard along the A419 from Cirencester to Stroud and back with complete disregard for economy. We suspect that if driven more considerately, around 80 miles - which is what Mitsubishi claims for the iMiEV's range - would be achievable.
On open stretches of road, at a steady 60mph, the power gauge was always in the green zone suggesting that it's acceleration rather than speed that does for the battery pack.
Once you have flattened the battery, you have two recharging options. On the right-hand side of the car is a socket to connect the car to a domestic 240V power outlet that Mitsubishi reckons will charge the car fully in around six to seven hours. On the left-hand side is a quick charge socket. Apparently, when hooked up to an off-board three-phase 200V/50kW quick charger developed by the Tokyo Electric Power Company, the iMiEV's battery can be charged to 80 per cent its of capacity in about 20 minutes. Better, but it still doesn't match a regular fuel stop.
Mitsubishi likes to point out that the iMiEV is a genuine five-door, four-seat family car, and so it is. Despite the car being only 3.4m long, 1.48m wide and 1.6m tall, the interior has more than enough leg and headroom for four 6ft adults to travel in comfort. Luggage space is more of an issue: the boot is very, very shallow, being almost flush with the bottom of the tailgate.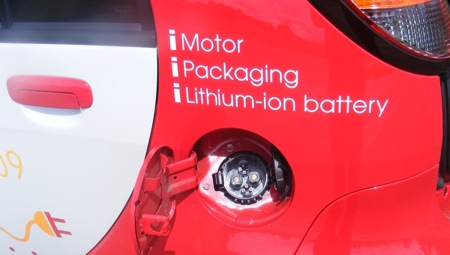 ...or fast charge if you can find a suitable feed
This is an hangover from the iMiEV's i underpinnings, which houses its 660cc turbo-charged three-cylinder engine under the boot area. Assuming your carriage requirements are four adults or luggage rather than all at the same time, the rear seats can be folded forwards for increased boot space.
At the time of writing, the iMiEV has yet to be subjected to the Euro NCAP crash test but it scored five stars out of a maximum six in the Japanese equivalent. That would suggest that it's a reasonable place to be when everything goes pear shaped.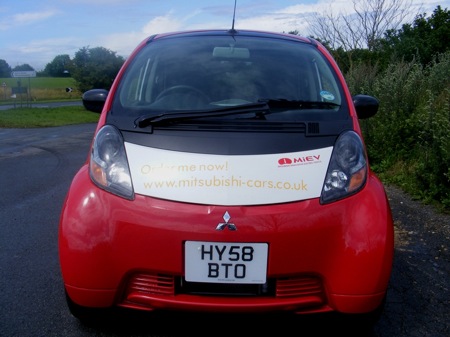 Decent safety spec
Mitsubishi's 150,000km (93,750 mile) battery warranty and its claim that after ten years of use it will still be capable to holding 80 per cent of its original maximum charge should also help allay the fears of anyone worried about power pack longevity.
Mitsubishi has yet to set a firm price for the iMiEV, but depending on the variations of the Yen/Sterling exchange rate you'll be looking at something between £20,000 and £25,000. That's a lot for a small car. Then again, new technology has always demanded a premium. Mobile phones, laptops - you name it and the first ones cost an arm and a leg. And if you use it to drive into London on a daily basis you'll save a fair few quid in congestion charge and parking fees.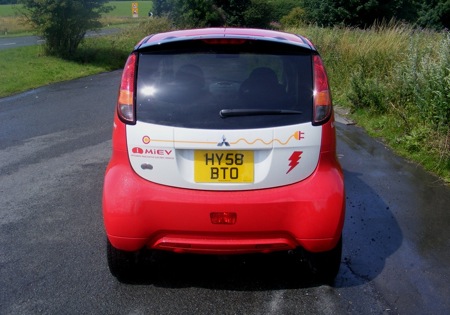 Expensive up front, but cheaper to run than a regular car
Verdict
If the iMiEV is the future of motoring then it's brighter than we expected. Yes, the range is meagre if you have a heavy right foot and, yes, the initial cost is high. But, on the plus side, it's a genuinely enjoyable drive, provides practical accommodation and luggage capacity – if not at the same time - and can easily be lived with on a day-to-day basis provided you have a drive or garage in which charge it up at night.
We suspect that Mitsubishi won't have to try too hard to sell the 5000 cars – ten per cent of entire iMiEV production - the UK will get in 2011. ®