Original URL: http://www.theregister.co.uk/2009/08/13/review_phone_blackberry_curve_8520/
BlackBerry Curve 8520
Rim drops ball
Posted in Personal Tech, 13th August 2009 12:41 GMT
Review Research in Motion's latest offering in the BlackBerry Curve range is described as an entry-level model. Indeed, it doesn't have a touch screen, GPS, or even a 3G network connection. However, it is a slim and efficient little work horse at a reasonable price with Wi-Fi, a 2Mp camera and all of Blackberry's push email know-how built in.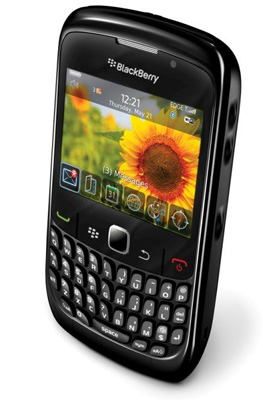 Rim's BlackBerry Curve 8520
It's not the smallest BlackBerry so far – that would be the Pearl with its numeric keypad and two letters for each key – but the 8520 is a full Qwerty keyboard design. Yet, at just 109 x 60 x 14mm and a lightweight 106g, it is smaller and lighter than its predecessors; the Bold, the Curve 8900 and the 8320.
On the front it looks standard BlackBerry, with its well laid out four-line Qwerty keyboard, plus a line of buttons for call start and stop, menu and back. The keyboard has the same layout as that on the BlackBerry Curve 8900 but just a little smaller, and without the older phone's chrome trim. Moreover, there was no problem finding the keys with our thumbs, for either one or two-handed messaging.
The customary BlackBerry trackball has vanished, and been replaced by an optical trackpad. Apparently, Rim see this as an evolution of the trackball, and we're likely to see more of it on future handsets. With no moving parts, it's expected to be more robust and longer lasting. The trackpad is deceptively easy to use. At first, we thought its smooth finish might not be as sensitive as the tactile trackball, but it worked very well, even when slightly moist.
If you find it too fast, there are nine different speed increments you can set it to, with separate sensitivity for vertical and horizontal scrolling. There's also an option for audible prompts, which can help when you're whizzing your way through the menus. It's a very well designed and useful tool, and we didn't miss the trackball at all.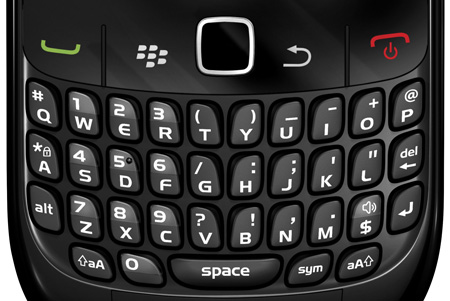 A sensitive and easy to use optical trackpad replaces the familiar trackball
The back features a plastic cover and the camera lens is positioned in the corner. The more expensive BlackBerrys have a metal back plate, but it's no great loss. Under the cover is the microSD card slot but, fortunately, you don't have to remove the battery to get to it.
The Curve 8520 comes with 256MB of memory on board and, we're assured by Rim, it will have a 2GB microSD card, regardless of the network deal you get. But if you need more storage, it will accept up to 32GB cards.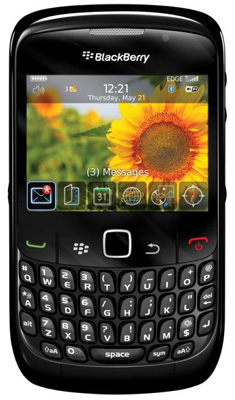 A clear and bright screen, albeit a little small
The 2.46in 320 x 240-pixel TFT screen seems a little on the small side, at least compared to the big touch screen smart phones we've been trying recently, but it's bright, clear and detailed, and takes up roughly half the space on the front of the phone.
Around the sides the 8520 is very similar to the 8900, with a programmable 'convenience key' on each side. These keys default to camera and voice control, but can be set to almost anything – plus volume buttons, micro USB slot and 3.5mm headphone jack. The difference is that the buttons are now beneath a moulded rubberised strip that runs around the sides, protecting them from dust.
A new addition to the top of the device is media player controls (play/pause, FFW, RWD) which work well enough, and pressing and holding the play/pause button puts the device into lock mode.
Email and instant messaging, as with all BlackBerrys, is straightforward to set up, either on the handset or using the BlackBerry website. The phone supports all the usual suspects and more, including Windows Live, Hotmail, Gmail, AOL, ICQ, Yahoo and BlackBerry Messenger, and you can have up to ten email addresses on one account.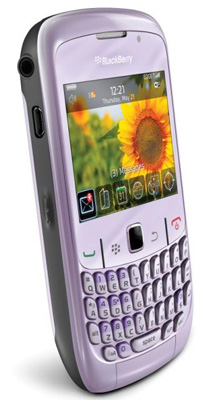 Convenience keys on each side can be assigned for specific tasks
The Curve 8520 comes with a batch of preloaded social networking tools, including TwitterBerry, which is all quick and easy as Twitter should be, as well as an elegantly useful Facebook app, plus MySpace and Flickr too.
These and other apps are available from the BlackBerry App World site, which has a long way to go to catch up with the iPhone's App Store, but it's easy to navigate and there's a mix of around 800 free and paid-for apps available for the 8520 from about 2,000 across the entire BlackBerry range.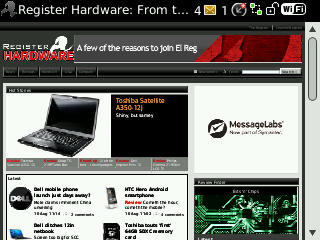 The trackpad offers different vertical and horizontal speeds – ideal for browsing
The supplied BlackBerry Desktop Manager software handles all the Windows PC contacts and media syncing, and there's good news for Mac users too. Currently, Rim offers PocketMac on its BlackBerry site for free – a seemingly promising third party app that works for some and not for others, quite a lot of others it appears. Evidently, PocketMac's idiosyncrasies have not been lost on Rim, as it plans to deliver its own BlackBerry Desktop Manager software for the Mac in September.
The browser is intuitive to use and quick to load, perhaps due in part to the fairly meaty 512MHz processor on board. Of course, this browsing performance was when Wi-Fi was in use, as there's no 3G network connection on this quad-band GSM handset. The cursor whizzes around the screen at an extremely fast rate and you can zoom in at any time by pressing the nav pad, but you'll need to access the menu to zoom out again.
There's no Flash video and no client available for watching BBC iPlayer, though viewing YouTube content, which is also offered in H.264, presented no problems so long as we were hooked up to our Wi-Fi connection. The camera is a surprisingly underpowered at 2Mp with no flash, which even on an entry-level smart phone seems a bit paltry these days.
Despite the low megapixel count, pics taken at the maximum 1600 x 1200 resolution, aren't bad, with reasonably sharp edges and strong, if not stunningly accurate colours in good light. There's nothing really in the way of extras except for the 5x digital zoom which can be operated by the volume controls or the track pad. Video is in 320 x 240 pixels and the quality drops somewhat but you can just about get away with it for YouTube.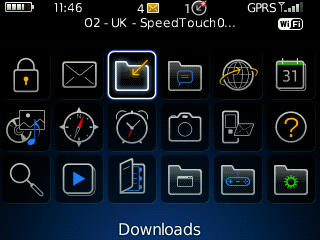 The BlackBerry App World site offers options to fill up the menu
Watching video on the Curve 8520's screen is okay, but its dimensions mean that movie trailers in widescreen can end up looking pretty cramped with heavy black bars above and below. The media player can handle MPEG4, H.263, H.264, AVI and WMV3 video files, with MP3, AAC-LC, AAC+, eAAC+, AMR-NB and WMA9/10 for music.
Even though we generally suggest upgrading the supplied headphones that come with most phones, we were struck by the single earpiece that came with our review sample, rather than stereo headphones. Rim has since informed us that stereo headphones will be included and the 3.5mm jack plug means it's easy to upgrade though, and there's Bluetooth with A2DP if you prefer the wireless variety.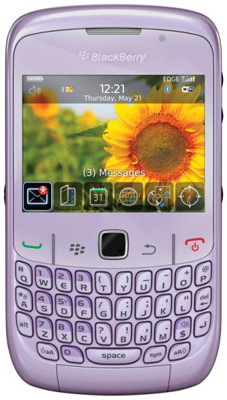 BlackBerry yoghurt, anyone?
Overall, the call quality was fine and the battery held up very well, faring much better than many of the power-hungry smart phones we've been using recently. It gave us a good two and a half day of moderate use, including extensive Wi-Fi.
Indeed, its battery endurance will no doubt interest business users. Sure, it's not quite full-featured and sexy enough to attract hardened gadgetistas, but the BlackBerry Curve 8520 does enough, well enough, and cheaply enough to find its way into many a corporate phone pool.
Verdict
The price is down there with the BlackBerry Pearl, but this is a full-fledged Qwerty BlackBerry, which, combined with its email, IM and social networking support, make it an ideal messaging device – although we'd have preferred 3G for when we're out of Wi-Fi coverage. Still, the fast processor, beautifully executed optical trackpad and slim, lightweight body are all worth considering for first-timers entering the BlackBerry world. ®
More Phone Reviews...

HTC Hero

LG
GD900 Crystal

Toshiba TG01

Nokia N97