Original URL: https://www.theregister.co.uk/2009/08/12/storm_2_with_wifi/
Snaps show BlackBerry Storm 2 with Wi-Fi
Rim's touchphone gets 802.11 at last
Posted in Personal Tech, 12th August 2009 09:56 GMT
The evidence is mounting that Research in Motion's second-generation BlackBerry Storm will indeed feature Wi-Fi, a technology missing from the phone's predecessor.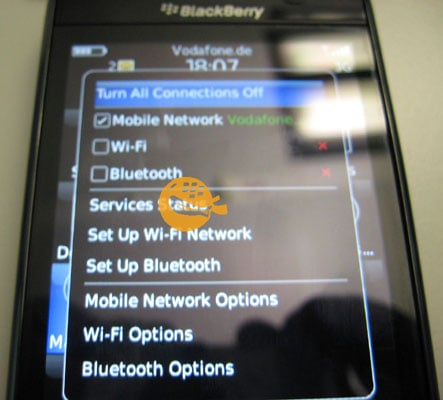 Wi-Fi's widely expected to be coming to the Storm 2
Source: benezblog.de
Rim has already confirmed plans for a Storm 2, but a German blogger has since allegedly managed to lay his hands on the as-yet unreleased device and has snapped a picture of the phone's connection settings screen, which clearly shows Wi-Fi.
Late last month, a video cropped up online in which a pre-production Storm 2 was apparently demonstrated. The video – which is no longer available due to a "copyright claim" by Rim – also stated that the phone will boast Wi-Fi connectivity.
Rim's Storm goes by the model number 9500. The video claimed that the Storm 2 will be numbered the 9550 and is codenamed 'Odin'.
An official UK Storm 2 launch date isn't yet known. ®