Original URL: https://www.theregister.co.uk/2009/08/12/review_printer_kyocera_fs_c1020mfp/
Kyocera FS-C1020MFP
Fast, efficient and well-built all-rounder for small offices
Posted in Personal Tech, 12th August 2009 11:02 GMT
Review The multifunctional device (MFD) has arguably been the killer corporate business machine of recent years, so the appearance of affordable A4 versions for smaller offices is extremely welcome. With the FS-C1020MFP, Kyocera continues to speed up performance in this demanding market.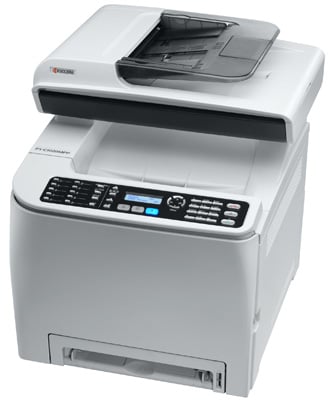 Clean lines and compact appearance, Kyocera's FS-C1020MFP is a thoughtful design
It is a smart-looking but large device at 420 x 493 x 476mm, weighing a considerable 30kg. With such a tall product introduced into a modest office environment, the temptation is to situate it on a low stand or even on the floor. Just bear in mind that you will still need easy access to the paper cassette, which slots into the base.
In one product, the FS-C1020MFP acts as an A4 colour laser printer, colour copier, scanner and fax machine. Indeed, in terms of visual design, Kyocera has done a nice job, as most other small-office MFDs are utterly hideous.
A single 250-sheet paper cassette comes a standard, fitted into the front. A level indicator is built into the fascia, which also provides a manual feed slot. This is a great idea in principle but we experienced some difficulty in getting Kyocera's printer drivers to accept manual input.
No matter what paper size we indicated in the driver, feeding anything other than A4 produced a 'paper mismatch error'. When we eventually coaxed the drivers into printing a DL envelope by fooling it into thinking we had inserted a sheet of A4, the result was a bit wrinkled. The moral: don't tell lies to printer drivers.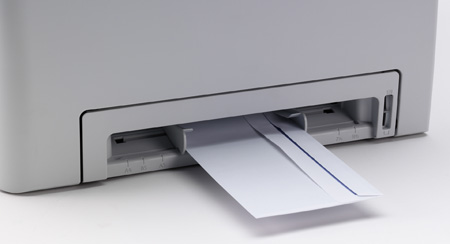 Convenient single-sheet manual feeder is integrated into the paper cassette
An additional 500-sheet cassette can be purchased for a ridiculous £349. This unfeasible sum of money would be enough to buy you 70% of another FS-C1020MFP, or indeed half a dozen mono laser printers, so spend carefully.
Printed sheets are delivered into an output tray built into the top of the main body of the unit, where they are easy to pick up. There is a flimsy stop flap at the back of the output tray but it does not seem to serve any real purpose, especially since Kyocera has designed the FS-C1020MFP so that you can retrieve printouts from the tray from either the front or rear of the device. To improve access even more from the front, a release catch on the side of the case allows the scanner housing to slide backwards a little.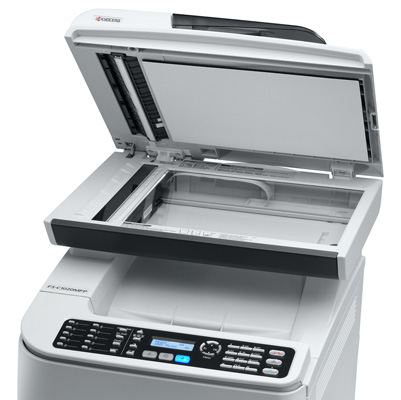 A full A4 scanning plate for items that don't fit the automatic document feeder
The scanner housing incorporates a full A4 glass plate for manual scans, along with a narrow strip for scanning sheets in conjunction with the automatic document feeder (ADF) on top. The ADF is moulded from thick plastic and feels strong and resistant to accidental breakage from rough use. Even the paper width guides slide back and forth smoothly, giving an impression of quality manufacture. You can stack a good 30 or so sheets in the ADF and scan or fax them as double-sided.
The FS-C1020MFP also supports double-sided (duplex) printing, doing so in a slightly curious manner: as one side is printed, the sheet emerges onto the output tray, whereupon it is drawn back inside for printing onto the other side and delivered to the output tray again.
Another example of clever design can be seen in the way Kyocera designed the FS-C1020MFP to open up at the front and top, providing almost completely unrestricted access to the interior. Four toner cartridges slot in place without any fussing about with clips or cages, making the process of replacing consumables easy enough for anyone in the office to handle.
The toner cartridges are quite expensive: the 6,500-sheet black cartridge costs £109 while the 6,000-sheet cyan, magenta and yellow cartridges cost a toe-curling £143 each. That said, one of the famous benefits of Kyocera's 'Ecosys' technology is that there are no other consumables to purchase – no waste toner bottles, imaging drums or belts.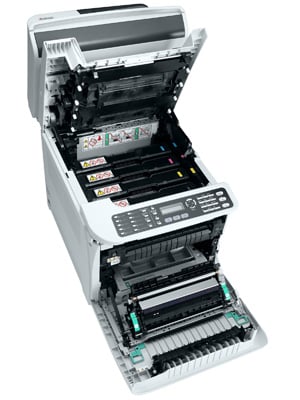 Toner cartridges just slot into place from above: no catches, toggles or cages to deal with
This means the FS-C1020MFP's average price per single-sided A4 printout (not including paper cost) comes to approximately 9p. This compares fairly with similar colour laser MFDs from manufacturers, such as Brother, whose cost per printout tends to be just under 10p. Fewer consumables in the FS-C1020MFP also means fewer parts to order and get delivered, less packaging and so on, all of which have an environmental impact.
In use, the device is faster than many comparable colour laser MFDs. Our tests revealed that a single-sided A4 Microsoft Word text document, whether mono or colour, took 21 seconds to print. Printing 10 copies took just 48 seconds, meaning that after the first sheet, the remaining copies took a mere 3 seconds each.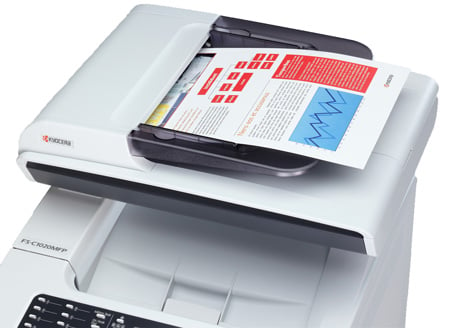 Sturdy ADF with smooth-sliding paper width guides
Printing in duplex is much slower per sheet, of course, because of the extra paper handling involved. In our tests, one double-sided Word document took 48 seconds to print, after which subsequent duplex copies took 9 seconds each.
Using the ADF to make copies with the scanner took about 26 seconds for one sheet, or just 52 seconds for 10 copies. Again, making copies in mono or colour made no difference to the output speed.
Print quality was consistently good, limited only by its 600dpi resolution. Text and graphics were generally crisp, but began to fill out or break up in areas of very fine detail. Continuous tones were reasonable with only the occasional banding effect, but there was no evidence of moiré effects at all. The FS-C1020MFP is not a photo printer but its picture output, for example on web pages, is decent enough for a 600dpi colour laser.
The scanner is also a 600dpi device, which is more than enough resolution for office tasks and certainly good enough for quality image capture too. No optical character recognition (OCR) software is bundled with the unit, unfortunately, but nor are you burdened with heaps of 'funny photo' and greetings card crap either, so it's a fair trade-off.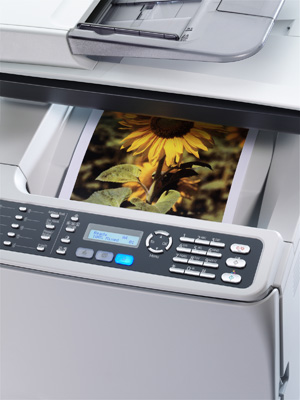 Printouts land face-up, emerging underneath the control panel.
The scanning lamp warms up extremely quickly, in just a few seconds, which is really important for an office copier. Regrettably, manual scanning can be a very slow process indeed, using the supplied TWAIN driver. Running a preview scan of the whole A4 plate can take 13 seconds, after which the TWAIN driver spends another minute actually drawing the preview on-screen. Scanning at the optical resolution is then an excuse to nip to the kitchen for a cup of tea: even a little 6x4in photo took 3.5 minutes to scan at 600dpi.
Our modulation transfer frequency (MTF) lab tests on the scanner produced an average score of 0.59 on a scale of 0 to 1. This indicates the FS-C1020MFP houses a pretty decent but not outstanding scanner when evaluating sensor quality against signal noise.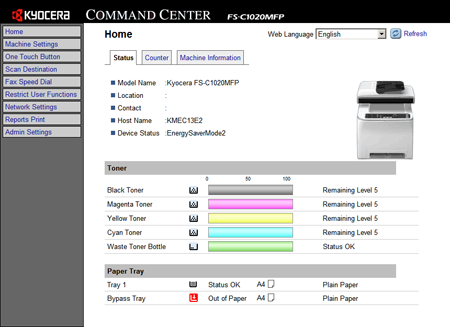 Skip the incomprehensible on-printer menus and use the browser-based Command Centre controls
As a fax machine, the FS-C1020MFP works very well and is not too fussy to use. You can store 10 fax presets before having to resort to a Shift key to store more numbers, which is helpful for people like use who regularly have trouble with doubling-up Shift functions.
However, our one major issue with the machine is its dreadful on-printer menu interface. It might be intuitive to Kyocera, but it seemed completely inconsistent and confusing to us.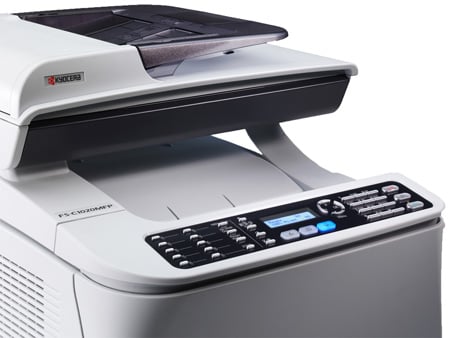 The scanner apparatus slides backwards allowing better access to the output tray
Since there is no printed documentation, we had to resort to looking up the menus in the HTML-based Help files on CD, and these were delivered in tiny piecemeal snippets; in other words, virtually useless. In the end, we fired up Kyocera's KMNet Viewer utility and the device's own web-accessed configuration interface, both of which are really easy to use.
Our advice is to ignore the menu buttons on the FS-C1020MFP itself and just access everything you need using a web browser, assuming that you have connected by Ethernet, of course. Wi-Fi connectivity would have been welcome too – please note, Kyocera.
Verdict
Good-looking and well-designed, the FS-C1020MFP performs impressively at printing, faxing and copying, even if the manual scanning can be slow. Scan and print quality is good, too, and you have automatic duplex options for both. Despite our dislike of the control panel menus, the device feels solid and we enjoyed testing it. The FS-C1020MFP is a sound office machine. ®
More Laser Printer Reviews...

Xerox
Phaser 6280V/DN
colour laser

Lexmark
C543DN
colour laser

Kyocera Mita
FS-C5200DN
colour laser

Lexmark
T650DN
mono laser