Original URL: https://www.theregister.co.uk/2009/08/11/paris_update/
Vulture 1: Calling all electronics wizards
Also, anyone got a hypobaric chamber?
Posted in Science, 11th August 2009 10:19 GMT
Well, it's all go here at the PARIS programme headquarters, and we've spent the last 24 hours pondering the sticky issue of how to release Vulture 1 from the weather balloon which will carry it aloft in summer 2010.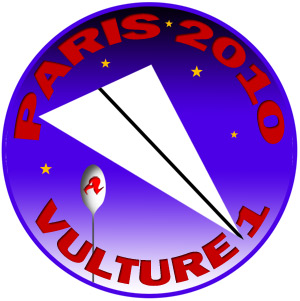 More on that in a bit, but first thanks very much to all of you who chipped in with suggestions regarding the vehicle's payload which will enable us to track the aircraft's epic flight and enable a successful recovery.
Thanks too to James Coxon of the The UK High Altitude Society, whose Pegasus missions have delivered some spectacular snaps from aloft, and who emailed offering solid advice.
James pointed us in the direction of the UKHAS wiki detailing just what electronic wizardry high-altitude aficionados have used in the past, and his own mission summaries contain this breakdown of one of the electronic payloads which seemed to our untrained eyes to meet our tracking requirements.
What we now need is a final spec for the Vulture 1 payload, and then we can get the bits and get on with it. Or rather, we thought one of you lot might want to volunteer to put the thing together...
Accordingly, give us your feedback on what's the best electronics package to make this thing work. Bear in mind we're talking about an aircraft here, so it has to be a light as possible and stowable in the fuselage. If the weight starts to rise, then the wingspan starts to increase, and before you know it we've become Lockheed Martin.
Regarding the onboard camera, we definitely favour an independent system, so that if the tracking electronics go titsup there's still a chance of retrieving some mission snaps.
Now, that pesky Vulture 1 release mechanism. We mulled three suggested lines of attack here (none of which involve gaffer tape, explosives or crossbows, for the record). First up, you lot offered physical cutting of the line suspending Vulture 1 (heated wire, shearing mechanism, etc).
Alternatively, we rather liked the idea of attaching a string to the top of a balloon attached to a release mechanism on the suspension line. When the balloon expands to a certain size, the string is pulled tight around the balloon and eventually pops the pin.*
However, our current favourite is the pressure-operated option - either a sealed tube designed to burst at a certain altitude, or some form of syringe device which gradually opens as the air pressure outside it decreases.
The reason we like this option is that it offers the chance to do some serious hypobaric chamber testing - and let's face it, who wouldn't, given the opportunity?
So, anyone out there got access to a hypobaric chamber which can simulate up to 100,000ft? Let us know...
And finally, we're pretty well convinced Vulture 1 can be made entirely of paper, but we're holding off on a design until we have the payload sorted.
As ever, feel free to post your comments below or drop me a line here. Emails bearing offers of hypobaric chambers are particularly welcome. ®
Bootnote
*This idea still has legs, and we'll keep it on the back burner for possible testing at a later date.