Original URL: https://www.theregister.co.uk/2009/08/10/review_phone_htc_hero/
HTC Hero Android smartphone
Cometh the hour, cometh the mobile?
Posted in Personal Tech, 10th August 2009 11:02 GMT
Review HTC is currently balancing its prodigious smart phone output between its long-established Windows Mobile series of handsets and those running Google's Android operating system. The Hero follows the G1 and the Magic in HTC's Android line-up and comes with a fistful of updates. These include a new user interface, multi-touch screen, 5Mp camera and enhanced social networking functions, as well as the usual Wi-Fi, A-GPS and the ever-growing Android Market app store.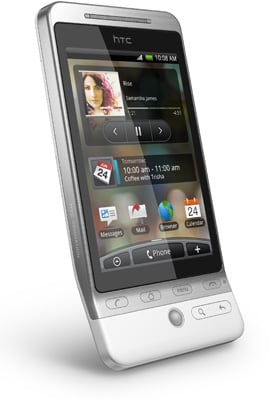 HTC's Hero
The 3.2in, 480 x 320-pixel touch screen takes up most of the front of the HTC Hero, with a thin strip of a speaker grille above and two rows of buttons – call start and stop, menu and home – immediately beneath the screen. Further down are the trackball and two additional buttons for search and back. There's no obvious reason why the bottom keys should be crammed over on the right hand side – where they're awkward for right-handers to reach – rather than being spaced evenly around the trackball.
The screen is the same as that on the earlier HTC Magic but it's now acquired an oil-resistant coating, similar to the iPhone's, which is supposed to cut down on fingerprints. It works too, but like the iPhone, you'll still have to wipe it occasionally.
Controls on the sides are sparse with just a large volume rocker, which doubles as an up/down cursor control, plus a 3.5mm headphone jack on top and the mini USB power/sync port on the bottom. The back is coated with a resin that adds a degree of grippiness and is home to the camera lens. The HTC Hero will take microSD cards up to 32GB and the slot is under the back cover.
At 135g feels more robust than the Magic's 116g, even though the size is much the same at 112 x 56 x 14mm and it retains that odd little chin at the bottom. A feature that doesn't serve any practical purpose according to HTC – it's just one of those 'brand identifier' things. Cosmetic changes to the casing aside, the major difference between the Hero and its predecessors becomes clear with the new Sense user interface, the first big change in the appearance of the Google Android operating system. HTC has clearly made the same sort of effort with Android that it has with Windows Mobile – not that it needed quite so much – to make it more user friendly, as well as distinctive.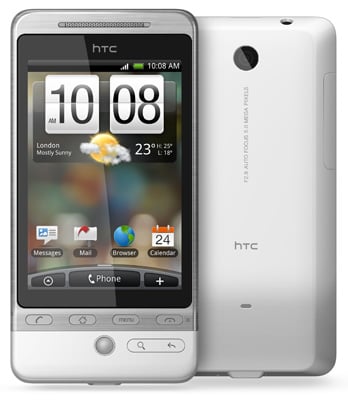 Grippy backed plastic
Where previously there were three home screens to adorn with widgets, now there are seven – three on either side of the main one. They're all fully customisable too. Just press and hold a blank bit of screen, and the widgets menu pops up, allowing you to choose whichever you like, as often as you like. You can choose between Android and HTC widgets – some of which contain full-screen versions of messages, weather and the like – and there's also a selection of 'Scenes' available with different background themes and preset functions, which can also be customised.
The Hero is big on social networking and has Facebook, Twitter and Flickr elements incorporated into the Sense UI. Each of your contacts, for instance, includes an option to slide across for updates from Facebook, and it will even suggest Facebook friends for you to add.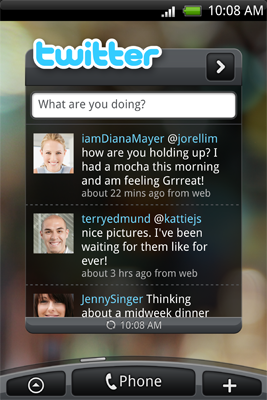 Social networking features abound on the Hero
A TouchFLO 3D-style scroll bar along the bottom of your contacts allows you to search for Facebook updates and also download pics from their Flickr account if they've made it public. There's also a rolodex-style favourites bar on one of the home pages that allows you to flick through your main contacts easily. Twitter with HTC's Peep app works well and is easy to set up too. You can choose how many Tweets you want to be able to view (up to the last 250) and how often you check for new Tweets.
When you call up the onscreen phone keypad you'll also get a small preview window of your contacts, complete with Facebook picture, making it easy to flick though to your next call. The Hero takes social contact very seriously, and makes it both easy and fun. Setting up gmail is a virtual no-brainer and the Hero holds your hand throughout the process of accessing an existing account or setting up a new one. Setting up a standard POP3 e-mail account was no less easy, requiring just email address and password to get it up and running and there's support for Microsoft Exchange too.
All this social interaction of course requires a decent Qwerty keyboard and while the Hero's is a little cramped in portrait mode, it's easy enough to use in landscape. It highlights each key, iPhone-style, as you press them and also offers suggestions for suitable words as you type. It's a lovely UI, but it's also a very busy one that obviously requires a lot of processing. Unfortunately, the Hero all too often lets this be known by dragging its heels through the menus and home pages, with gaps of a second or so giving the feeling that it's struggling when accessing apps.
While it has a perfectly decent 528MHz processor on board – the same as most other HTC devices – it's put firmly in the shade by Samsung's new Jet with its 800MHz chip. Furthermore, the Hero only has 288MB of RAM and 512MB of ROM and really could have done with a bit more poke to cope with the UI and all the multitasking you're tempted to do.

Seven screens of separation: multitasking could be struggle
Adding apps is straightforward and easy, however, using the Android Market store. It doesn't have anything like the size and variety of Apple's App store yet, but there's a strong base to build on. Android's open source disposition means there are new apps being added every day, and with a dozen or so Android phones due to hit the shops this year, this is only likely to increase.
Already on board is QuickOffice, allowing you to view, but not edit, Word, Excel or PowerPoint docs. There's a PDF viewer too, so the Hero covers just about all the major business doc formats. Still, it's a pity HTC didn't opt for a full Mobile office application that would have allowed document editing. HTC's Footprints app – previously seen on the Xda Guide which HTC produced for O2 – is also here, offering an easy way to geotag pics and attach voice and text notes to document your travels.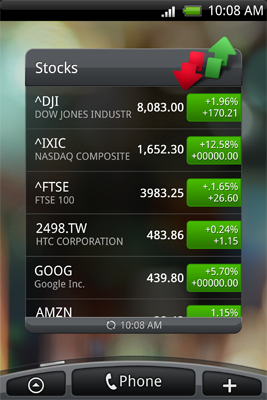 Stock options: plenty of other apps available at the Android Market store
Browsing the Internet is nice 'n' easy, the onboard accelerometer automatically flipping the screen into landscape mode when you turn it on its side. The screen does the iPhone multi-touch thing for zooming with ease and it will play Flash video too, albeit jerkily on occasion, as we found with trailers on the IMDB site. YouTube videos played fine though, with or without the dedicated YouTube app, which makes it a little easier to browse the site. Bookmarks show up as a scrollable line of full pages, which is a nice touch, and you can have up to five pages open at once.
The Hero's 5Mp camera, is a step up from the Magic's 3.2Mp offering. As with other HTC phones, however, the camera is less than stellar. There's no shutter button, so you'll need to set up a widget on your home page, if you want quick access. Even then, it's not that swift – taking a good four seconds to fire up and another four seconds for the autofocus to kick in once you've pressed the trackball to take the pic.
The camera can switch between 4:3 and 3:2 widescreen modes, but even with its maximum resolution of 2560 x 1712 pixels, the colours tended to look washed out and lacking detail compared to other 5Mp snappers like Samsung's Jet or Sony Ericsson's C903. Video will record at 352 x 288 pixels, which isn't great, and there's an unacceptable amount of blur if you move the handset at all – as usual with HTC's cameras, we're disappointed, but not that surprised.
Indeed, there isn't much in the way of imaging extras either, with just a timer, geotagging, colour effects and a 4x digital zoom rather awkwardly operated by the trackball. Alas, none of the face recognition, panorama or even macro shooting possibilities, which are commonplace on the better camphones these days. There are however options in the gallery to upload to Facebook, Flickr, Twitter or Picasa as well as send by email or MMS.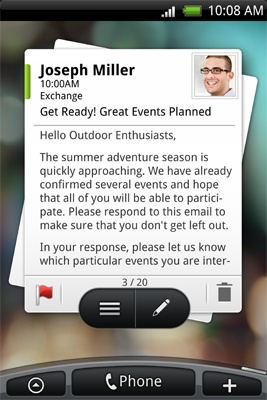 E-mail supports MS Exchange
The music player sounds OK and it will play MP3, AAC and WMA tracks. However, you'll want to upgrade the tinny headphones supplied. It's a shame the Hero hasn't the same CoverFlow-style landscape browsing option for music that exists for videos. Speaking of which, it will play MPEG-4, H.263, H.264 and WMV videos, but not AVI, disappointingly.
The 3.2in screen is sharp and clear, but there's no option for cinema trailers to become full screen, so you'll be stuck with black bars top and bottom. Still, the BeebPlayer app we downloaded from the Market worked well, displaying Auntie's iPlayer wares in full screen mode with no lag over Wi-Fi. Call quality and reception were fine but the battery life wasn't great. It wasn't too bad either, giving us around a day and a half of moderate use, despite HTC promises of up to 470mins of talk time and 750hrs on standby.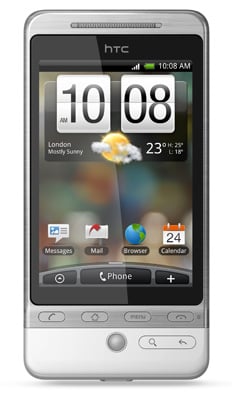 Heroic gesture: touchscreen and multitasking, but lags behind the iPhone
In terms of connectivity, it's not lacking, offering quad-band GSM, HSPA (7.2Mps), Wi-Fi and stereo Bluetooth. It has A-GPS on board too, backed by Google Maps. This is well integrated including both Street View and Latitude; allowing you to track your friends in real time, should you feel the need.
The Hero can sync with Windows XP or Vista PCs, but it's a bit of a pain really, as there's no built-in link to instal and configure this automatically First, you'll need to download the rather clunky Android Sync Manager software from the HTC website, but there's no mention of this, you're expected to figure it out for yourself.
Verdict
The HTC Hero has a lot of things going for it, with an impressive multi-touch screen, easy-access social networking apps and Google's ever-evolving Android OS, which HTC has customised, adding a few tricks of its own. It's still not quite as straightforward as the iPhone in general use, and the music player would benefit from a few usability tweaks. Yet the main issue is that, with a phone as full-featured as this, the processor appears underpowered. Perhaps HTC has jumped the gun with an interface and functionality that are just too advanced for the current hardware. That said, it's a fun smartphone that looks great and offers loads of possibilities – well worth checking out. ®
More Phone Reviews...

LG
GD900 Crystal

Toshiba TG01

Samsung
i8910 Omnia HD

Nokia N97