Original URL: http://www.theregister.co.uk/2009/08/06/review_hd_panasonic_dmr_xs350eb_dvr/
Panasonic DMR-XS350EB
Freesat DVR
Posted in Personal Tech, 6th August 2009 11:02 GMT
Review Freesat recorders are currently rather few and far between with Panasonic only the second company to launch models supporting this service. In doing so, it has adapted its existing DVD recorders by adding satellite tuners. It's a slightly different approach to hard-disk recorders like the Humax Foxsat-HDR or Sky+, which have no optical drive and are built as DVRs first and foremost.

Panasonic's DMR-XS350 Freesat DVR
The DMR-XS350 is the entry-level Freesat model going for £699, but shop around and you can pick it up for about £570. It has a multi-format DVD writer and a 250GB hard drive. Further up the range are two models that swap the DVD for a Blu-ray writer, with a 500GB disk option. All have twin satellite tuners and bear the Freesat+ logo, so tricks like series linking are supported.
The case is a standard AV-width unit, with an uncluttered front panel; a flap at the bottom reveals analogue video, USB and DV inputs together with an SD card slot and a few buttons. Along the top there's an eject button and a power button – curiously the power button is on the left, by the disc tray, with the eject button on the far right.
The rear panel has two SCART connectors for input and output, plus HDMI, component, composite and S-Video output, Ethernet, both varieties of digital audio output along with analogue phono outputs, and the connectors for the two satellite tuners.
In terms of connectivity, then, every base is covered. Camcorder owners can plug in SD cards – including those with AVC HD recordings – DV cables or USB, and copy directly to the hard drive, or create a DVD.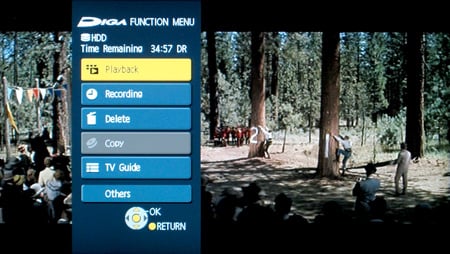 The main menu - familiar Panasonic fare
You can also play DivX files from a USB disk or recordable media. It's pretty easy to copy files to the hard disk, and from there to record DVDs as well, with functions to add chapters and even change the thumbnail images used in menus. DVD menus aren't things of great beauty, but are certainly functional.
If you're used to Panasonic's DVD recorders, then all this will be pretty straightforward, though there were some elements we found a little quirky – many tasks are done via the Copy menu, but if AVC HD files are involved, you have to choose 'Others' and then a separate 'Copy AVC HD.'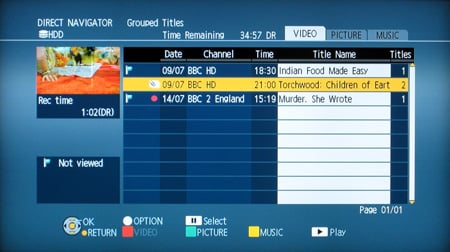 The Navigator locate programmes, but it's back to the main menu to copy them to DVD
And, of course, when you're writing a disc, you can't do anything else, including watching Freesat, so offloading material to DVD when the hard drive fills up is something best set to start before you go to bed, or head out.
DVD playback is good, with pictures looking very crisp upscaled via the HDMI output and, as with many of the other functions, if you have a Panasonic TV set, then it can all be controlled using the Viera-link function.
Using codes in the manual, the XS350's own remote can also be programmed to give basic control of some TVs. CDs play well too, with the added bonus of the Ethernet port being used to retrieve title information from the Gracenote database. You can also rip CDs to the hard drive, so this makes creating an audio jukebox very simple.
The Ethernet port also comes in handy for Panasonic's VieraCast service, though unlike the recently reviewed TX-L37V10 the only internet services on offer from the products in this range are YouTube and Picasa. Many people will be approaching the DMR-XS350 not as a DVD recorder, but from a completely different angle, as a Freesat DVR. As a DVD recorder, it does a great job. Expect it to do all the same things as Sky+ or Humax's HDR, and you may be a little less thrilled.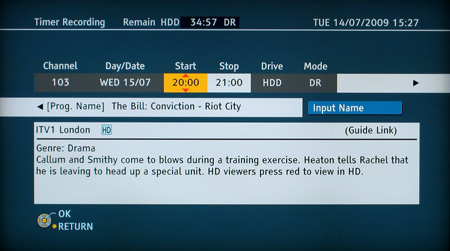 Freesat recordings are saved in the original format, so you can replay in HD
That's not to say we found it unreliable – it works fine, and didn't miss any recordings. It will work with a single LNB connection, though you'll lose twin recording obviously; with two connections you're forced, like Sky+, to watch one of the channels being recorded and, unlike the Humax, other channels on the same transponders are unavailable.
The usual Freesat EPG is straightforward to use, with both multi-channel and single channel views. Highlight a programme, press OK, and you can set a recording, or create a series link. But it's here that you start to see a slight lack of polish, exemplified by a message when recording from ITV telling you "The same programme in High Definition picture quality exists" and offering the chance to record ITV HD instead.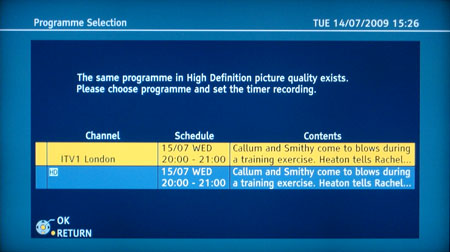 Panasonic, what happened to your grammar?
There's an air of clunkiness switching between tasks too, where the screen will go blank for just a little bit too long before the menu you want appears. Freesat specifies a feel for its EPG, but other screens, like the timer list and the 'Direct Navigator' don't really match this.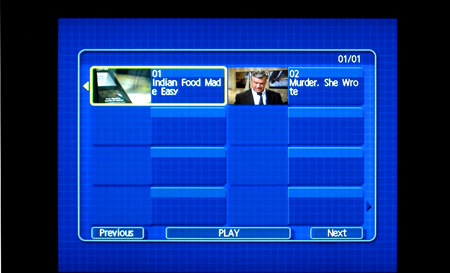 Not a thing of beauty, but menus for DVDs burning do the job
Furthermore, while you can see what recordings you have on the hard drive using the navigator, you need to go through the main menu to choose which ones to copy to recordable discs. You can, incidentally, copy HD recordings from both the BBC and ITV to disc, though they'll be re-encoded in MPEG 2 for the DVD. Finalise a disc and you can then play it in any other player, but copying is a real-time activity as material is processed, plus a little extra on top.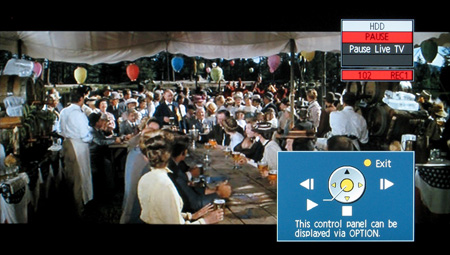 Pause live TV lacks the responsiveness of a dedicated DVR
Recordings from Freesat are stored on the hard drive in their original format, so you can catch up on HD material later in all its glory. Series are stored in their own folders, and flags indicate what's been watched, while a small preview window will help you find the right episode. It works commendably well. Yet, compared to other DVRs, there are niggles.
There's no constant buffering, for instance, so live pause takes a few seconds (with a blank screen) to kick in, rather than being instant. And if you pause a playback, the fast forward and rewind buttons turn into slow motion steps. So if you want to skip back to refresh your memory, you need to press play first, then rewind, then play again.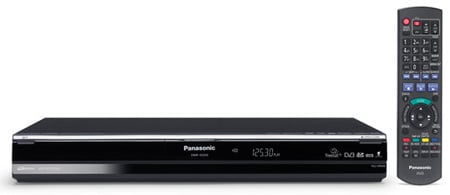 Lacks the refinements you'd expect for the price
Also an instant recording started from the remote runs until you press stop, rather than having options for the current or next programme, and programme details from the EPG aren't saved with recordings, either.
Little things maybe, but it's those that shape the experience of using a DVR and help them change the way people watch TV. As a DVD recorder, we'd probably give the DMR-XS350 a higher score. But in a satellite DVR, at this price, we expect a much smoother operation.
Verdict
The DMR-XS350 is a very flexible DVD recorder, and the Freesat tuners give it a unique edge. But it's expensive, and parts of the interface lack the polish that you'd expect from a brand like Panasonic. Though it does the job as a satellite DVR, it doesn't match Sky+ or Humax Freesat recorders in terms of slickness. ®
More TV Recorder Reviews...

Elgato
EyeTV Sat

Digital Vision
GiGo DV-DTR1

Humax
Foxsat-HDR

SiliconDust
HDHomeRun