Original URL: http://www.theregister.co.uk/2009/08/04/review_laptop_toshiba_satellite_a350_12j/
Toshiba Satellite A350-12J
Shiny, but samey
Posted in Personal Tech, 4th August 2009 11:02 GMT
Review If you like your laptops nice and shiny, Toshiba's new Satellite A350-12J will go down a treat. Not only do you get a glossy black chassis with a lid that's surprisingly smudge-resistant, but the keyboard is also coated in the stuff. It's not something that will appeal to all tastes, and we found it felt very odd to type on.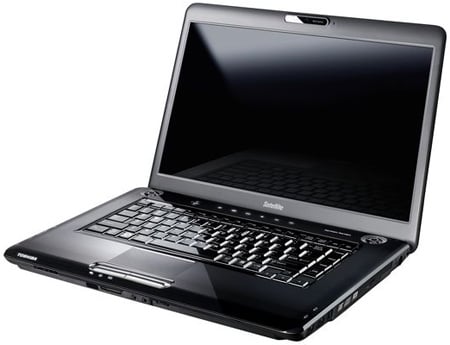 Toshiba's Satellite A350-12J
In its favour, though, the keys do have a decent amount of travel and spring back into position nicely. Key placement is also good, with our only complaint being the slimmed-down Enter key, which can be tricky to locate when touch-typing.
We have to admit to liking the illuminated Toshiba logo on the lip of the chassis as well as the light strip along the top of the trackpad – when the novelty wears off it's possible to turn both of these off, along with the lights on the touch-sensitive controls just above the keyboard.
The trackpad feels good to the touch and matches the 16:9 aspect ratio of the screen, however it doesn't feature any multi-touch capabilities so iPhone-style zooming is out.
Toshiba has tried to further liven up the inside of the chassis by adding a rather strange silver horizontal-line motif. It's not something we're huge fans of, but at least it's not quite as stomach-churning as the styling on Toshiba's Qosmio X300, which makes the Satellite A350 look positively mundane.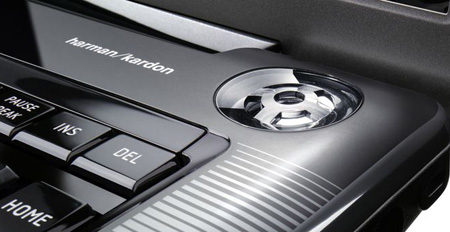 Harman Kardon speakers, but distortion creeps in at full volume
A pair of Harman Kardon speakers sit at the top of the keyboard and provide better-than-standard audio, but they're still a little tinny and struggled when we tried outputting some bassy tunes at full volume.
In the hope of appealing to movie buffs, Toshiba has given the 16in screen a 16:9 aspect ratio, however it's not a full HD display as the native resolution sits at 1366 x 768. Given the shiny nature of the A350, the fact the display has a glossy finish is no surprise, and with decent horizontal viewing angles you'll be able to share a film with friends.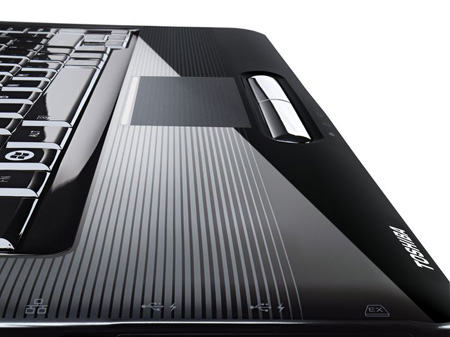 The decent-sized trackpad feels good
There's also an HDMI output – something the earlier Satellite A350 models missed out on – so if the 16in screen isn't doing your film justice you can send audio and video direct to your HD television with just one handy digital cable. As is the norm with Toshiba laptops, volume is controlled using a traditional-style wheel at the front of the chassis. Here you'll also find a card reader, audio in/out sockets and a Wi-Fi power switch.
Given the size of the Satellite A350, it's good to see Toshiba has managed to find room for four USB ports (two on either side of the chassis) along with mini-Firewire. And if the preinstalled 250GB hard drive, which ticks along at 5,400rpm, isn't big enough for you, one of the USB ports doubles-up as an eSATA port, allowing for fast external storage to be added. Should you want to archive stuff instead, there's also a DVD burner – Toshiba is still in mourning over the death of its beloved HD DVD, so Blu-ray is out of the question.
802.11n wireless is provided by the Intel Wi-Fi Link 5100 module, but for some reason Toshiba has opted for plain old 10/100 Ethernet instead of Gigabit. Not a huge deal, admittedly, but if you've got a Gigabit router it's a shame the Satellite A350 won't be able to put it to full use.
Perhaps more surprising is the lack of Bluetooth, which means you'll have to resort to a USB module if you want to sync your phone or attach a Bluetooth wireless mouse, for example. VGA-out, a 54mm Expresscard slot and a good old 56k modem wrap up the list of ports and sockets.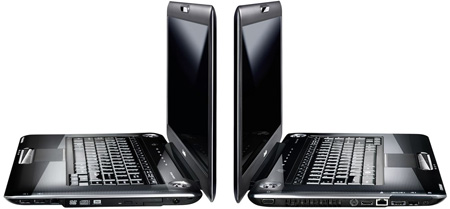 Blu-ray still not welcome on Tosh laptops
With a bus speed of 800MHz and 2MB L2 cache, the 2GHz Core 2 Duo T6400 sits towards the lower end of Intel's mobile processor line up. Both SO-Dimm slots are filled, providing the CPU with 4GB of DDR2 memory – the installed 32-bit Vista Home Premium ignores a quarter of this – while graphics is taken care of by Intel's GMA 4500MHD chipset.
It's certainly not a speed demon then, but Vista trundles along nicely. Start hurling processor-intensive tasks at it, though, and it will start to struggle. PCMark05 returned an overall score of 4548, which is further indication of the A350's middle-of-the-road performance.
PCMark05 Results
Overall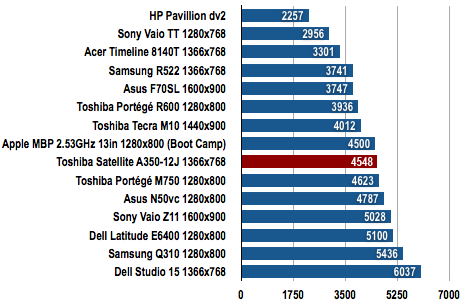 Longer bars are better
CPU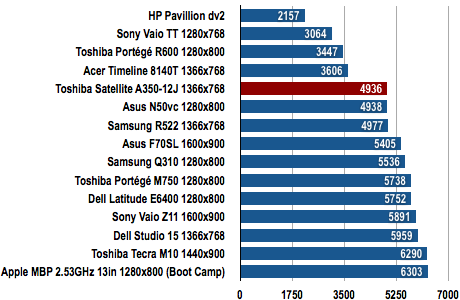 Longer bars are better
Memory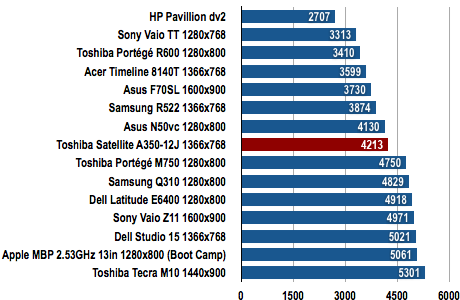 Longer bars are better
Graphics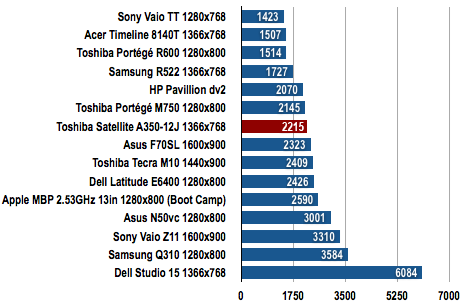 Longer bars are better
HDD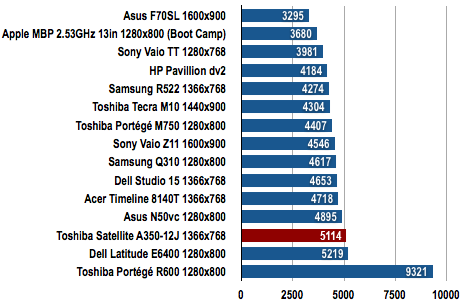 Longer bars are better
3DMark06 Results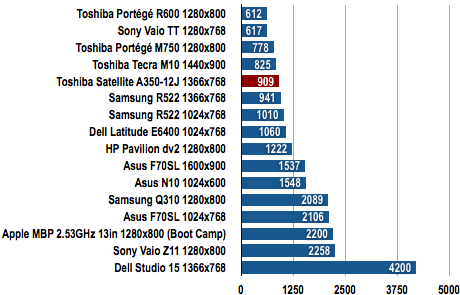 Longer bars are better
Battery Life Results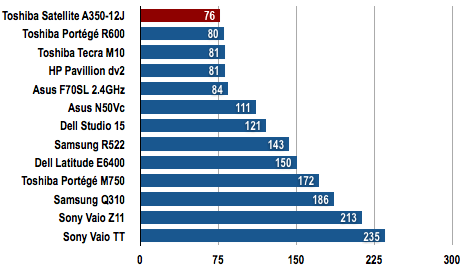 Longer bars are better
The relatively poor result of 2215 in PCMark05's graphics test is down Toshiba's decision to cut costs and go with Intel's integrated chipset. As expected, 3DMark06 proved to be a similar struggle for the A350, with a score of 971 at 1280 x 720. So, while fine for general Windows tasks, a gaming machine the A350 is not.
Tipping our scales at 2.9kg, the Satellite A350 isn't the kind of laptop you'll want to drag with you on the daily commute. In our tests, which involve PCMark05 running in a loop with the screen at full brightness and Wi-Fi switched on, it only managed to stay alive for 76 minutes. So it's best to see this is a laptop that will spend most of its time rigged up to the mains.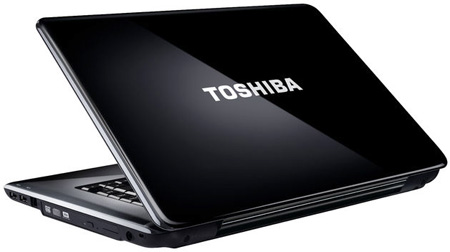 A surprisingly smudge-resistant glossy coating
Toshiba isn't shy when it comes to preinstalled software. Microsoft Works and Ulead DVD MovieFactory are the two headliners, while the seemingly endless list of Toshiba utilities includes such marvels as Disc Creator, Toshiba Assist and Connectivity Doctor. You also get the Face Recognition utility, which uses the webcam to attempt to figure out who's sitting in front of the laptop. Naturally, you also get wonderful time-limited trials of McAfee and Office 2007.
Verdict
If you can get used to its shiny and somewhat slippery keyboard, the Satellite A350-12J is a solid notebook that performs reasonably well as long as you're not into gaming. The problem is that there's nothing that really makes it stand out from the crowd, and at this price we had hoped to see some form of discrete graphics. ®
More Notebook Reviews...

Samsung R522

Dell Studio 15

Acer
Timeline 4810T

Asus N50vc