Original URL: https://www.theregister.co.uk/2009/08/04/fortis/
Tyre firm sketches rubber SUV concept
With self-inflating wheels
Posted in Science, 4th August 2009 13:18 GMT
Leccy Tech Rumours about the possible death of the big 'ol SUV may have been exaggerated, that's if the recycled leccy car concept from Korean tyre maker Kumho is anything to go by.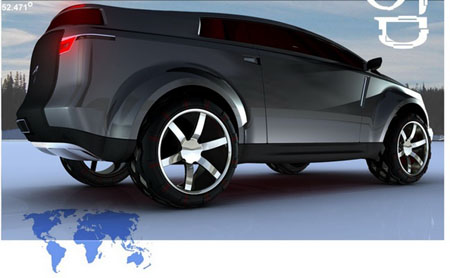 Kumho's Fortis concept would have recycled rubber for doors
The firm's Fortis car would employ four 75kW (100bhp) electric motors - one for each wheel - and a lithium-ion battery pack – nothing too out of the ordinary.
Yet most of car's exterior panels, and a large proportion of its interior, would come from the firm's own recycled tyre rubber.
Such an apparently eco-friendly design sounds great on paper because, theoretically, fewer old tyres would end-up being burnt in junk yards. And, who knows, all that extra rubber may even see the car able to bounce off other cars during a collision.
Venture off-road, though, and the car's own tyres could really come into their own. Why? Because driving on dirt or ice would cause them to automatically deflate, exposing a series of metal studs for that all-important extra traction.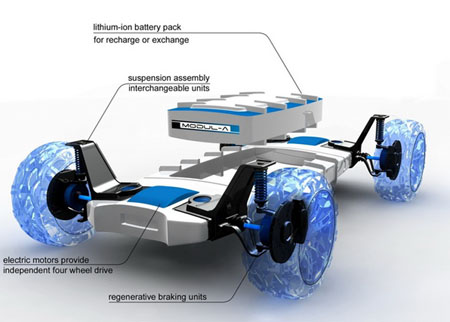 An interchangeable battery pack lurks under Fortis' shell
Once you get back onto tarmac, the tyres reinflate themselves - the firm stressed.
Fortis' one-motor-per-wheel configuration would also mean that the car could be driven in either a front, rear or four-wheel drive modes, Kuhmo added.
The Fortis concept was dreamt up by Kumho's in-house designer, and ex-Fiat man, Rob Dolton. But just because he's been staring into his automotive crystal ball doesn't mean you should expect Fortis to reach the production line anytime soon. ®