Original URL: http://www.theregister.co.uk/2009/08/03/review_storage_network_qnap_ts_219p_turbo_nas/
Qnap TS-219P Turbo Nas
A box of delights?
Posted in Personal Tech, 3rd August 2009 08:02 GMT
Review There are two main criticisms that can be levelled at Qnap's TS-209 range of Nas boxes: they have poor file transfer speeds and poor access to the hard drives. The TS-219P tackles those issues head on with a faster 1.2GHz Marvell processor, compared with a 500MHz Marvell chip in the TS-209P, and sensible hot-swappable bays.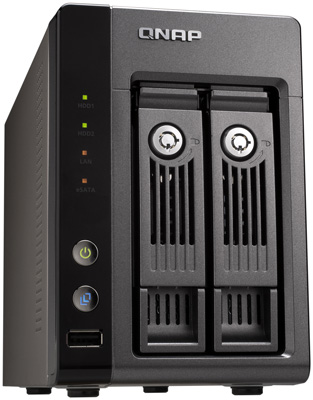 Qnap's TS-219P Turbo Nas
There are no hard drives supplied with this twin bay Nas box, so you'll need to screw your chosen Sata hard drives to the hard drive caddy that includes screws and fittings for both 3.5in and, pleasingly, 2.5in drives too. Unlike the TS-209, there's no faceplate nonsense covering the hard drives, however, it's not as pretty as a TS-209. The TS-219P goes for more of a server look like Netgear's ReadyNas range and is very sturdily built.
The hot-swappable caddies have a thick lever and a lock on the front. There are also four LEDs – two for hard drive status, one for eSata and one for Lan – that change colour so you can diagnose potential problems.
An built-in speaker can also signal potential problems, although an LCD panel – present on many other Nas boxes – would be better for solving problems. A USB port joins the party on the front, while two USB ports, two eSata ports, a Lan port and the power connector, alas featuring an external power brick, can be found on the rear.
Scheduled backup, Nas finder and bittorrent software is all included on a CD. Each does its job admirably, although the bittorrent software has uPnP Nat port forwarding disabled by default. You'll need to enable that if you want to avoid configuring port forwarding on your router. Bittorrent files can be started on the Nas from the client or by dragging and dropping a torrent file onto a widget called Qget that floats around the desktop.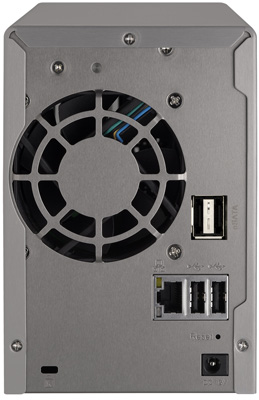 eSata and USB ports allow storage expansion
Head into the web configuration pages and you'll be presented with a slick coverflow-like interface – part of Qnap's new ajax-powered v3 firmware – where the web file manager, main setup pages and the Multimedia Station reside. The Multimedia Station enables access to videos, photos and music with a browser, with the slideshow mode option being a particularly impressive party trick.
The main setup pages have an overwhelming range of settings available for tweaking. The web server – with php and mySQL support – settings sit here. Simply enable the server and drop html and php files to the Qweb folder and you're away. There are also configuration options for iTunes, FTP and FTPES servers, IP camera support, remote Nas replication, Telnet, system logs plus hard drive and Raid information.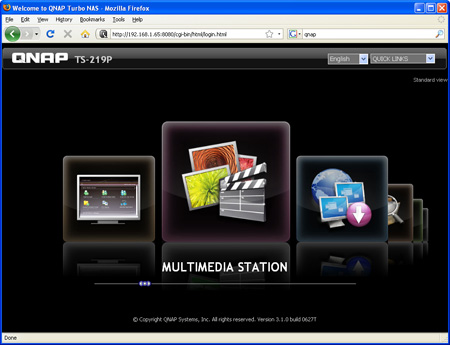 Browser access reveals a slick coverflow interface
It's almost the perfect setup, until you visit the Power Management and realise it doesn't do proper scheduled on/off. You can opt to schedule a daily shutdown, a daily restart or a daily power-on, but not a combination of off and on, which other Nas boxes manage to do. It also won't respond to Wake-on-Lan packets, which would be useful if you only had scheduled off enabled on the TS-219P.
One of the more interesting aspects of the TS-219P, and all Qnap Nas boxes, is the QPKG Plugins page where additional applications can be installed. Qnap preinstalls phpMyAdmin and Joomla, while Qnap also provides downloads of SqueezeCenter, an app that streams audio, MLDonkey P2P software, WordPress blogging software, SABnzbd+ newsgroup downloader, AjaXplorer file explorer, and XDove, an email server.
These applications are easy to install and make the TS-219P far more versatile than most other Nas boxes. Apple's Time Machine isn't supported natively, but a few users have reported the hacks listed on Qnap's forum get it working.
To test file transfer speeds, a 901MB file was copied in Windows Explorer across a Gigabit router. Jumbo frames were disabled and our 2GHz Core 2 Duo test PC had XP and a 1GB software Ram disk installed, so it didn't have to access its own hard drive.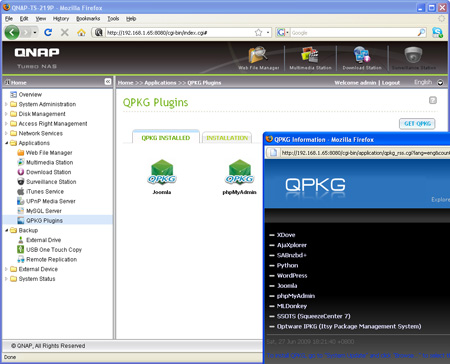 The QPKG plugins page allows installation of numerous applications including wordpress
Click for a full-sized image
Bear in mind that FTP and Vista transfers produce quicker results, but our tests represent the typical, every day experience. The TS-219P was fitted with two 1TB Western Digital RE2-GP hard drives, as were the other Nas drives in our graphs.
The TS-219P produced some excellent read speeds, especially when compared to the TS-209 II, while its write speeds were distinctly average. Power consumption was excellent, essentially matching the TS-209 II, but with quicker hardware.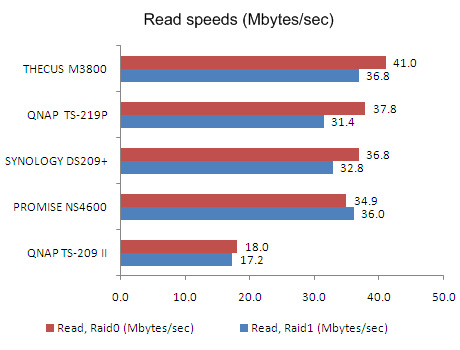 Longer bars are better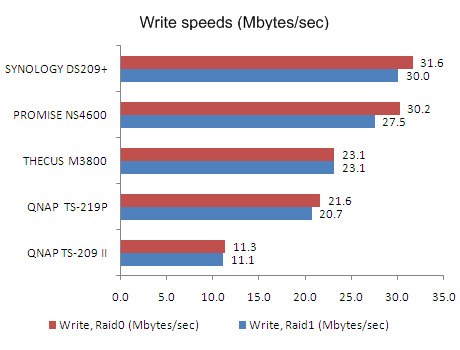 Longer bars are better
We witnessed some slightly odd idle figures, as it would occasionally draw between 15W and 23W before dropping down to 9.8W again. We couldn't explain regularly power spikes, especially since the noise produced was consistently low throughout our tests.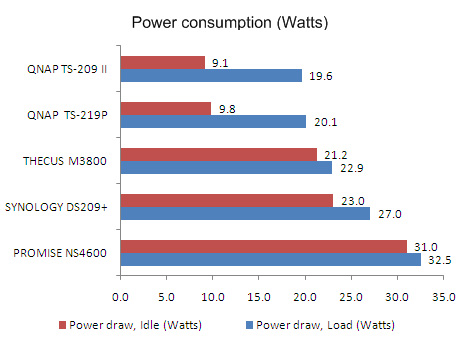 Shorter bars are better
The closest competitor to the TS-219P in our tests is the Thecus M3800, which costs around £15 more. Although the Qnap loses out to the Thecus on raw performance, it does a better job on power consumption.
We also tested the TS-219P for DLNA (using a Playstation 3) and Xbox 360 streaming ability. It had no problems delivering media to these consoles, although it did struggle a little when tasked with fast forwarding through a 1080p high definition movie, something many £400+ Nas can handle with ease.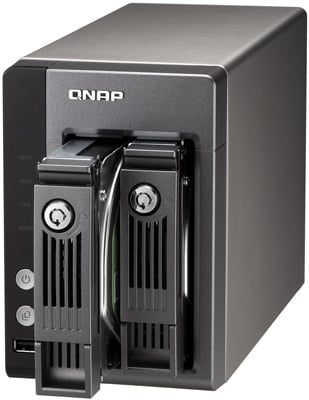 Caddies support 2.5in drives too
Average write speeds, incomplete scheduled on/off functionality and no LCD are the only flaws in the TS-219p's package, but they're overshadowed by the extraordinary array of features this device offers. It's a very capable server – whether you're hosting web pages or an FTP service – and functions as an excellent in-home Nas for backing up a few computers or streaming films to a Playstation 3 or Xbox 360.
Verdict
An extra £15 will get you the Thecus M3800, which has three drive bays with Raid 5 support and a 1080p HDMI output so you can view media directly on a TV alongside its regular Nas capabilities. But the TS-219P is better value, easier to use and has a more complete interface plus a bounty of software features. The TS-219P has a more comprehensive firmware than any other dual-bay Nas we've tested. It's not the quickest and its power management needs a small upgrade, but Qnap has created a Nas that geeks and layman alike will spend many hours enjoying.
More Nas Reviews...

Synology
DS409Slim

Buffalo
Terastation III

Promise
Smartstor NS4600

Cisco Linksys
Media Hub