Original URL: https://www.theregister.co.uk/2009/07/31/review_travel_gadgets_roundup/
12 of the best... travel gadgets
Don't leave town without them
Posted in Personal Tech, 31st July 2009 13:09 GMT
Round-up As another British summer disappears down the meteorological toilet amidst howling gales and driving rain Reg Hardware's mind turns to getting away from it all for a few weeks to a place where carrying a solar charger is not an act of near criminal optimism. To help ease the miles we decided to take a look at a dozen gadgets for the tech savvy traveller that might be worth packing, along with the sun block and bug repellent.
Garmin Oregon 300 GPS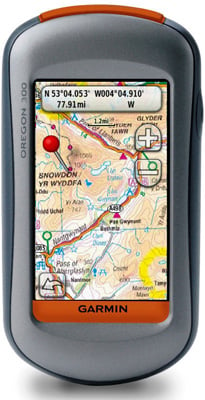 The Oregon 300 is a map, a compass, an altimeter and GPS navigation system all rolled up into one chunky unit. The standard device comes loaded with Garmin's GB Discoverer maps. These include Ordnance Survey coverage of all Britain's National Parks at 1:50,000 scale with 1:25,000 maps also available to download on MicroSD card. Garmin knows a thing about toys for boys. Hence, the 300 is encased in some serious shockproof rubber with a hefty mini-USB port cover and fully enclosed on/off button.
The handset actually meets IPX7 waterproofing standards, which means it should be good for up to thirty minutes at depths of up to one metre. Power comes from a couple of AA batteries, a decent set of which should keep you on the straight and narrow for around 16 hours. You even get a carabiner to hook it to your belt. The downsides are it's a bit on the heavy side, the 3in 240x400 screen and could perform better in direct sunlight. Also, the 1:25,000 British National Park and National Trail maps cost £129.99 a go, which – the quality of the OS's data notwithstanding – is having a laugh when you consider when the paper version of each map will set you back less then a tenner.
Reg Rating 80%
Price £310 Click for the best online price
More Info Garmin
Joby Gorillapod Go-Go! Tripod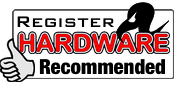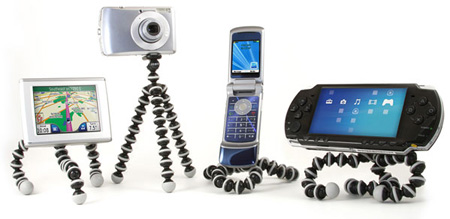 The humble and, let's face it, dull as dishwater camera tripod was an unlikely device to be transformed into a must-have urban chic travel accessory. And yet, that's just the trick that Joby pulled off with its Gorillapod range – a rather funky selection of camera and gadget stands for all seasons and locations.
In its Go-Go iteration Joby supplies the universally articulated 10in high Gorillapod stand with a camera screw mount and with two sticky pad mounts and a suction cup. The latter is holding a not exactly featherweight Cowon A3 PMP at the perfect viewing angle as this is being written. With those attachments to hand, the Gorrilapod will let you mount just anything at just about any angle on just about any surface. When not standing things up you can use it to attach stuff to tree branches, poles and the like. If you travel with a camera, a PMP or a phone, you couldn't spend £25 more usefully.
Reg Rating 90%
Price £25 Click for the best online price
More Info Joby
Aquapac Waterpoof Camera Case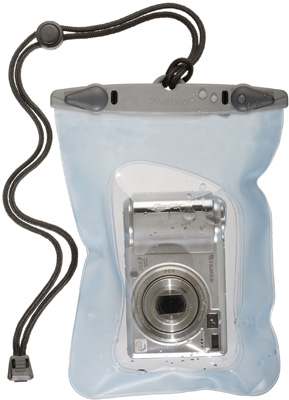 If your only opportunity to take pics under the sea comes twice a year then a fully waterproof camera is probably over egging the pudding. Especially when, for twenty-five quid, Aquapac will sell you a fancy plastic bag into which you slide your compact camera and get the same end result. Lacking easy access to the crystal clear waters of the Caribbean and not wanting to get arrested at the local swimming pool, we stuck our trusty old – and expendable – Nikon Coolpix 2200 in the bag and filled the bath.
Not only did everything stay dry, but we had no problems using all the camera's buttons or the optical zoom. Aquapac also thoughtfully bundle half a dozen packets of desiccant to get rid of any rogue condensation. Picture quality didn't seem to suffer too badly from the consequences of taking photos through a layer of plastic. However, if you do come over all Lord Lichfield, Aquapac also makes a version with a hard acrylic 'lens' built into the bag. Incidentally, it also makes a rather handy all-purpose water and dust proof bag for your phone or MP3 player.
Reg Rating 90%
Price £25
More Info Aquapac
Franklin TGA-490 12 Language Speaking Dictionary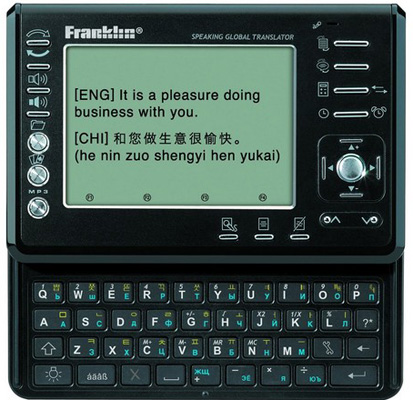 Phrase books are all well and good if you have some idea how to pronounce the local lingo, but stray into Russian, Japanese or Korean and things get more complicated. That's where the Franklin comes in. Not only will it translate words and phrases on-screen – in both the original alphabet and Roman – but it will speak them too. Translations can be made from either single words or from a pretty large selection of pre-loaded phrases although we didn't manage to find "Where is the toilet?" during our test.
The list of supported languages runs to French, German, Italian, Spanish, Portuguese, Dutch, Polish, Russian, Chinese, Korean and Japanese which isn't bad though with Thai and Hungarian – oh, oh, my nipples explode with delight! – being two obvious omissions. While the phrases played are clear enough, they are just a little on the fast side. The 490 also doubles up as an MP3 player and voice memo recorder and has a 2.5mm headphone jack so you can sit in the corner repeating foreign phrases too yourself until someone calls the police and they drag you away. Not cheap, but useful for frequent travellers who find themselves in Tokyo on Monday, Seoul on Wednesday and Lisbon on Friday.
Reg Rating 80%
Price £200
More Info Franklin
Peli P1080 Rugged Laptop Case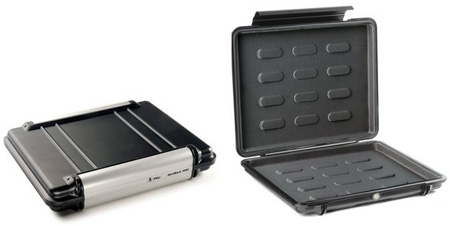 Travelling with a laptop usually means never letting it out of your sight. All well and good for wandering about the airport and getting to your hotel, but less ideal if you plan on crossing Asia Minor by Land Rover or have to check your laptop into hold luggage. Peli's range of tough, buoyant, laptop cases are water resistant, but not wholly waterproof. Still, when we quickly dunked ours under in the bath the Dell Mini inside suffered no harm. That said, they do float a treat and will keep out dust and grit.
The case also has a Gore-Tex pressure vent to ensure nothing goes awry in an unpressurised cargo hold. To ensure a snug fit Peli bundle the case with eight adhesive pads that can be arranged around the inside to provide a truly vice like grip. While the aluminium latch is certainly strong enough, it doesn't half take some opening. Don't try to open it with your fingernails, as pain and blasphemy will follow if you do. The 1080 is good for laptops up to 13in, with the larger 1090 for 15in models.
Reg Rating 90%
Price £65
More Info Peli
Hobbes Digi WiFi Digital Wi-Fi Detector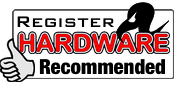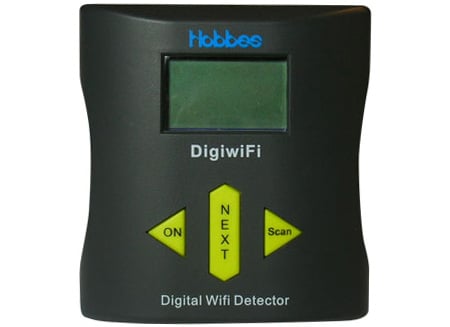 Pocket Wi-Fi detectors are hardly new, but the problem with many is that they are so basic they become almost counter-intuitive. We have one in the office that we picked up at a Sony press launch last year but, having lost the instructions, nobody can remember what the flashing lights mean. The Digi WiFi detector may not be the cheapest or smallest around, but it does have a handy twit-proof screen than tells you exactly what's available and, more importantly, whether is it secured or not.
This last feature is vital if you want to hunt down an unsecured signal from an airline lounge that is bleeding into the parts of the airport used by the rest of us. Our Digi WiFi led us to an open signal from the Qantas lounge in Bangkok airport two floors below, suggesting that the maker's claim that it will find a signal from 60m away is not far off. It's quick too. Switch it on and it will find any local Wi-Fi networks in a matter of seconds. We never leave home without it.
Reg Rating 90%
Price £40
More Info Hobbes
Powertraveller SolarMonkey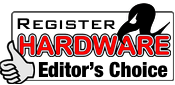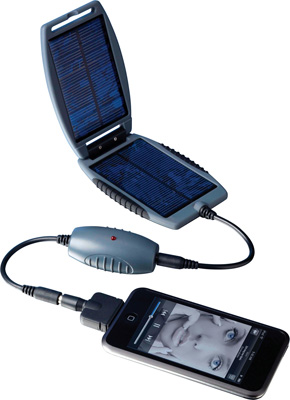 A clever and affordable solar charger, the SolarMonkey is actually two products in one. The solar array itself can be folded in two for easy transport and protection. When folded it measures 110 x 70 x 10mm and weighs a next-to-nothing 88g. It can be used to charge portable devices directly. Alternatively, utilise the SolarNut, as this part of the device can be used to store a charge from the Monkey with its 150mAh rechargeable battery. Once the Nut is charged, you can use it to recharge one device while you use the Monkey to charge a second. The Monkey has a maximum power output of 240mA, depending on the strength of the sun.
The charger comes with nine adaptors including ones for most common makes of mobile phones, iPods, iPhones and anything with a miniUSB charging port. The Monkey also has a handy rucksack strap so you can charge up your Nut as you traverse across the great outdoors. All in all, a pretty faultless bit of kit.
Reg Rating 95%
Price £35
More Info Powertraveller
FreePlayEnergy EyeMax Wind-Up AM/FM Radio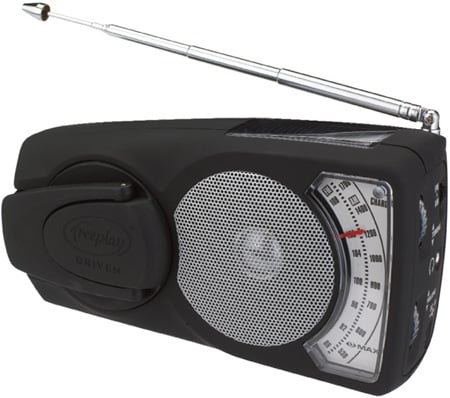 The wind-up radio is the acme of planet saving echo-gadgetry, because it's a damn handy thing to have about when the lights go out. A full charge will keep the radio going for around 25 hours, while a brisk one minute crank will provide power for around an hour. If the sun has got his hat on you can leave the EyeMax out to charge with its solar panel or you can recharge it via its miniUSB port when the opportunity allows.
The telescopic aerial proved a dab hand at tuning into AM and FM stations, no matter where we tried it, aided by the nicely low-geared analogue tuning dial. The 0.5W single speaker is hardly what you would call Hi-Fi, but it makes a decent fist of things. If all you want to do is listen to the Archers, the World Service or coverage of England's catastrophic failure success in the Ashes, you should be pleasantly surprised. While not exactly small and light at 112 x 60 x 186mm and 700g, the EyeMax is robust and certainly feels up to the rough and tumble of the great outdoors.
Reg Rating 90%
Price £40
More Info FreePlayEnergy
Camelion Mobile Phone Power Stick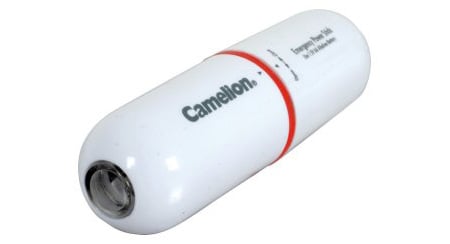 The Camelion emergency charger couldn't be simpler if it tried. Unscrew it, pop in an AA battery, put it back together, connect to your drained phone and bingo, you can communicate. The device comes equipped with adapters for Mini USB and most popular phone makes apart from the iPhone. As chargers go, it's neither particularly fast nor powerful. A decent quality AA battery will give you around 90 minutes of talk time and take about an hour to transfer the charge to the phone.
Still, you'll have a working mobile as long as you can lay hands on a some batteries and, lets face it, you have to be a long, long, long way off the beaten track to not be able to. A supplied strap can be used to attach the Power Stick to your car keys and it even comes with a handy emergency LED torch. The device itself is about the same size and weight as a tube of lip balm and right now you can buy one from Maplin and get change from four quid. Brilliant.
Reg Rating 90%
Price £4
More Info Camelion
Doberman SE0304 Bag Protector Alert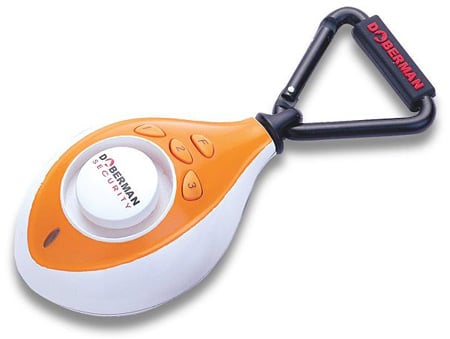 The Doberman is a motion detector and truly ear splitting alarm wrapped up in a water resistant rubber dongle that you can attach to your bag or rucksack. Once set and put in place the slightest movement causes the 100-decibel alarm to sound and scares the hell out of just about any living thing nearby. Certainly, an ideal defence against the terminally light fingered or any local fauna that decides to have it a rummage through your kit while you snooze in your tent.
It also works as a panic alarm – just yank the mounting up. To avoid the alarm sounding with every elephant fart or earth tremor, the device gives you three seconds grace. If the disturbance stops, the unit goes back to standby. These three seconds also allow you to use your pin to disarm the device without making your ears bleed every morning. Of course, packing one of these does rather suggest you think everyone you meet on life's meandering highway is looking to rip you off and here at Reg Hardware we have always relied on the kindness of strangers and so are inclined to emphasise its use in warding off larcenous squirrels and the like.
Reg Rating 80%
Price £16
More Info Doberman
LaCie 320GB 7,200rpm Rugged HDD

As tough as old boots, sporting Firewire and USB connectivity and spinning at up to 7,200rpm LeCie's 320GB Rugged hard drive is the device of choice if you want to carry some serious data onto the beach or into the breach. Moreover, the headline spec assures users the drive will survive a 2.2m drop. That seems reasonable enough. We dropped ours from a second story window onto a patio and no harm was done, though we nearly killed the cat. It's a nice looking device too though frankly we think jungle camo should be a colour option. The drive apparently complies with US military standard MIL-STD-810, which ensures survivability in the face of all sorts of general unpleasantness.
Reg Rating 80%
Price £150
More Info LaCie
Victorinox SwissFlash 8GB USB Memory Stick and Multi-Tool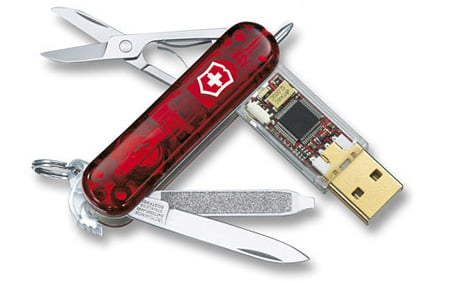 Admittedly, a USB memory stick combined with a pair of scissors, a nail file-cum-screwdriver, penknife, torch and keyring wasn't at the top of Reg Hardware's "things we wish someone would invent" list, but we're still glad somebody did. As a multi-tool the SwissFlash does suffer from not having a bottle opener – by the far the most commonly used tool on the office Swiss Army Knife – but it's certainly more use in a tight jam than a standard USB memory stick. If the best part of £90 sounds a little expensive you can also get the SwissFlash with 1, 2 or 4GB of storage. Or you could really push the boat out and go for the 16GB version. Usefully, the USB flash part of the device can be removed for safekeeping. ®
Reg Rating 75%
Price £90
More Info Victorinox