Original URL: https://www.theregister.co.uk/2009/07/30/review_printer_brother_mfc_6890cdw_a3_mfd/
Brother MFC-6890CDW A3 inkjet
All you ever wanted in an MFD, but slower
Posted in Personal Tech, 30th July 2009 08:02 GMT
Review It is to Brother's great credit that the all-in-one MFC-6890CDW packs in as many wishlist features as reasonably possible without hitting buyers with an unfriendly price. This combined A3 colour inkjet printer and A3 scanner with a full-size glass plate is a big unit at 540 x 488 x 323mm, but not particularly heavy at 15.6kg. You asked for A3, so live with it.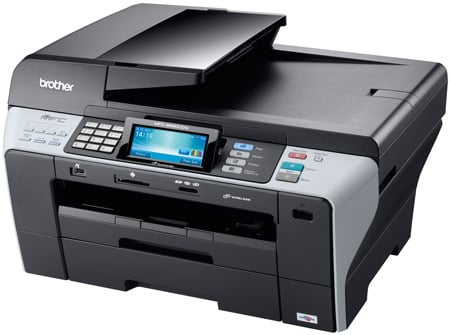 Brother's MFC-6890CDW
As standard, the MFC-6890CDW is fitted with an automatic sheet feeder, dedicated fax functions, automatic duplex (two-sided) printing, a choice of camera card slots, and 10/100 Ethernet and 802.11b/g Wi-Fi connections. And, as we found out, both the print quality and scan quality are excellent – far better than you would normally expect from an MFD.
Two paper cassettes (100-sheet and 250-sheet) are slotted into the front, and printed sheets drop into an output tray above them. In common with most inkjets, the cassettes feel cheap and fragile. The output tray looks particularly flimsy: we have broken sturdier examples than this merely by brushing against them while walking past.
The input cassettes are telescopic in order to accommodate different sizes of paper up to A3. Forcing the telescopic action was enough to cause us to raise a sweat, not because it was difficult but because we always felt the trays were about to explode into razor-sharp plastic shrapnel. Note also that extending the cassettes into A3 mode will occupy a great deal more desk space at the front.
A door to the right of the print carriage opens to reveal four separately replaceable ink cartridges. Best value can be obtained by buying the 'high yield' cartridges (catalogue code LC1100HY), which are quoted as being good for 750 A4 sheets (cyan, magenta and yellow cartridges) or 900 sheets (black cartridge). At about £16 for the colour carts and £29 for the black, a full replacement set will cost you just short of £80.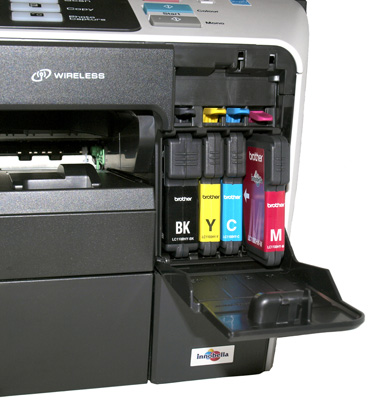 A3 printing effectively doubles typical ink costs compared to A4
To be fair, that's not too bad for an inkjet. But remember that the above ratings do not take into account sheets with lots of colour, such as photos, PDFs and web pages. If your output is predominantly A3, you can halve the ratings straight away. Using the MFC-6890CDW for a small business printing just 30 sheets a day, you could end up spending £1,000 or more a year on ink cartridges alone.
Just above the print carriage output tray is a pair of memory card slots, supporting CompactFlash (not MicroDrive), SecureDigital, Memory Stick and xD formats. You can also hook up a digital camera using the PictBridge port to the left of the memory card slots.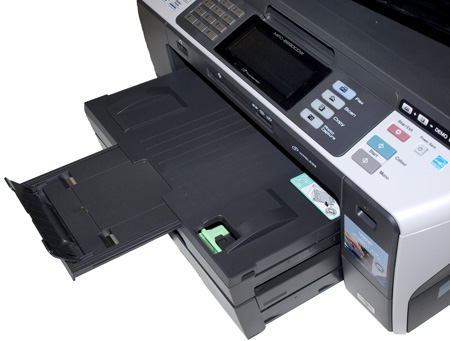 Extending the cassettes for A3 paper needs more desk space up front
When you plug in a card or attach a camera, you can browse through the images as chunky thumbnails on a colour touchscreen status window. Alternatively, you can print out contact sheets and then use the status window to choose which images to print at full size. This status window is great: we forced a printer jam whereupon the status window led us through the steps to clear it, just like on an expensive, high-end workgroup MFD. Incidentally, there is a rear exit door on the printer to help clear any true paper jams.
The scanning plate is located under a lid on top of the unit. Although the glass plate is sized 297 x 431.8mm, the maximum scanning width is apparently 291mm. This means you cannot actually scan the entire surface of an A3 original, or indeed the full height of an A4 sheet if you load it portrait orientation. Still, having all that almost-A3 area is so versatile that we feel silly to quibble about a few millimetres.
The lid incorporates an automatic document feeder (ADF), which is essential for making quick multisheet copies and unattended faxes. This particular ADF is a bit limited, however. It cannot handle two-sided copies/faxes, for example, and its motor reduces the maximum optical resolution of scans to 600dpi. On the other hand, it is capable of holding more than the typical number of sheets – up to 50, in fact.
Large, blue-lit buttons on the main panel of the printer make it easy to switch between fax, scan, copy and photo capture modes. There are lots of other buttons too, but the status window explains everything clearly. Even the fax setup and operation tasks are straightforward, while the status window leads you step-by-step through tricky manual processes, such as duplex scanning for faxing double-sided sheets.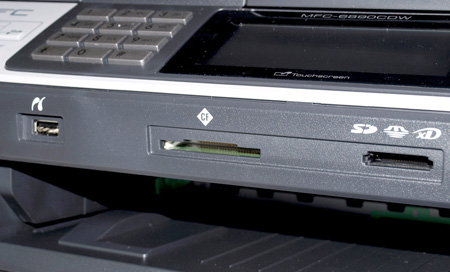 A PictBridge port and card slots offers support for most digital cameras
There are six quick-dial fax buttons that can double up with a Shift button to offer 12 presets. That's not a lot of presets, to be honest, and Shift buttons can lead to people faxing the wrong people out of confusion on how the Shift works. In operation, the MFC-6890CDW is mostly quiet. After the initial clatter of loading a sheet of paper, the repetitive movement of the printhead across the carriage produces no more than a mild wheezing sound.
Our print quality tests reveal that output is reliably excellent on plain paper and coated stock alike. Everyday office printouts at the 'Normal' setting were razor sharp down to the tiniest detail, while 1200dpi image output to glossy card was first class.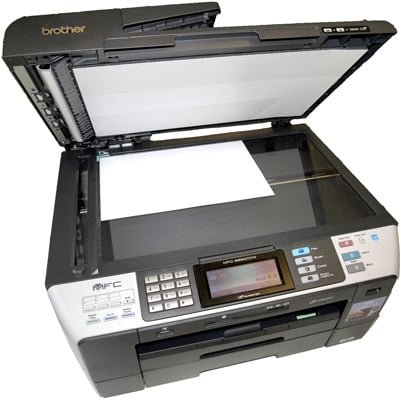 The 'almost-A3' scanner produces impressive results
However, the limitations on which paper cassettes could be used for quality printing were extremely annoying. Photo paper, borderless prints and duplex can only be handled from the top cassette, Tray 1. As well as having to keep swapping stacks of paper back and forth between the two cassettes, the frequent error messages produced by the print driver whenever we tried to use the 'wrong' cassette almost drove us to violence. What's the point of having two paper cassettes if one of them doesn't support the device's own features?
As expected with an inkjet, print speeds are consistently slow. A black-only A4 office document took about 20 seconds to print; 10 copies of that document took 10 times as long. Colour A4 copies take about 40 seconds per printout. Duplex printing is painfully slow, more than doubling the print time. 10 copies of a double-sided printout can take more than eight minutes to complete. A high-resolution image printed to a single sheet of glossy A4 photo paper also took more than eight minutes.
The scanner performance was surprisingly impressive. Most MFD manufacturers try to cut corners with the scanner, but Brother has built a pretty damn good 1200 x 2400dpi device into the MFC-6890CDW. Colour copies are top-notch and image scans are objectively good. Our modulation transfer function (MTF) lab test, which uses testcards and histograms to measure the capability of the scan sensors against interference by signal noise, gave an overall result of 0.67 (on a scale between 0 and 1). Cheap scanners rarely achieve higher than 0.4, while anything above 0.7 would be considered 'high-end'.
Verdict
The MFC-6890CDW is a fine MFD for a small office, and a fantastic one for a home user. It is extremely well featured, from the wireless connection to the duplex printing, and of course its wonderful A3 scan/print support. Our only significant criticisms concern the inability of the ADF to scan in duplex and the frustration that the best print features are not supported by Tray 2. Beyond that, just remember that inkjets do not suit all offices: they are slow and potentially expensive to run. ®
More All-in-One Printer Reviews...

Ricoh
Aficio GX 3000S

Canon
Pixma MX330

Kodak
ESP-7

Epson
Stylus Photo PX800FW