Original URL: https://www.theregister.co.uk/2009/07/30/compellent_q209_results/
Compellent sparkling less brightly
Growth, but only just
Posted in The Channel, 30th July 2009 10:43 GMT
SAN vendor Compellent recorded its 15th consecutive quarter of growth, but only just, with revenues up 2.3 per cent sequentially for its second 2009 quarter.
The figure of $28.7m was up 37 per cent on the same quarter a year ago, but only marginally increased from 2009's first quarter revenues of $28.1m, showing that the recession is flattening out the growth curve.
Second quarter net income of $247,000 was a satisfying reversal of the year-ago quarter's net loss of $603,000, but a disappointing 75 per cent slump from the $1m recorded in the first quarter. Revenues increased, but net income went down.
This was due to operating expenses increasing: they were up 10.3 per cent sequentially to $15.47m. For example, there were 23 new hires in the sales, marketing and engineering areas, and the company held its annual C-Drive customer and partner event in April.
Compellent reported a 79 per cent year-on-year increase in international revenues to $5.7m. This was a 29 per cent increase from the first quarter number of $4.42m, a difference of $1.3m. It opened operations in France and Italy during the quarter. The difference between Q1 and Q2 2009 overall revenues was just $643,000, which means that, without the international revenue increase, Compellent would have reported a sequential quarterly decline in revenues.
Further, it means that US revenues must have fallen sequentially. Yet there was satisfying new customer growth, a jump if 115 from the first quarter new customer total to 1,491. It appears that existing customers did not spend as much as they might have done. Stifel Nicolaus analyst Aaron Rakers said: "On an absolute basis, according to our calculations, revenue from existing customers was down nearly 20 per cent sequentially, but did increase 93 per cent yr/yr."
Services revenue was $8.4m, a large 112 per cent y-on-y jump and a pretty good 24 per cent sequential rise. There was also a sequential rise in gross margin, from 52.8 per cent to 53.7 per cent. However, there was an actual sequential contraction in product revenues of 4.7 per cent to $20.3m, although up 19 per cent year-on-year.
Compellent is still growing, just not as much as it might have wished because, it appears, existing US customers did not buy as much product as they could have done.
The company noted it had won Savvis as a customer, and Savvis is an existing 3PAR customer. Currently Compellent is seen as an SME SAN vendor with 3PAR as an enterprise one. It could be that the two are beginning to overlap as Compellent customers move it up market. A revenue growth chart below, prepared by Rakers, compares growth rates for 3PAR, Compellent, EqualLogic and Data Domain and puts them in perspective.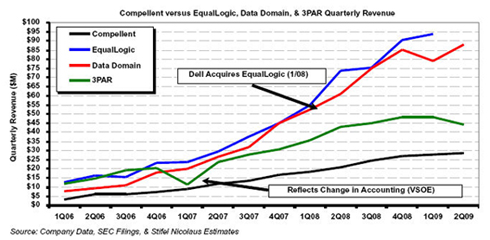 The outlook is for revenues next quarter to be between $30m and $32m. ®