Original URL: http://www.theregister.co.uk/2009/07/29/review_dvr_elgato_eyetv_sat/
Elgato EyeTV Sat
Good reception for updated desktop satellite DVR?
Posted in Personal Tech, 29th July 2009 11:25 GMT
Review Last year we reviewed Elgato's EyeTV 310 satellite TV tuner for Macs. It wasn't a brand new product, but the launch of the Freesat service here in the UK meant that we were curious to see how the device would handle the new service – especially the HD broadcasts on the free-to-air BBC HD channel.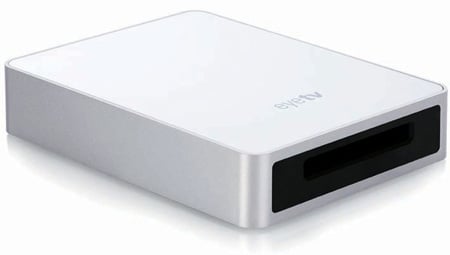 Elgato's EyeTV Sat
The EyeTV 310 had a few rough edges, such as its reliance on a Firewire interface at a time when even Apple appeared to be losing interest in Firewire. However, its main weakness was the £240 price tag, which made it something of a niche product for satellite TV aficionados.
The EyeTV 310 has now been discontinued, and replaced with the new EyeTV Sat. This new model is a lot smaller and more compact, and the price has come down from £240 to £180. That's still about three times the price of an ordinary Freeview TV tuner but, at this price, it starts to look like a viable alternative to a dedicated Freesat recorder or set-top box.
Designed in silver and white to match the style of the current crop of Mac models, the EyeTV Sat measures just 10cm wide, 15.5cm deep and 2.7cm high, and sits quite comfortably on top of the Mac Mini that we use as a media centre with our Samsung TV. And, in fact, most of that space is required for the Common Interface (CI) slot that's used to plug in additional pay-TV cards.
Like most TV tuners, the EyeTV Sat now uses a USB 2.0 interface to connect to your computer. While most TV tuners can draw their power from the USB connection, the EyeTV Sat relies on a separate mains power supply. Naturally, there's an LNB connector for the satellite cable, so don't forget that you'll need either a dedicated Freesat satellite dish or an alternative – such as an existing Sky installation – for TV reception. The tuner can receive both DVB-S and DVB-S2 signals, making it suitable for use across most of Europe and also Australia.
Like all of Elgato's TV tuner products, the EyeTV Sat includes the EyeTV 3.0 software for watching and recording TV programmes on a Mac. Yet, unusually for a company that traditionally specializes in Mac-only products, Elgato has also chosen to include a copy of Terratec's Home Cinema software for Windows PCs. However, it would help Elgato did more than just slap a Windows logo on the box.
The Terratec software is included on a separate partition on the software CD-ROM, but none of the documentation provided with the tuner mentions its existence, and it's not even mentioned on the label printed on the CD-ROM itself, so the Windows support is somewhat half-hearted at the moment. The Terratec software lacks the slick graphical interface of EyeTV 3.0, but it proved functional enough on our Toshiba laptop running Windows XP.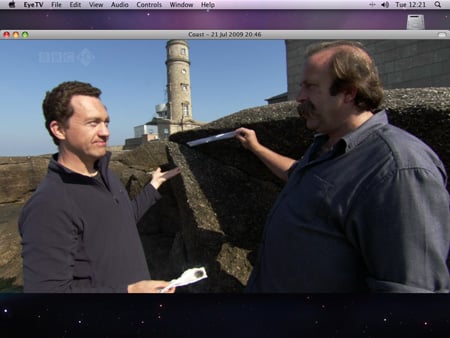 Viewing BBC HD broadcasts on a Mac
Unfortunately, neither program gives you any help locating specific satellite services, such as Freesat, here in the UK. They simply provide a pull-down menu listing the name of every satellite they can find, without giving any indication of the channels or services available from each satellite.
We knew from previous reviews of satellite devices that Freesat uses the Astra 2 satellite at 28.2-degrees East, so it was no trouble for us to quickly select that satellite and then wait for about 15 minutes while the EyeTV Sat scanned for available channels. Novices attracted by the lure of the free-to-air BBC HD channel – and the occasional episode of The Bill on ITV HD – might get lost at this point, so Elgato needs to provide a little more help for those who don't have a monthly subscription to What Satellite?
Once past that little hurdle the EyeTV Sat works well, although it does have some important limitations. We had no trouble flicking straight to BBC HD and making a few test recordings. As expected, switching from the standard-definition version of BBC2's Coast to the high-definition version on BBC HD produced a major improvement in image quality for the luscious landscape shots that programme specializes in.
Just bear in mind that HD recordings take up about 9.5Gb of disk space per hour, compared to around 2.5Gb per hour for standard-definition, so you'll need plenty of disk space if you want to record something like the five hours of the recent HD broadcasts of Torchwood. You'll also need a 2GHz processor to watch or record HD broadcasts efficiently. Our 2GHz Mac Mini worked fine with HD recordings, but a 1.8GHz MacBook and 1.8GHz Toshiba Windows laptop both struggled to maintain smooth frame rates on BBC HD broadcasts.
We also need to point out that the EyeTV Sat isn't an 'official' Freesat product that has been endorsed by Freesat itself. This imposes two main limitations – the first being that it can't decode the MHEG-5 broadcasts that carry the Freesat electronic programme guide (EPG).
As an alternative, Elgato provides a one-year subscription to the online TVTV guide, which can be used from within EyeTV or Terratec's Home Cinema to schedule recordings – including 'series-recordings' of all the episodes of a particular programme.
It doesn't list details of every single Freesat channel either – though all the main BBC and commercial channels are there. So if you want the full Freesat guide in order to record more obscure channels such as Create And Craft or Controversial TV then you might prefer an approved Freesat recorder from the likes of Humax. And while we had no problems with the BBC HD channel, the EyeTV Sat is also a little unpredictable in its handling of ITV HD broadcasts. These broadcasts are a 'red button' option on the standard ITV channel, rather than a separate channel like BBC HD.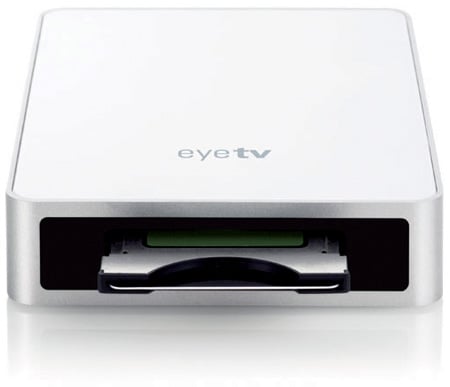 The card slot offers satellite pay-TV options
The EyeTV Sat doesn't support the 'red button' option, so we had to go looking on the Internet to locate the frequency of ITV HD broadcasts and then search through the list of available frequencies in the EyeTV software in order to track down those broadcasts. That's no great loss given ITV's current half-hearted dabblings in HD, but might become more of an issue in the future as Freesat starts to add more HD channels.
Verdict
The EyeTV Sat's inability to use the official Freesat EPG and its somewhat erratic handling of ITV HD means that it can't be recommended as a fully-functional replacement for a dedicated Freesat recorder. However, if you're keen to pick up BBC HD broadcasts or some of its top-drawer sports events, then you might well feel that it's an affordable stop-gap solution while we wait for HD broadcasting to really take off here in the UK. ®
More TV Recorder Reviews...

Digital Vision
GiGo DV-DTR1

Humax Foxsat-HDR

SiliconDust
HDHomeRun

Emtec
Movie Cube S800