Original URL: http://www.theregister.co.uk/2009/07/29/p34_docks_with_iss/
Space freighter flipped to manual for ISS dock
Human hands on the package
Posted in Science, 29th July 2009 23:06 GMT
Russian cosmonaut Gennady Padalka took control of an unmanned supply capsule docking at the International Space Station this morning after the spacecraft's automated docking system botched its final approach.
From aboard the ISS, Padalka remotely steered Russia's Progress 34 (P34) cargo craft to a smooth coupling with the aft end of the station's Zvezda service module today at 7:12 am EDT.
A video of the soft docking action is available here from NASA.
The seasoned station commander helmed a backup remote control system for Progress capsules about 10 minutes before docking when the craft's radar-based guidance system failed to line up properly for the orbital rendezvous. Padalka had also taken manual control of the final stages of Expedition 19's Soyuz TMA-14 spacecraft in March when its automated docking system similarly malfunctioned.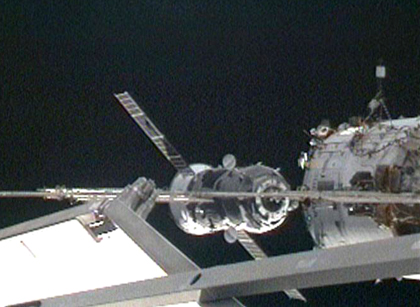 The ISS Progress 34 capsule approaches for docking, image courtesy NASA TV
The Progress capsule - an unmanned version of Russia's Soyuz spacecraft specialized to ferry supplies - delivered 2.5 tons of cargo to the orbiting outpost including fuel, water, clothing and scientific equipment.
Progress 34 has spent the past five days playing catch-up in low Earth orbit instead of making the usual two-day trek to ISS due to the delays of NASA's space shuttle Endeavour. The P34 spacecraft launched Friday from Baikonur Cosmodrome in Kazakhstan.
Endeavour undocked from the orbiting outpost on Tuesday, completing its 11-day mission of cargo transfers and completion of Japan's Kibo laboratory.
After the astronauts remove the cargo from P34, they will fill the capsule with trash, unneeded equipment, and wastewater and begin the undocking process. Once Progress departs, the vehicle is maneuvered into Earth's atmosphere were it will burn up on re-entry over the Pacific Ocean. ®