Original URL: https://www.theregister.co.uk/2009/07/28/review_storage_network_dlink_extreme_dir_685/
D-Link Xtreme N DIR-685
Another stab at router convergence
Posted in Personal Tech, 28th July 2009 08:02 GMT
Review Ah, convergence, that buzzword of the 1990s – so often promising a lot, but delivering little. Evidently, D-Link is toying with the convergence concept with the neatly packaged Xtreme N DIR-685. This four-port Gigabit router features 802.11n Wi-Fi, a 3.2in LCD panel – billed as a digital photo frame – and Nas functionality too. It certainly looks the part, but does it deliver on its promise?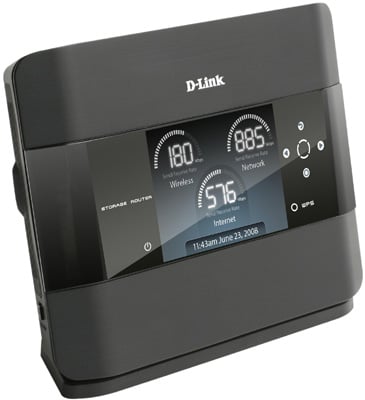 D-Link's Xtreme N DIR-685
There have been fully featured routers before – the Zyxel P660HWP with its Wi-Fi, four Ethernet ports, ADSL modem and Homeplug all-in-one springs to mind – but few undertake as much as the DIR-685.
Indeed, D-Link has got it spot on with the DIR-685's design. Rigid black plastic, varying between textured and polished on the front face, with no ungainly antennae pointing out. Heck, if it wasn't for the ports around the back and the slightly-too-small LCD panel, onlookers would think it was nothing but a digital photo frame.
At 3.2in it's a bit too small to be a decent photo frame, especially as most routers end up sitting on the floor a long way away from your eyesight. Yet it can sift through photos loaded onto its hard drive to get slideshows going or the FrameChannel Internet service can be selected, which shows news feeds, weather updates and photos stored online. The LCD panel can also display throughput speeds, router status, time and date and hard drive status.
To get the Nas functionality going, you'll have to add your own 2.5in Sata hard drive. The hard drive slides in easily from the side and can be quickly removed by pressing the un-mount button and a spring eject panel. Higher capacity 3.5in desktop drives would be quicker and cheaper, but 2.5in drives make for a more compact package. They are also quieter, require less power and should reduce the amount of overall cooling required for the unit and, hopefully, fan noise, too.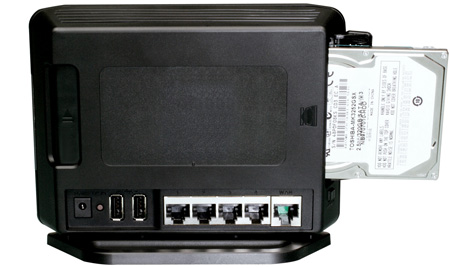 Accepts a 2.5in Sata drive – not supplied
The DIR-685's power consumption was consistently low. It never topped 9.1W throughout our tests and regularly sat at below 6W. What is most surprising about these low power consumption figures is the amount of noise it creates.
Imagine your next-door neighbour mowing the lawn, and that's the kind of tone you get from it. A tiny fan pointing out the top right of the device, which spins whenever the hard drive is in use, is the culprit. The DIR-685 is silent when the hard drive winds down, but start transferring files and it will drown out a modern desktop PC.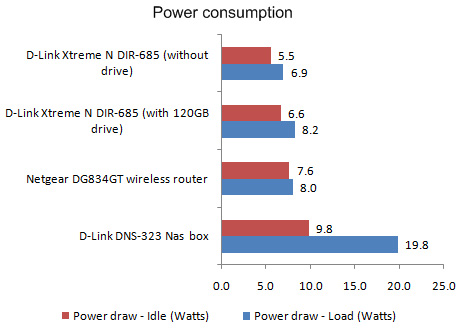 Power consumption is excellent, especially compared with discrete devices
What this device is crying out for is a metal heat-dissipating chassis and a bigger and a slower rotating fan to reduce noise. Scheduled hibernation is also lacking and would be especially useful if you sleep near the router, so you're not awoken in the middle of the night thinking your neighbour is trimming hedges.
The web interface resembles many other D-Link router layouts. The main difference is the Storage tab that lets you enable Nas features like the FTP server, UPnP server and iTunes Server. Bittorrent files are downloaded in via the web interface too and immediately made available for sharing over UPnP, if you have it enabled.
It passed our DLNA test by streaming a 1080p movie to a Playstation 3 – although it didn't have enough grunt to fast forward through the movie effectively – and it was also fine streaming films to an Xbox 360.
To simply access the DIR-685's USB ports took about a day. The necessary steps to configure them just aren't provided. While any other Nas unit would have this facility working out of the box, with this device you have to instal a utility called Shareport. However, we couldn't get this software working at first because you have to run the setup utility on the CD first. Instead, we just installed the latest version of Shareport from D-Link's website, which wasn't good enough to get it going. Run the CD setup, then get the Sharepoint download installed and you're in business.
Even so, USB drives and printers can only be accessed by one user at a time and Linux users can't access USB devices at all, which is a frustrating limitation other Nas boxes don't have. Furthermore, the Nas functions don't support Apple's Time Machine or provide any backup scheduling software. You just get the impression that this is an incomplete package, in more ways than one.
With a 120GB Fujitsu MHW2120BH installed and a 2GHz Core 2 Duo PC with a 1GB Ram disk (to avoid bottlenecks) attached the other end, transfer speeds maxed out at around 12Mbytes/sec. That'll be acceptable for most home users, although most dedicated Nas boxes are between two and four times faster.
On paper, the 802.11n Wi-Fi component of the package has a lot going for it. A Ralink RT2880F system on chip, ticking over at 266MHz, sits inside, which Ralink sells with 2.4/5GHz transceivers. We had a play with one of the DIR-685's predecessors, the DIR-855, a while back and found its 2.4/5GHz Wi-Fi an absolute blast to work with.
It can take just three dual-channel (40MHz) routers in the 2.4GHz band to clog up the airwaves and seriously slow down your Wi-Fi. Even if all 802.11g homes are sensible and use just one 20MHz channel each, there's only space for six routers on a street. It sounds confusing when there are 14 channels in use in Europe – the terminally keen can find out more about 2.4GHz and 5GHz Wi-Fihere.
If you can detect more networks than that from your home, then upgrading to 5GHz kit should benefit you. For starters, there are very few homes with 5GHz kit and secondly there are 12 non-overlapping single channels (six dual channels), so many more networks can occupy the band without slow-down.
However, the 5GHz band isn't enabled on the DIR-685, but speeds were good nonetheless. In a typical, noisy, London suburb the DIR-685 averaged 85Mb/s in our synthetic TCP test, and 70Mb/s in a real world Windows Explorer 350MB copy test using an Atheros AR5008 – the Wi-Fi chipset found in many 13in MacBooks.
We initially had compatibility problems between the DIR-685, the AR5008 card and a TrendNet TEW-621PC card. The two Wi-Fi cards would only connect at 802.11n speeds when encryption was turned off. With WPA/WPA2 turned on, the TrendNet card wouldn't connect at all, while the AR5008 would only connect at 802.11g speeds.
D-Link recommended we switch from the TKIP default setting to AES encryption, which got the AR5008 card working perfectly, but the TrendNet card still would work. It would appear TrendNet has been naughty and not updated its TEW-621PC card to the latest Draft-N 2.0 standard, which the DIR-685 uses.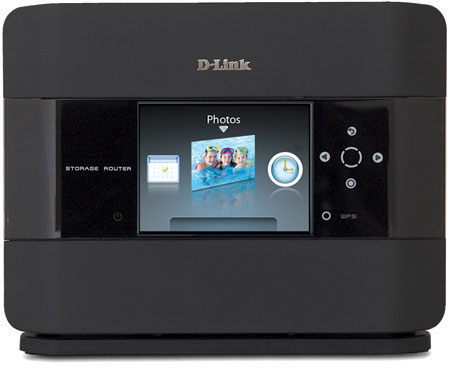 Looks the business, but its flaws suggest a rush to market
However, we're not sure who to point the finger at for the problematic TKIP encryption. And another card, Belkin's N1, would only achieve 20Mbit/sec and regularly disconnected from the network, suggesting updates to the Draft-N aren't going particularly smoothly.
The theory behind the DIR-685 is good, since having the Nas and Wi-Fi router as one box saves space and power, irons out any UPnP and dynamic DNS problems and requires just one set of configuration pages. Adding a decent LCD panel is fair enough too, if only to see the router's status.
Verdict
But the DIR-685 is very noisy and lacks features we've come to expect on a Nas. There's also no ADSL modem or Homeplug in this all-in-one package and the Wi-Fi doesn't have the 5GHz band enabled. Its £199 price tag is reasonable, since buying a Draft-N router, LCD panel and 2.5in Nas separately would cost a lot more. That puts the DIR-685 in the odd category of being good value, but a disappointing product. ®
More Nas Reviews...

LaCie
d2 Network

EZY Technologies
MyXerver MX3600

Western Digital
My Book World Edition

Iomega
Home Media Network Drive