Original URL: http://www.theregister.co.uk/2009/07/28/review_phone_toshiba_tg01/
Toshiba TG01 smartphone
A load of Tosh?
Posted in Personal Tech, 28th July 2009 13:10 GMT
Review It seems like it's been a long time coming, but the TG01 is finally here. Toshiba's latest venture into the smart phone market is a Windows Mobile device but, in terms of size, looks unlike anything we've ever seen.

Toshiba's TG01
It's bigger, thinner and, according to Toshiba, faster any other phone out there, thanks to its 1GHz processor. The TG01 also has HSDPA 3G (7.2Mbps), Wi-Fi, A-GPS and a 3.2Mp camera, which ought to put it in the front running with the best of the latest rash of high-end smart phones. It ought to, but appearances can be deceiving.
Yes indeed, the Toshiba TG01 is certainly bigger than the rest, and thinner too, at 130x70x9.9mm, just a whisker under the magic 1cm line. It's no heavyweight either at 129g, which makes it surprisingly pocketable. Admittedly, it's a bit awkward for a jeans pocket perhaps, but its slimness means that it will fit very nicely into the inside breast pocket of a suit.
The LCD touchscreen is, frankly, huge at 4.1in and dominates the front of the device. This 800 x 480 pixel WVGA display doesn't even extend to the edges, as there's an extensive border around it. Above it are the loudspeaker and an LED with three warning colours: red for low battery or charging, blue for call or message waiting and green for sleep mode.
Below the screen are touch-sensitive home and back keys, plus a zoom bar for use while browsing. If you flick your finger onto the screen from the zoom bar you'll also bring up an additional onscreen navpad, with direction arrows and hot keys – very nice, but we couldn't see much use for it on a touchscreen phone.

Certainly thin, but too wide for a comfy fit in most pockets
The whole unit is wrapped in a pleasantly tactile and sturdy rubberised plastic case. A chrome-look strip runs all the way round the sides, highlighting a power button and volume rocker, camera shutter button and a covered micro USB slot. On the back is the lens for the 3.2Mp camera, crammed up at one end, and there's a little slot, which is possibly for there for ventilation, but it does mean that your phone's innards are exposed to stray bits of dust and fluff.
The TG01 runs on the Windows Mobile 6.1 Professional OS, but as with most modern WinMo handsets, Toshiba has installed its own distinctive user-friendly skin on top. The Toshiba Today page includes eight 'stripes' with room for up to ten widgets in each – phone, settings, applications, internet, messaging, media, files and tools. Three stripes are displayed at any one time and you brush the screen sideways to access the others.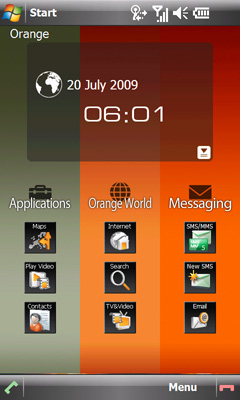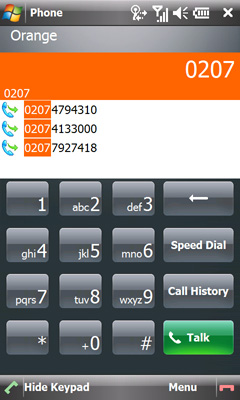 Toshiba's stripy skin user interface
Orange has the TG01 exclusively for now, and offers its own alternative home screen with widgets appearing as a scrolling bar to the left of the screen – you can brush your finger along the screen to scroll through them, or press them directly. Call start and end buttons appear at the bottom of the screen in both modes, along with two programmable soft keys.
So far, so good. There is, however, a clue to the TG01's Achilles heel in the box. Toshiba has included a stylus, despite saying that it won't be needed. While you won't need the stylus for most of the top-line navigation, featuring thumb-friendly widgets, you will need it once you get into the Windows Mobile menus, lying just below the surface.
The resistive touchscreen could also do with being a bit more sensitive, and more than a few times, we abandoned the theory of thumb-touch access in favour of the precision reality of the stylus. It's a shame, but post-iPhone, we expect touch screens to just work, without the need for any cajoling.
The TG01 is blessed with a meaty Qualcomm Snapdragon 1GHz processor – the most powerful we've yet seen on a handset, backed by 256MB Ram. Now, a 1GHz processor seems like a pretty impressive statistic on a handset but, to be honest, we didn't really feel the difference.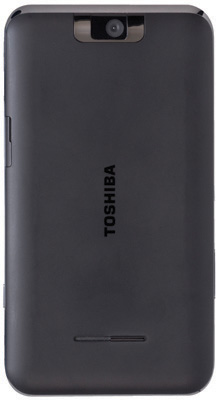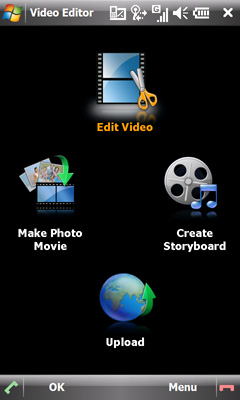 Just a 3Mp camera but features on-board video editing
True, it didn't lag as badly as some WinMo handsets, the Acer M900 being an especially bad recent offender, but you still don't get the feeling that it zips easily between applications, and each one takes a couple of easy-going seconds to start up. It's not bad, but it's certainly not as big a difference as we were hoping for.
Now, on to the good points. Call quality is perfectly fine and we like that Windows Mobile trick where it anticipates the number as you're dialling. The onscreen keyboard is a decent size, especially in landscape mode, when it stretches out to fill the screen and, in both portrait and landscape modes, it posed no problems.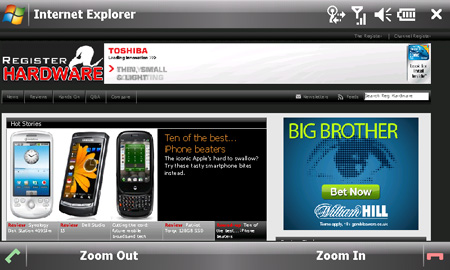 Browsing supports landscape mode
Messaging comes easy too. Setting up a POP3 email account was straightforward enough; simply a matter of inputting email address and password. There's also a MyText option of pre-written short messages which you can edit or add to. Syncing with a Windows PC is also a breeze.
While there's no preloaded Opera browser, surfing with Internet Explorer 6 began well, with the large screen showing off pages nicely, especially in landscape mode, which the TG01's accelerometer switches to automatically when you turn it on its side. You can choose between mobile and desktop viewing options and zoom in or out using the touch sensitive zoom bar beneath the screen.
Unfortunately, while this works in a similar way to the one on the HTC Touch Diamond2, it's nowhere near as user friendly; operating in a jerky manner that only highlights the HTC's comparative smoothness. It can't blow pages up to any great size either, which became a bit of an issue with very small text. Another issue was that we found we had to disable the screen's automatic brightness settings, as it tended to dim the screen, making it awkward to read small text. Resorting to this measure certainly didn't help the battery life.
Browsing supports Flash video, but watching Youtube, for instance, ended up being much more hassle than it should have been. It proved near impossible to set the viewing window to the right size for the screen, and the jumpy zoom bar made a bit of a hash of trying to get it right.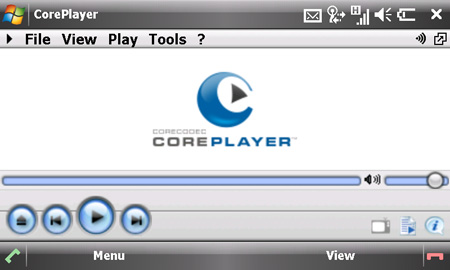 Three players are available with CorePlayer proving the best of the bunch
Watching video downloads wasn't quite the cinematic experience we were hoping for either. There are three player options: Windows Media Player, CorePlayer and a 'Video Player'. CorePlayer seemed most adept at handling different formats – it coped with some files that the other two failed to recognise – and it has a good range of features, including an inbuilt YouTube function, which optimises the site's videos for the device, though it's not as good as the YouTube app on HTC's devices.
There are lots of options for optimising video playback, including stretching the film to fit the screen but, despite the supposedly fast processing speed, we did find videos seizing up on us occasionally. Also, the highly reflective screen wasn't as sharp or as detailed as we'd seen on other phones, such as the Samsung i8910's OLED version, or even the Apple iPhone 3GS.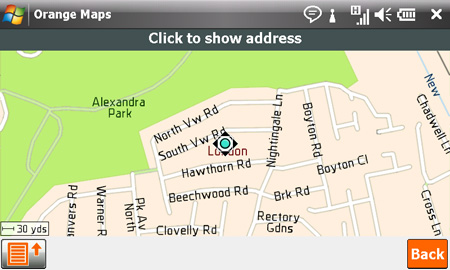 Orange Maps gets you there, but lacks sophistication
The format capability is fairly broad, with MP3, AAC, AAC+, eAAC+, AMR-NB, WMA, MIDI and SP-MIDI for audio, plus H.263, H.264, 3GP, MPEG4 and WMV for video. Both WMP and CorePlayer can handle music playing duties, though the supplied headphones suffered from a fairly narrow dynamic range and excessive sibilance in the higher register.
There's no 3.5mm headphone socket on the phone itself, but it does come with an adaptor for the micro USB slot, which gets around the issue effectively, if not particularly elegantly. Alternatively, there is a stereo Bluetooth option for wireless headphones.
3D gaming is available for the TG01 and there's a sample racing game supplied called Need For Speed Undercover. It looked quite decent in full screen mode, though we were disappointed that we had to use onscreen controls to turn our car rather than the accelerometer. With 512MB of on-board storage, the TG01 also comes with an 8GB microSD card – very handy.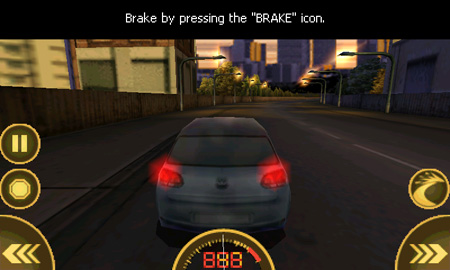 Gaming
The camera has no flash, but there is autofocus. It's very slow to start up, at around five seconds, which makes it less than ideal for spontaneous snapshots. There are options for multishot (fixed at nine shots at slowish one-second intervals), timer (up to 15 seconds) and digital zoom (which doesn't work on the full 2048x1536-pixel resolution). Pictures tend to err on the fuzzy side, and we found it hard to get any sharp detailing.
Video will record in either 3GP or MPEG4 formats at up to 640x480 pixel resolution for up to ten minutes. It takes a couple of seconds to start up though, which is a pain, as is the jingling noise it makes when you start recording. You can disable this, but why have it in the first place? There's also a basic VideoEditor, which allows you to cut bits out of your clips, add music, voiceover or text.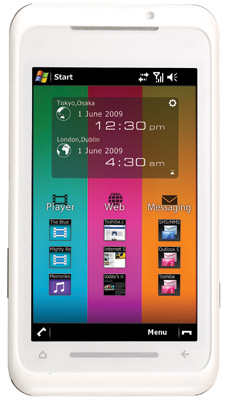 Also available in white
There's A-GPS on board and our sample came with Orange Maps, which is okay, but a little basic compared to Google Maps, which we ended up downloading and using without any problems. For such a large handset, the battery is surprisingly small. Toshiba says it should give you up to four hours of talktime and 220 hours of standby, but we managed barely a day of fairly moderate use, which suggests that if you want to get busy with some browsing and listening to music on the way to work, you might not make it through the day.
Verdict
The size and layout of the Toshiba TG01 take a bit of getting used to, and its good points include that huge screen, wafer thin profile and high functionality count. The trouble is, it's just not that easy to use, from the unresponsive touch screen to the jerky zoom bar and shallow UI skin that drops you into the fiddly Windows Mobile menus all too soon, it seems like a handset that's not quite finished. Full marks to Tosh for trying something different, and perhaps the next version will be better, but for now it's more of an interesting curiosity, than a must-have mobile. ®
More Smartphone Reviews...
| | | | |
| --- | --- | --- | --- |
| HTC Snap | Nokia N97 | Acer Tempo F900 | HTC Touch Pro 2 |