Original URL: https://www.theregister.co.uk/2009/07/28/nissan_ev11/
Nissan unveils high-tech e-car prototype
Test mule for upcoming electic vehicle
Posted in Science, 28th July 2009 11:16 GMT
Leccy Tech Nissan has whipped the dust sheets off of a prototype electric car, which the company used as a test-bed for the creation of its upcoming leccy vehicle.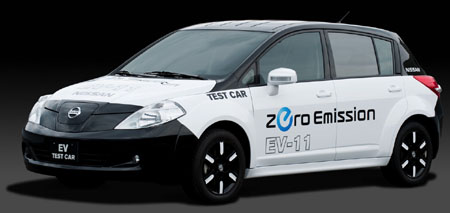 Nissan's EV-11: a test car for another upcoming e-car design
Based on the firm's Tiida hatchback, the front-wheel drive EV-11 prototype was used to test the leccy running gear and systems said to feature in an as-yet unknown e-car due to be revealed on 2 August.
It's worth noting that although the EV-11 is an honest-to-God five door family car, the e-car unveiled this Sunday could look very different.
Nonetheless, the EV-11's propulsion comes courtesy of a single 80kW/107bhp electric motor – designed by Nissan, and a 24kWh lithium-ion battery pack housed underneath the vehicle's floor.
A full charge will propel the car for 100 miles, Nissan said. But this depends heavily on your driving style and the success of the EV-11's regenerative braking system.
The battery pack's frame adds significantly to the EV-11's overall rigidity, refinement and ride quality, according to Nissan.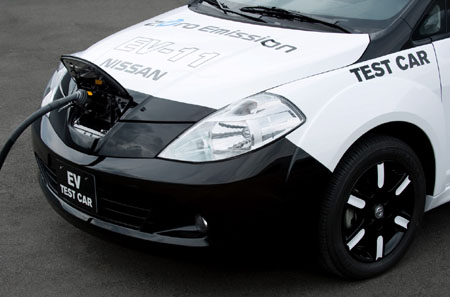 Drivers can control battery charges using a mobile phone
A satnav system on-board the EV-11 is designed to show the driver the car's maximum range under current driving conditions. It will even warn you if it thinks your intended destination is beyond the reach of vehicle's available battery charge.
But that doesn't mean you'll have an excuse for, say, cancelling that visit to the in-laws, though. Why? Because the EV-11's satnav system will helpfully display the location and status of nearby re-charge facilities.
The satnav's also capable of sending various battery alerts – such as the remaining charge time – to you over the internet and by SMS.
Other mobile phone-based remote control functions include the ability to start or stop the re-charge cycle and an option for switching the EV-11's air conditioning on prior to your journey.
Nissan hasn't said if the EV-11 prototype will ever go into production. ®