Original URL: https://www.theregister.co.uk/2009/07/28/final_endeavour_spacewalk/
Endeavour crew wrap final ISS spacewalk
Shuttle undocks today
Posted in Science, 28th July 2009 08:58 GMT
NASA astronauts Chris Cassidy and Tom Marshburn yesterday completed the fifth and final spacewalk of space shuttle Endeavour's STS-127 mission to the International Space Station.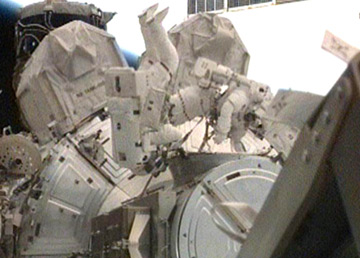 During the a four hour, 54 minute excursion, the pair (pictured) polished work on the Exposed Section of Japan's Kibo lab, installing a pair of cameras which will "provide views to help with rendezvous and berthing of the H-II Transfer Vehicle (HTV) scheduled to make its first deliveries to the station in September".
They also "secured multi-layer insulation around the Special Purpose Dexterous Manipulator" (DEXTRE), and split the power supply to two ISS Control Moment Gyroscopes, ensuring that the failure of one gyro would not knock out the other.
NASA explains that the mission total of spacewalks stands at 30 hours, 30 minutes. It adds: "[The final] spacewalk was the 130th in support of International Space Station assembly and maintenance, totalling 810 hours, 36 minutes.
"It was the 102nd spacewalk out of space station airlocks and the 218th American spacewalk in history. It was the third for both Marshburn and Cassidy. Marshburn's spacewalk time totals 18 hours, 59 minutes and Cassidy has spent 18 hours, five minutes outside."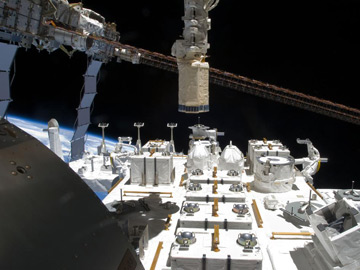 The principal objective of Endeavour's mission was to install the Kibo Exposed Facility (pictured). NASA summarises that Kibo experiments will focus on "space medicine, biology, Earth observations, material production, biotechnology and communications research".
This summer, for example, an HTV will carry the improbably-named Superconducting Submillimeter-Wave Limb-Emission Sounder, aka SMILES, for deployment in the new Exposed Facility. The device is intended to carry out "global mappings of stratospheric trace gases by means of the most sensitive submillimeter receiver".
SMILES will "observe ozone-depletion-related molecules such as ClO, HCl, HO2, HNO3, BrO and O3 in the frequency bands at 624.32-626.32 GHz and 649.12-650.32 GHz", NASA adds.
Endeavour is due to undock from the ISS later today. Crew member Tim Kopra will remain aboard the ISS as a flight engineer and science officer, relieving Japanese astronaut Koichi Wakata - who's been aloft since arriving aboard Discovery on STS-119 mission back in March. ®