Original URL: https://www.theregister.co.uk/2009/07/27/review_laptop_samsung_r522/
Samsung R522
Lo-Fi Wi-Fi budget laptop
Posted in Personal Tech, 27th July 2009 12:12 GMT
Review When conjuring up budget laptops for the mass market, manufacturers will usually do their level best to make them look more expensive than they actually are, and the R522 from Samsung is no different.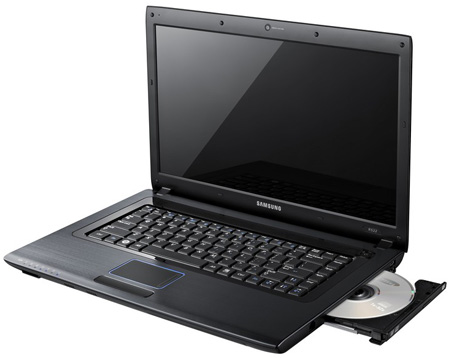 Samsung's R522: 802.11n not welcome
There's nothing particularly special about the innards – Intel Core 2 Duo, 4GB of DDR2 memory and Intel GMA 4500MHD integrated graphics – but open up the glossy, soon-to-be-fingerprint-festooned lid and you're presented with what looks like an impressive brushed-aluminium wrist rest. Get a little closer, though, and it soon becomes apparent that it is, in fact, just plastic dressed up to look like metal.
In another attempt to jazz things up, Samsung has furnished the perimeter of the trackpad with a soft-blue light. Is it useful? Well, no, not really. You certainly don't need a landing light for your finger when using the trackpad in the dark, but it does look kind of funky.
After 30 seconds, this light quietly turns itself off, but those who aren't fans will be disappointed there's no option to kill it off permanently. Samsung has done a good job with the left and right buttons sat beneath the trackpad, though. Taking the form of a single rocker bar, they exhibit just about the right amount of resistance and respond with a nice, solid 'click'.
The company has done a reasonable job with the keyboard too. It's similar to the 'chiclet' style as found on MacBooks, but it's a much cheaper version and the keys don't poke up through individual slots in the chassis. Although we weren't too impressed with the rattle emitted by the keys and their slippery nature, there's almost zero flex and each key has a decent amount of travel.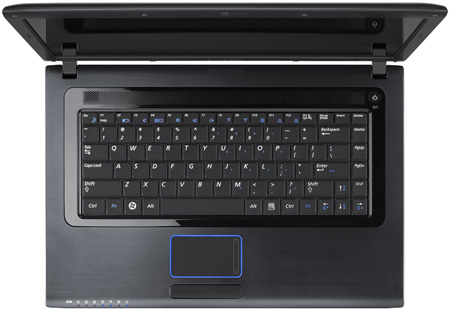 You won't forget where the trackpad is
Movie-style 16:9 aspect ratio screens seem to be in vogue at the moment and – with a native resolution of 1366 x 768 – that's exactly what you get with the 15.6in display on the R522. Samsung has given it what it calls the SuperBright treatment, which basically means it's glossy, not matte. It's also LED backlit, so it's not only dazzlingly bright, but also less of a drain on the battery.
Horizontal viewing angles are good, though clarity tails off a little when you leave the centre sweet spot, and with the brightness cranked right up we managed to use it outside even with the sun doing what it does best.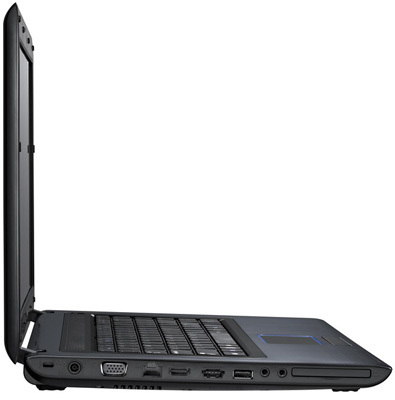 No shortage of ports on the R522
The internal fan remains remarkably quiet, but you get the feeling it should be working a bit harder to dissipate the heat. Indeed, during extended use of the laptop the left side got fairly warm – both on the underside and the top – but not once did we hear the fan ramp up to deal with the problem.
In terms of ports, the R522 certainly isn't lacking. Two USB ports sit alongside the DVD burner on the right side, but since they're stacked on top of each other plugging in a bulky USB stick into one may block off the other.
Thankfully, though, Samsung has found room for two further USB ports on the left, which aren't stacked. Gigabit Lan, VGA-out, HDMI, audio in/out and a 54mm Expresscard slot also sit on the left. And as if that wasn't enough, one of the USB ports will take any eSATA devices you've got kicking around, while an SD card reader is located at the front.
It might have everything in the way of ports, but while we can just about forgive the lack of Bluetooth, one feature that shouldn't have been left out in the cold is 802.11n Wi-Fi. It's been a while since we've seen a laptop such as this resort to 802.11g, but that's all the included Atheros AR5007EG wireless card can muster up.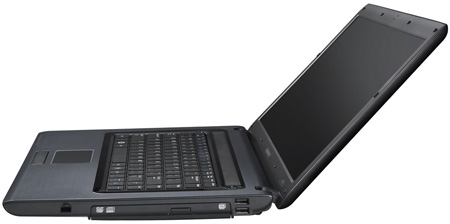 The keys could do with having a slightly rougher texture
Perhaps Samsung has a heap of old Atheros cards they wanted to get rid of – whatever the reason, if you've splashed out on a fancy new Draft-N router it's highly unlikely you'll want to sour your new network with an 802.11g laptop. If Samsung simply wanted to keep the cost down, it would have been better off reducing the size of the 320GB hard drive in order to accommodate 802.11n Wi-Fi.
In PCMark05, the 2GHz Core 2 Duo T6400 returned a score of 4977 in the CPU test. However, slightly under par scores in the Memory, Graphics and HDD tests meant the overall PCMark05 score was a little lower than expected at 3741. It's nothing to get too het up about, though, and the R522 coped with Vista's demands admirably.
PCMark05 Results
Overall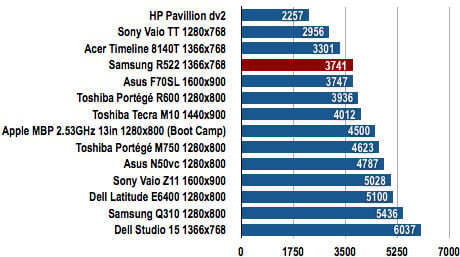 Longer bars are better
CPU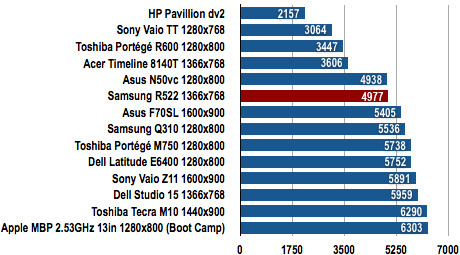 Longer bars are better
Memory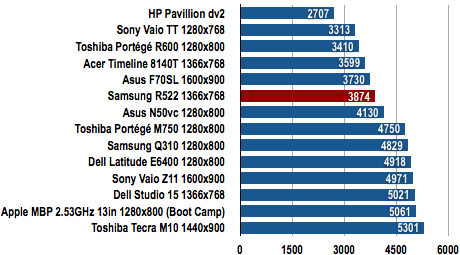 Longer bars are better
Graphics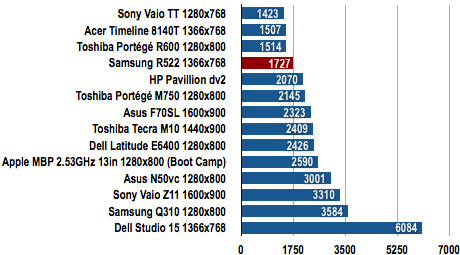 Longer bars are better
HDD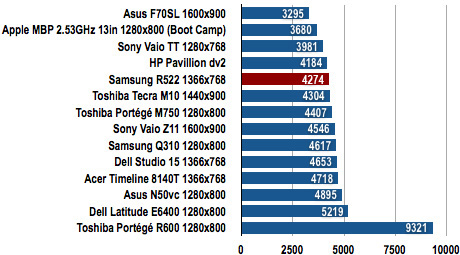 Longer bars are better
3DMark06 Results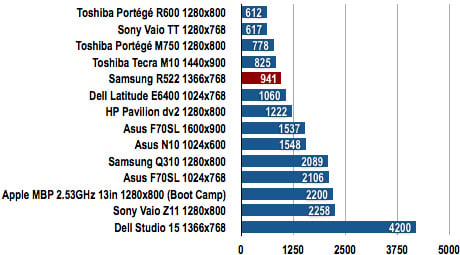 Longer bars are better
PC Mark05 Battery Life Results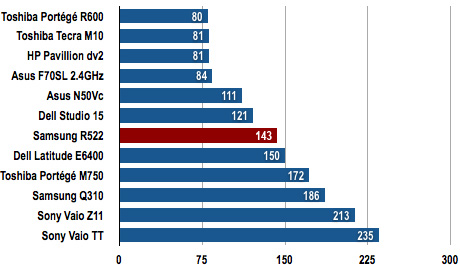 Battery life in minutes
Longer bars are better
There were no surprises in 3DMark06 – the integrated graphics keeping scores just below the 1000 mark when run at the R522's native resolution, which is in line with other Intel GMA 4500MHD-driven laptops and means 3D gaming is a no-no.
Samsung quotes the R522 as weighing 2.6kg, but on our scales it came in at just under 100g lighter, which for a 15in laptop isn't bad. Battery life is also good, and if you really put the R522 through its paces, the 4,000mAh six-cell battery will manage around two hours before crying out for the mains. When we put PCmark05 in an inexorable loop with Wi-Fi switched on and the screen brightness at full whack, it lasted 2hrs 23mins. Expect around four hours under less intensive use.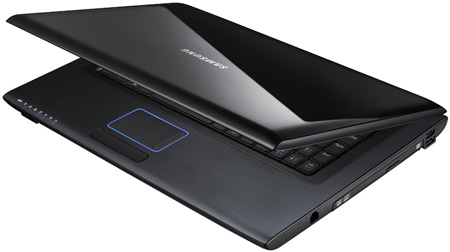 Fingerprints are more than welcome on the glossy lid
As with many other Samsung laptops, the battery benefits from a quick-check indicator that means you don't have to fire the R522 up just to see how much life is left – instead, simply bash the button on the battery and it tells you roughly how much juice is left. Samsung also includes a small utility that will prevent the battery being charged beyond 80 per cent capacity. It might sound a little odd, but Samsung claims the ageing process of the battery will be slowed down if you use this setting.
Verdict
The keyboard won't suit all tastes and we were hoping for slightly better battery life, but on the whole this is a decent budget laptop from Samsung. That said, the bizarre decision to go with 802.11g wireless and the total lack of Bluetooth may be enough to dissuade some potential buyers. ®
More Notebook Reviews...

Dell Studio 15

Acer
Timeline 4810T

Asus N50vc

Toshiba
Tecra M10