Original URL: https://www.theregister.co.uk/2009/07/27/acer_travelmate_8000_timeline/
Acer touts TravelMate 8000 Timeline trio
With Laminar Wall Jet technology
Posted in Personal Tech, 27th July 2009 14:18 GMT
Acer hasn't yet managed to develop a notebook slimmer than a sheet of A4, but its latest trio are still slim, lightweight and able to keep working for eight hours.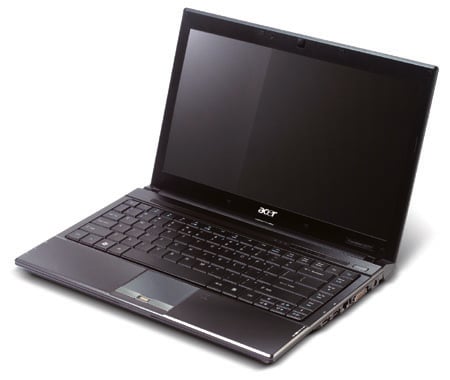 Acer's TravelMate 8000 Timeline notebooks: available in 15.6in, 14.1in and 13.3in options
The firm's TravelMate 8000 Timeline series consists of the 15.6in 8571, 14.1in 8471 and 13.3in 8371, with the largest model weighing in at just over 2kg and the smallest model at around 1.6kg.
All three feature Intel's Laminar Wall Jet technology – a cooling system originally developed for jet engines. On Acer's trio, though, louvers draw in cold air that's then forced around the chassis' inner surface to help cool things down.
All this air also flows past the processor, of course, which in the TravelMate 8000 Timeline series ranges between an Intel Core 2 Duo and Solo – depending on you chosen configuration.
You'll also be able to opt for 2GB or 4GB DDR3 memory, but it's worth noting that while a 2GB-equipped 8000 series machine will only have enough slots to accommodate an additional 2GB, opting for 4GB will give you enough space to upgrade to 8GB in total – should you ever need that much memory.
SSD storage isn't an option on any of the 8000's three models, so you'll have to make do with either a 250GB or 320GB capacity HDD.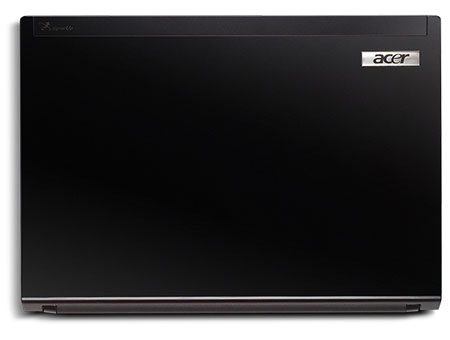 Jet engine technology cools the notebook's chassis
Acer will equip all three models will 802.11 a/b/g/n Wi-Fi and Bluetooth, but told us that integrated 3G connectivity won't be an add-on option for several months yet.
Four USB ports, a five-in-one memory card reader, biometric reader and integrated webcam also help make a TravelMate 8000 Timeline series notebook a safe choice for both consumers and business type alike.
As for the price, the 13.3in model with 250GB storage costs £579 ($953/€669) and the slightly larger 14.1in model with 320GB costs £699. Expect the all-singing, all-dancing 15.6in model with 320GB storage to cost £709 ($1167/€819). ®